Phonak TV Link II - Ideal TV experience
Phonak TV Link II is a dedicated TV solution. Combined with the ComPilot, ComPilot II and ComPilot Air II it offers a terrific listening experience.
The Phonak TV Link II is the interface to the TV and other audio sources supporting digital audio signals. It wirelessly connects your hearing aids to your TV and other entertainment or communication devices.
It will also serve as a charging cradle for your Phonak ComPilot/ComPilot II/ComPilot Air streaming device. The TV Link II comes with two different shaped inserts; one for the ComPilot/ComPilotII and one for the smaller ComPilot Air.
The extremely fast transmission from your TV to your hearing aids in stereo provides excellent sound quality. In combination with a streamer, TVLink II turns Phonak hearing aids into wireless stereo headsets, providing clear speech and better music quality, while the TV can be operated at normal volume levels.
Phonak TVLink II key features

Compatible with Phonak ComPilot, ComPilot II and ComPilot Air II

Quick and easy installation
No line of sight to hearing instruments necessary
Up to 30 meters (100ft) transmission range
Digital volume adjustment with audio-visual feedback
Exchangeable charging slot for streamer.

The ComPilot streaming device is not included with the TVLink II.
The TV Link II has the benefit over TV Link S in that it accepts a digital audio input, the TV Link S does not.

Note - if you have "open-fit" hearing aids, to avoid a slight echo when using the TVLink II, your hearing aids should be programmed to attenuate the hearing aid microphone automatically when the ComPilot is in Bluetooth mode. Please discuss any necessary adjustments to your hearing aid programming with your audiologist.
Includes: TV Link II, UK power supply, 3.5mm plug to plug audio cable, 3.5mm plug to phono plug cable, digital optical (TOSLink) cable, digital coaxial cable, screwdriver & user guides                   

Power Supply: 100 – 230 V ac 50-60Hz. UK, EU & USA plug options. 

Phonak part no: 076-0040-P520
Technical Information:

Dimensions: 101 x 77 x 30 mm (4.2 x 3.2 x 1.3 inches)
Weight: 100 g
Color: Champagne
Operating conditions: The product has been designed for trouble-free operation without restrictions when used as intended, unless otherwise stated in the user guide -10°/55° Celsius and relative humidity of<95% (non condensing)
Transport and storage -20°/60° Celsius and relative humidity of conditions: 90% for a long period of time
Power Supply:
Type: DC, stabilized
Secondary voltage: 5 VDC
Max. Current: 500 mA
Plug: Mini-USB
Important notice: Only use the original Phonak power plug or an USB certified power adaptor > 500 mA
Audio Information:
Audio inputs:

Analogue (3.5 mm plug)
Digital optical (Toslink)
Digital coaxial (SPDIF)
Audio quality: Stereo, 20 Hz – 22 kHz
Bluetooth:
Bluetooth profile: A2DP, Advanced Audio Distribution Profile
• Optimized for use with Phonak streamers
• Compatibility with non-Phonak devices is not guaranteed
Frequency range: 2402.0 to 2480.0 MHz
RF power: 100 mW max.
Bluetooth range: Up to 30 m (100ft)
Bluetooth compliance: Bluetooth version 3.0, Class 1
Maximum paired devices: 4
QDID: B016567
Optimized for use with Phonak ComPilot
Compliance to non-Phonak devices is not guaranteed
Standards:
Europe
Radio: EN 300 328
EMC: EN 301.489
IEC/EN 62311 
USA
FR 47, part 15
FCC OET Bulletin No.65
Canada
RSS-210 Issue 8
RSS 102 Issue 4
Japan
ARIB-T66
The TV Link II comes with two different shaped inserts; one for the ComPilot/ComPilotII and one for the smaller ComPilot Air. This is easy to change: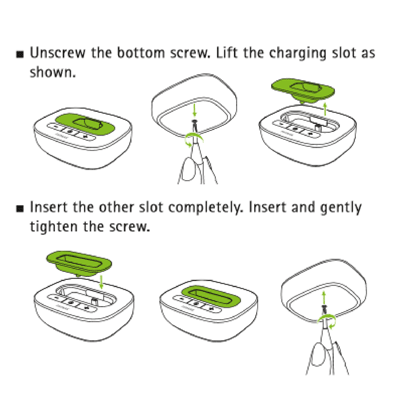 Click here to view pdf user guide
Click here for help in setting up the TVLink II

For further information about Bluetooth, visit www.bluetooth.org

International warranty for Phonak equipment purchased for use outside of the UK.
Phonak offers a one-year limited international warranty, valid as of the date of purchase. This limited warranty covers manufacturing and material defects. The warranty only comes into force if proof of purchase is shown.
For customers using Phonak equipment outside the UK, in the unlikely event that your equipment requires repair it may be returned directly to your local Phonak service centre.