Swift Digital Classroom Soundfield Systems
Free Swift Digital Classroom SoundField Trial for UK school's
We are very confident you will enjoy using the Swift Digital Classroom Soundfield system, so we are offering every school in the mainland UK a free trial!

At your convenience, we will come to your school, set it up and show a teacher how easy it is to use the SoundField system. It just takes around 15 minutes and all we need is a mains socket at the back of the classroom. At the end of the 3-4 week trial period, if it is not making a positive difference to the learning in the Classroom, you can just send it back to us – simple!

To arrange a free trial for your school, please just email our Director Phil Boswell phil@connevans.com and leave the rest to us! 
Ready-made system packages for Swift Digital classroom soundfield...

including accessories for the IR Swift and IR Swift+
---

Swift to install...simple to set
up...easy to use 
...  with the fantastic SwiftTX transmitter!!
The Connevans Swift Digital soundfield system is a groundbreaking use of technology to bring superb quality sound within financial reach of every classroom. It's a wireless infra-red soundfield system which benefits both student and lecturer.
Key Features:
Excellent speech clarity
Digital SwiftConnect wireless sound in/out option - ideal for connecting with laptops and interactive whiteboards.
Virtually no installation - can be hung on a wall or mounted on a shelf stand
Stylish design
Very low profile - non intrusive speaker unit
Shelf stand option (see below)
2 channel receiver - second transmitter may be added for student participation or teaching assistant 
Single hyper-wide dispersion speaker unit with NXT technology, creating an effective soundfield from a single speaker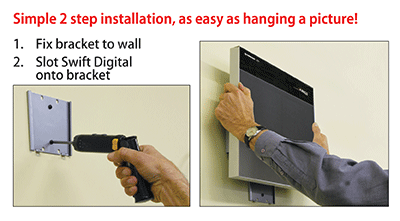 The Swift Digital is usually best positioned at the opposite end of the classroom to the tutor, above seated head height. This means that when in use, the system actually has two 'speakers' - one is the Swift Digital and the other is yourself i.e. there is a sound source at both ends of the room.
We normally find 1.65 metres to the bottom of the bracket a good height.