The Aqua Accessory Reusable replaces the previous single-use design. This pack contains 5 pouches, each of which can be re-used up to 20 times.

This affordable and easy-to-use solution gives you the opportunity to use a Cochlear Nucleus 5, Nucleus 6 & Nucleus 7 in all types of water; from salty ocean to soapy bath, from lakes to chlorine pools and any type of moisture which is safe for skin contact. The Aqua Accessory lets you dive right in, without compromising on the hearing performance you need for your everyday life out of the water.

The simple, convenient Aqua Accessory Reusable is a multi-use clear plastic seal-able pouch that completely seals in your processing unit, cable and coil. It can be used in 4m of water for up to 2 hours (IP68 rating). The clear, flexible plastic makes it easy to monitor the processor, access the control buttons and reposition the coil.
Testing shows the Aqua Accessory Reusable can be re-used 20 times, but this may vary depending on your particular use of it. Individual results may vary depending on how long it is used for and how it is cared for. If you notice dampness or moisture after use, then the Aqua Accessory should be discarded and a new one should be used - this should not affect the processor. It is recommended that you test the Aqua Accessory before each use to ensure that it will still provide waterproof protection - see instructions in the User Guides tab for more details.

One pack includes 5 pouches. The aqua accessory is not recommended for use at depths exceeding 4m.

It is designed for use with Nucleus 5, Nucleus 6 or Nucleus 7 series processors with rechargeable batteries only. The Aqua accessory is intended for use by recipients of all ages, provided they can either remove their sound processor themselves or indicate any discomfort to their parent or caregiver.

No wires or upgrades required, just simply slip Aqua Accessory over your Nucleus 5 or 6 processor and go! The Aqua Accessory can float which makes it easy to recover in a pool or bath if dislodged and there is a hole for a safety line if needed. It has a quick tear notch for easy removal and is light and compact making it easy to store. 
Note: processor not included, only shown for illustration purposes! 
Sold in packs of 5 only. When used in accordance with instructions, Aqua Accessory will not impact your Nucleus Global Limited Warranty.
Cochlear part number:  Z446156

Please note for hygiene reasons this product is excluded from the Connevans extended returns policy.

Frequently Asked Questions
Q: What is the Aqua Accessory?
A: The Aqua Accessory is a soft, flexible plastic enclosure with a zip lock seal designed to hold a Nucleus 5/Nucleus 6/Nucleus 7 Series BTE sound processor, coil and coil cable to allow CI recipients to participate in water based activities.
Q: Is the Aqua Accessory waterproof?
A: Yes. The Aqua Accessory has achieved an IP68 ingress protection rating in 4 metres of still water for 2 hours. Cochlear also performed extensive "real life" testing to simulate bathing in soapy water and swimming in chlorine or salt water. It is likely that in humid locations some condensation will occur inside the Aqua Accessory. This is normal and expected.
Q: Which processor(s) is it compatible with?
A: The Aqua Accessory is designed to work with a CP800, CP900 & CP1000 Series processors with rechargeable batteries only.
Q: Why can't I use Zinc Air batteries?
A: Zinc Air batteries will not work inside the Aqua Accessory because the Aqua accessory is air tight.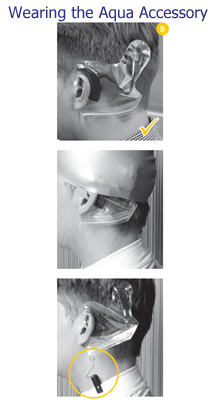 Q: How is the Aqua Accessory used?
A: The user seals the sound processor and coil inside the bag. It can then be worn behind the ear in the normal BTE position. If vigorous activity is anticipated, it is recommended that the user use a retention device such as swim cap or goggles or a safety line.
Q: What if the Aqua Accessory falls off?
A: Due to the design, the Aqua Accessory retains enough air in the bag to cause it to float should it come off the recipient's head. A retention device including a safety line is recommended for use in moving water such as oceans and rivers.
Q: Does Cochlear provide a swim cap or safety line?
A: At time of launch Cochlear does not plan to provide swim caps or safety lines with the Aqua Accessory. However, a Baha® safety line is available in the UK if needed (see Associated Items on right) and suitability would depend on the water activity chosen. Retention items are personal and dependent on user needs and chosen activity.
Q: Where can I use the Aqua Accessory?
A: The Aqua Accessory has been designed to be used in any water based activity to a depth of 4 metres.
Q: Can I use the Aqua Accessory for Scuba diving?
A: Use of the Aqua Accessory is not recommended for Scuba diving as depths may exceed 4 metres.
Q: Can the Aqua Accessory be used in all types of water?
A: Yes, the Aqua Accessory can be used in salt water, soapy bath/shower, chlorinated pools, partial salt water/chlorinated pools; anything which is safe for skin contact.
Q: Can people re-use the Aqua Accessory?
A: Yes as long as it is the 'Reusable' version! Previously that Aqua Accessory was designed for single use only but in June 2014, Cochlear released this new Reusable version. Please take care you have the Reusable model before attempting to use an Aqua Accessory more than once. Hint: the Reusable model does not have a flap which sticks over the ziplock seal.
It is recommended that you test your reusable Aqua Accessory to check for leaks before each use - see instructions.

Q: How many come in a package?
A: 5.
Q: How many times can each Aqua Accessory pouch be reused?
A: Up to 20 times, but this may vary depending on your particular use.

Q: Do you need to change MAP setting for use?
A: Laboratory microphone testing has shown that the Aqua Accessory has minimal effects on the overall hearing performance of the processor. There is a decrease in the benefits of dual microphone directionality; however, the performance is still as good as an omnidirectional microphone. Therefore, a "swimming map" is not indicated.
Q: What happens if the Aqua Accessory fails?
A: In the unlikely event that a sealed Aqua Accessory fails, the processors intended for use with the Aqua Accessory have an IP rating of IP57 (up to 1 metre of water for 30 minutes) which should be adequate protection if any leakage occurs. The sound processor warranty is also valid if a processor is damaged with use of the Aqua Accessory, provided the Aqua Accessory is used in accordance with instructions.
Q: Can you use a SnugFit?
A: The current design does not accommodate a SnugFit.
Q: Is the Aqua Accessory latex free?
A: Yes, the Aqua Accessory is latex free.