The Comfort Duett is a small, user friendly personal listener.  It can help wherever you might have trouble hearing what people are saying. That could be anywhere from the dinner table or at a café, to the doctor's office or the theatre. Just set it on a table or clip it onto your shirt and you're ready to go.
The Duett is supplied with a neck loop for use with hearing aids on a "T" or "Loop" programme.

Useful features include:

• Microphone for amplifying conversations
• Built in telecoil for listening to induction loop systems
• Aux connection for connection to TV, telephone, radio, or other sound sources.
Sometimes background noise makes it difficult to hear what your friends and family are saying. The Duett can be used as a conversation amplifier to amplify the voices of people within close range.  Adjusting the volume to suit you is easy using the large buttons on the front of the Duett.  There are also a number of advanced settings that can be adjusted for the user, including tone, balance, maximum volume level and a button lock.
The product is powered by two AAA batteries (supplied). It comes with a charging stand that acts as a convenient holder that lets you connect to external sound sources.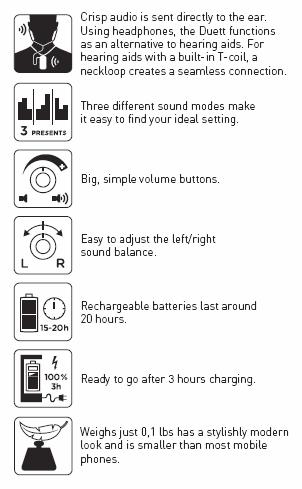 Technical details: 

Dimensions: 94x35x17 mm
Weight: 57 g
Operating Time: Up to 20 hours. Dependent on usage conditions. Measured with factory settings
Charging time: Approx. 3 hours
Microphone: Omnidirectional
Maximum gain: 59 dB @ 1.6 kHz
Connections:
3.5 mm jack for mic/line in, headphones, or neckloop.
Micro USB for charging