The Remote Control makes it easy to adjust the settings on your sound processor, such as changing volume and switching programs. The large buttons are especially easy to use if you have poor dexterity, and the clear and simple display means it's easy to get a quick overview of your settings.
If you are using two wireless Baha 4 or 5 sound processors, the Cochlear Baha Remote Control can be used to adjust both of your sound processors simultaneously. Or you can control both sound processors individually, allowing you to perfectly fine tune your sound processor to any specific hearing situation.


Easily and discreetly adjust your sound processor.
The Remote Control is an all-in-one device that puts you in control of your hearing. You can easily adjust the settings without needing to reach up to your sound processor, so you can make discreet adjustments without anyone being the wiser.

Be confident your child is getting the best performance.
As a parent, you want to be sure that your child is getting the best possible hearing experience. With the Remote Control, you can monitor your child's settings, make small adjustments and be confident that your child is getting the most out of their device.

Be in complete command at a glance.
With a large, easy to read LCD display the Remote Control always lets you know what settings you're in. If you have two sound processors, you can monitor and control both devices simultaneously with just a click of a button.

Features:
Key lock functionality
Easy to pair
Clear and simple display
Shows program settings, volume, etc.
Controls multiple sound processors
Start streaming from other wireless accessories
Compatible with Cochlear Baha 4 or 5

 (Please note, contrary to the information in our printed catalogue issue 52, this product is not compatible with Nucleus 6 cochlear implant processors.)
Manufacturer's part number: 94792 (formerly 94765)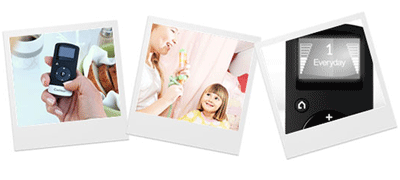 Before you can use any of the Cochlear wireless accessories, they need to be paired to your Baha 4 or 5 sound processor. This is a simple process and can be done by the user.
You can pair up to three Cochlear streaming devices with your Cochlear sound processor (of an combination - ie. 3 Mini Microphones or 1 Mini Microphone, 1 Remote Control and 1 Phone Clip). Select a separate channel for each device paired with the sound processor.