Ear Gear is an effective means of protecting your hearing aids from dirt, sweat and accidental loss.
The double wall nylon-spandex blend is both washable and durable.
While Ear Gear provides an effective protection against moisture, it is not 'waterproof' and therefore is not suitable for swimming, showering or heavy sweating. 

Suitable for everyone but ideal for children, who are notorious for taking off their hearing instruments or playing with them.
This model does not have a safety cord and clip; comes with a pair of protective covers only.
A List of some of the models that Ear Gear Baha fits:
Baha Intenso

Baha Divino
Baha 5

Oticon Ponto
Oticon Ponto Pro
Please note for hygiene reasons this product is excluded from the Connevans extended returns policy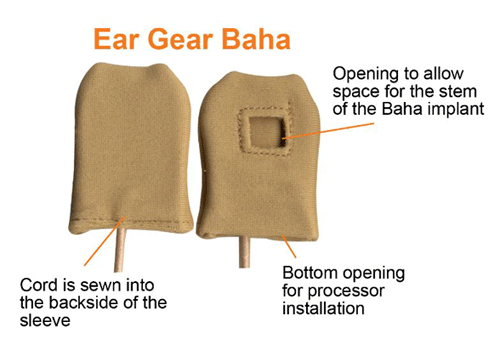 FREQUENTLY ASKED QUESTIONS 
What Is Ear Gear Made From?
The Ear Gear Boot material is a 5oz, 80% nylon, 20% spandex, 4 way stretch, double wall sleeve.
How Do I Care For Ear Gear?
Caring for Ear Gear, is quite simple. It maintains its elasticity best when hand washed in a mild detergent. Ear Gear should not be put in the washing machine or dryer.
Can Ear Gear Protect hearing instruments from sweat and
moisture?
Ear Gear has a unique double wall of spandex that provides protection against sweat, rain, and moisture of all kinds.
Can Ear Gear Protect hearing instruments from dirt and dust?
Ear Gear's unique double wall of spandex also can provide protection
against dust, and dirt.
Is Ear Gear Available in different models and sizes?
Yes,
Ear Gear Original which is designed to fit hearing aids from 1.25 to 2 inches. It is available in models with cord and clip cordless and mono models.
Ear Gear FM was designed to accommodate hearing aids from 2 to 3 inches, as well as hearing aids with FM units attached. Many hearing aids that use 675 size batteries require Ear Gear Fm. Ear Gear FM is available with cord and clip as well as cordless, and mono models.
Ear Gear Mini is specially designed to fit the new smaller open fit hearing aids up to 1.25 inches in length, and comes in two styles curved and square to fit the two most popular shapes of open fit hearing aids. The Ear Gear Mini Curved fits most of the smaller hearing aids, however in some case such as the Seobtek Pack and the Sonic Innovations Ion, a larger opening on the top of Ear Gear is
necessary to allow those models and others similar to them to be properly fitted by Ear Gear.
Ear Gear Cochlear has been designed to accommodate Cochlear BTE processors from both Cochlear and Advanced Bionics. Ear Gear Cochlear will fit processors from 2 - 3 inches in length. It is available with cord and clip, cordless, and infant models and comes in both binaural and mono models.
Ear Gear Baha has been designed to accommodate Bone Anchored Hearing Aids up to 3.2cm (1.25") from both Cochlear and Oticon. 
Ear Gear Rondo has been designed to fit the round MED-EL Rondo processor.

Does Ear Gear affect the quality and level of sound coming into my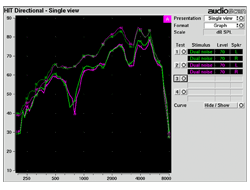 hearing instruments?

The graph shown is the result of an electroacoustical analysis test performed by Oticon. The green line shows the sound coming into a hearing aid without Ear Gear and the pink line shows the sound quality with Ear Gear. The results of this audioscan test indicate that there is no more than a 1dB reduction with Ear Gear; essentially it is acoustically transparent.
How to fit an Ear Gear Baha: