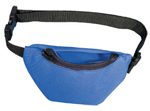 Prompted by requests from customers for smaller bum bags for smaller people, Connevans introduced the Universal small waist pouch.
The pouch has a visibly smaller footprint yet is large enough to take any fm system, body aid or cochlear implant processor currently on the market. Unlike with the receiver bum bag, there is no rear pocket and the choice of colours is in a variety of materials.
Further promted by comments and requests from customers, we've introduced two further colours into our range of glitzy fabrics! Now available in bright pink and pale pink we're sure these bum bags will delight - they are about as pink and sparkly as you can get!
Size: Approx. 165mm wide x 95mm high.
Belt size: approx. 400mm up to 815mm (32"max)
Available colours: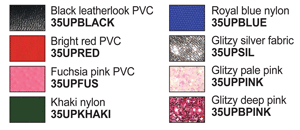 Also available in Camouflage 35UPCAM  
Please note: the glitzy bum bags will shed a degree of excess glitter throughout their life.