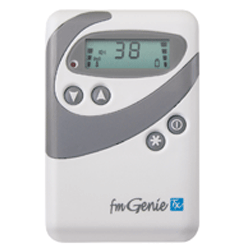 The transmitter is the unit which picks up the voice of the lecturer or person talking. The transmitter has an internal microphone as standard and is supplied with a plug-in aerial. The aerial is only required when the internal microphone is used.

You will need some accessories to go with the transmitter. A pair of AA rechargeable batteries & charger, probably a neck harness or fmGenie pouch and harness to wear the unit and, if the transmitter is not to be worn in a neck harness, a microphone pack will be required.
A 'twiddling stick' adjustment tool is supplied with each fmGenie transmitter. Colour of flash supplied may vary. Additional coloured flashes may be purchased separately.
***NEW*** fmGenie transmitters are now supplied with an audio lead for connecting to any device with a standard 3.5mm headphone socket.

Weight: 74g exc batteries (not included)
Size: 88 x 59 x 25mm approx.