PAEDIATRIC size.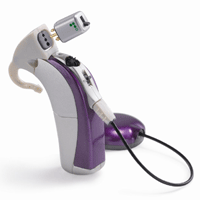 The iConnect allows universal ear level fm receivers (eg Roger X or MLxi) to be connected directly to Advanced Bionics Auria & Harmony processors.
It can also be used in conjunction with fmGenie direct input leads with inline RF interference filters to connect to an fmGenie receiver.  (In this case no battery is required in the iConnect.)
Features:  
dedicated ear level receiver adaptor of the Auria and Harmony processors
Separate (standard size 10) battery compartment for the radio aid receiver
Available in 3 colours to match the processor body - please select above.
PAEDIATRIC size for smaller ears

Please note, neither the radio receiver nor the implant processor are included with the iConnect earhook. The receiver must be purchased separately (see below).   Please note for hygiene reasons this product is excluded from the Connevans extended returns policy.