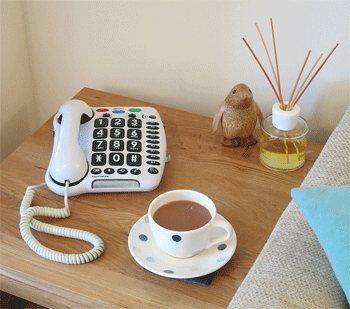 The AmpliPOWER 40 is a top of the range domestic model with excellent performance and some good features specifically for deaf people.
The Geemarc AmpliPOWER 40 is designed to help those with a considerable hearing loss. It is similar in listening sound and quality to the CL100/CL1100 and the CL400/CL1400. The high-contrast big buttons are useful for those with visual impairment or with limited dexterity. The handsfree speakerphone is a popular feature, especially for those who prefer not to use their hearing aids when talking on the telephone. 
The AmpliPOWER has an inductive T coil in the handset and is compatible with all hearing aids with a telecoil facility (as with all our amplified corded telephones).
In our view the Geemarc AmpliPOWER 40 is a measurable improvement on the already successful CL200+ which it replaces. It's level of amplification is very good, especially with the boost button and the hands free speakerphone facility is a useful, popular feature. The tone control is also helpful for those with a hearing loss.
Maximum loudness:
••••
Click here to view a pdf comparison chart of our corded telephones
Features:
Receiving volume gain to +40dB (with boost button) - very loud

Receiving tone gain +/- 10dB
Speakerphone function

Hearing aid compatible

Speaker volume control
Adjustable extra loud ringer level & tone
3 priority memories
11 direct dial memories
Visual ring indicator
Big Buttons

Headset and vibrator output (accessories sold separately)
Mute, recall and redial buttons

Wall mountable

UK mains power supply
Requires 4 x AAA batteries for full volume (not supplied)

Mains power, 230V ac 50Hz is required for this telephone. UK plug.