The BabbleGuard - a beautifully simple solution to encourage young children or students to keep the classroom noise at a comfortable level, promoting concentration listening and learning.
Designed and made in the UK by Connevans, the BabbleGuard is an attractive and modern LED bar, with a sophisticated sound sensor, which will vary its colour using the traffic light pattern of green, amber and red to reflect the level of sound in the classroom.
The BabbleGuard can be used in a wide range of learning environments and is quick to set up and easy to use.
Key Advantages:
Attractive traffic light coloured light bar
Easy access to adjustable sensitivity control so you can change the trigger point for different types of lesson
Optional warning sound when light goes to red
Easy to install - supplied with sticky pads and screws and can be mounted horizontally or vertically, on any wall
Bright, clear and easy to see LEDs but not distracting
The BabbleGuard can be used by teachers as part of general classroom discipline to encourage children to self-regulate their noise level. Good classroom acoustics are crucial for a pupil's ability to hear, listen and learn.
Universally applicable, if you have children with special educational needs or a hearing impairment in your class, the level of background noise doubly important.
The BabbleGuard is quick and easy to install, either vertically or horizontally using the supplied sticky pads or screw fixing brackets. We recommend over or alongside the whiteboard, but anywhere where both the teacher and the class can see it easily. It is made from high quality LEDs, giving a really pleasing light which is relaxing and easy to look at for long periods.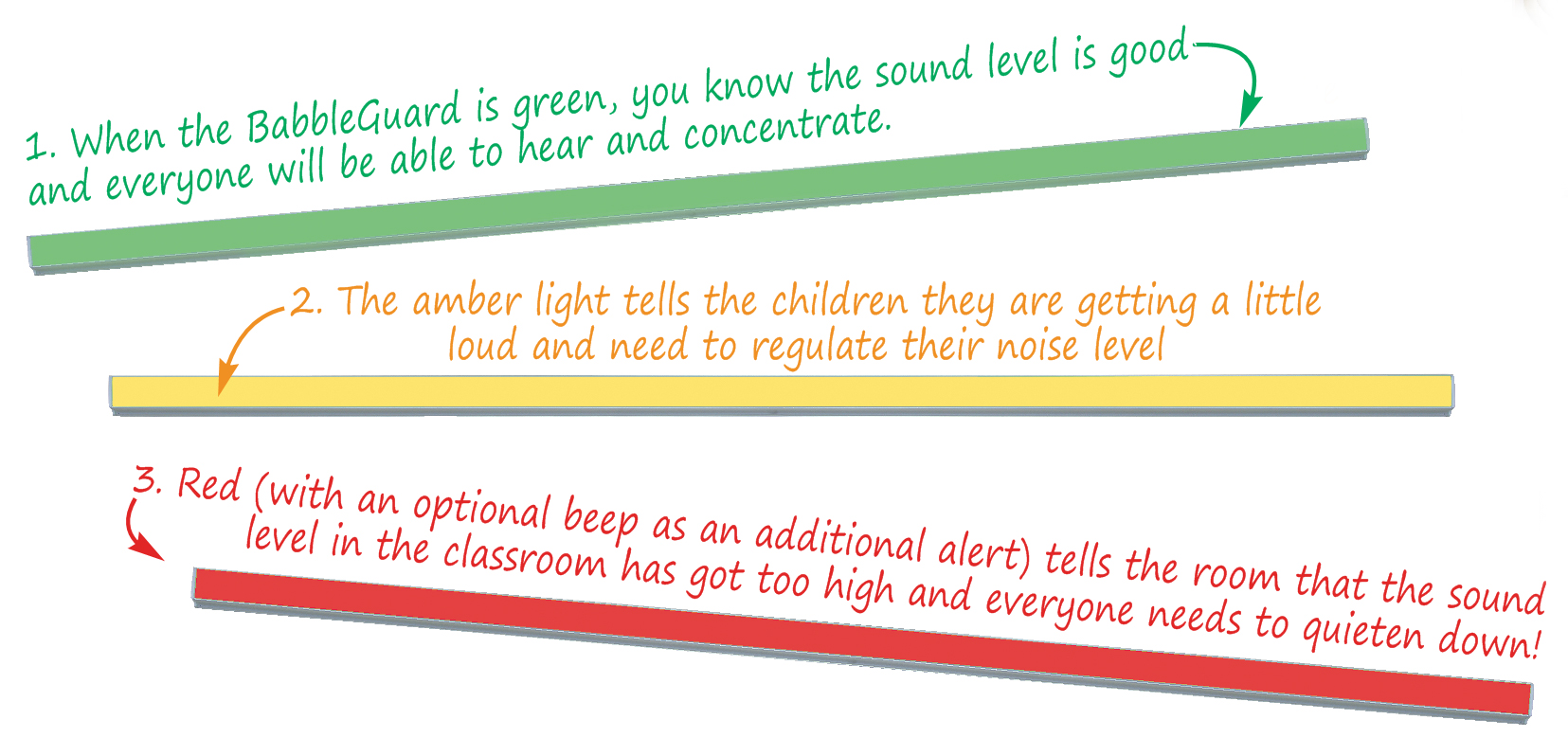 Although it is aimed at use in education, the BabbleGuard is also ideal for environments such as libraries or call centres - anywhere where you need people to be aware of the background noise level.


Contact Phil on 01737 247571 or by email to phil@connevans.com to arrange a free trial for your school. Trade Resellers: contact Phil for more information.
(whiteboard/projector not included!)
Technical information:
Light bar dimensions: 660 x 17 x 12mm
Control box dimensions: 86 x 86 x 25mm

Mains powered, supplied with UK mains power supply
Wall mountable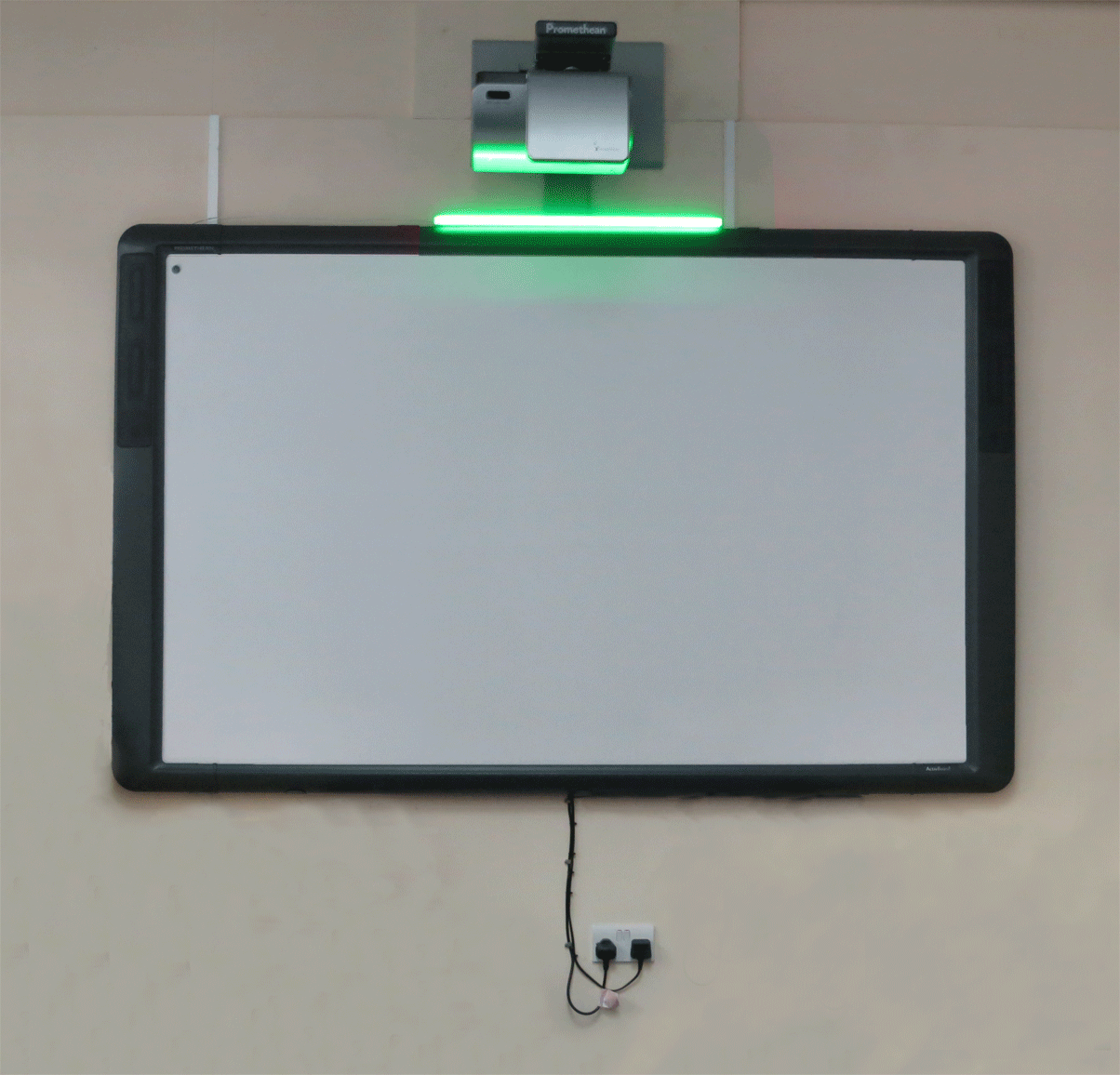 Technical Specification:
Control unit: 
Frequency response: A weighted, -3dB at 3kHz ref 1kHz
Calibration at 94dB SPL/1kHz with adjustment for typical babble spectrum
Rise time: slow (Tr=220msec)
Sensitivity range for red transition as per dial: 40dB SPL (A) to 115dB SPL (A)
Threshold for amber is 10dB below red
Threshold accuracy: better than ±1dB
Sounder frequency: 4kHz
Typical maximum sounder output: 85dB SPL at 1m
Control unit size: 86L x 86W x 25.5H (35 max)
Case material: Light grey ABS UL94-V0
Control unit weight: 90 g

LED indicator bar:
Dimensions: 685L x 17W x 16H
Materials: Anodised aluminium, ABS translucent cover, PVC cable
Weight: 170g
Cable length: 2m
Connector: 4 pole 3.5mm (custom wired)

Power supply:
12V ± 5%, 500mA, 2.1/5.5mm centre positive. UK plug
System standby power: <0.3W
Applicable EU Directives:
2014/35/EU
EC 1275/2008 as amended by EC 801/2013