Connevans are delighted to offer a range of Hearing Aid Compatible mobile telephones - designed specifically to be easy enough for everyone to use. Instead of making things small and complex, the manufacturers of these phones have made them bigger, clearer and easier to handle!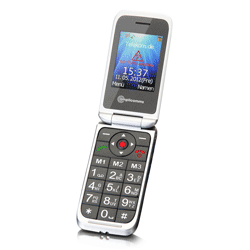 All the mobile phones in this section are classified as Hearing Aid Compatible (HAC). We classify a product qualifies as HAC if it has a Telecoil that produces a signal strong enough to meet the British Standard. The Telecoil means that it can be used by hearing aid users with a 'T' setting. It is difficult to make mobile phones HAC because they inherently interfere with hearing aids, causing a buzzing or other noises.

The T3/M3 and T4/M4 indications by the phones, is an American standard used to rate how good a mobile phone is when used with a hearing aid on 'T' and also on 'M'. A performance level of 3 or 4 is considered acceptable, although some hearing aid users with older hearing aids may still experience problems.
(Read more information about the US standards)
Hearing aid users (with a telecoil facility) have two alternative ways of using these mobiles with their hearing aid:
Directly from the telephone handset using 'T'
Indirectly using a Bluetooth inductive hands-free device (for those who find an unsatisfactory level of inductive noise when used directly)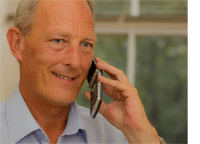 Nearly all the phones also have an emergency SOS button on the back. To make an emergency call, press and hold the key on the back - this will cause the phone to send your pre-programmed SOS emergency SMS text message to all numbers in the Emergency numbers list (max. 5). It will then dial the first number on the list. If the call isn't answered within 30 seconds, the next number is dialled. Dialling is repeated 3 times or until the call is answered. Note - the emergency call function can be turned off . 
Follow this link for our mobile phone feature comparison chart