Trantec Transmitter Lapel Microphones
Lapel microphones for Trantec S4.04, S4.4, S4.10, S4.16, S5.3 & S5.5 radio microphone transmitters.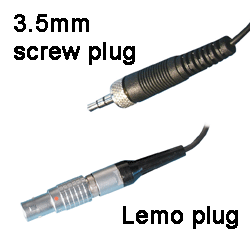 Trantec have traditionally used lemo connectors as their radio microphone connector - i.e. S1000, S3.2, S3.5, S3500, S4.5, S4000 etc. - as a helpful guide any microphone with a lemo connector will fit any Trantec transmitter with a lemo socket.
S4.4 and S4.16 Trantec systems have a locking 3.5mm screw fit connector. The lapel microphone usually supplied with these systems is the LP2.
Trantec Series 5 systems have a 4 pin mini XLR connector.