Direct input shoes are not included in this package.

Phonak Roger Pen Transmitter and two Roger X Receivers (type 03) for use with 2 hearing aids.
Please note that this package includes type 03 Roger X receivers, generally suitable for independent  student or adult use. For information on the differences between type 02 and type 03 receivers click here or contact us directly.

The Roger Pen is a cutting-edge wireless microphone, which enables clients to hear and understand more speech in loud noise and over distance. Its settings automatically adjust to suit its environment based on acoustic scene analysis and its orientation. The Roger Pen is ideal for adults and teenagers. 
Designed particularly with discretion in mind, the Roger Pen features adaptive wireless transmission, fully automated settings, wideband audio Bluetooth for mobile phone use, TV connectivity, and an audio input for listening to multimedia. It can also be used alongside other Roger Clip-On Mics and Roger Pens in a microphone network.
Roger is the latest wireless technology from Phonak. Digital processing makes speech significantly clearer – automatically adjusting to enhance understanding and comprehension considerably, even in noisy situations. For more information, click here.
This package includes a handsfree telephone connection kit, which can be connected between most modern telephone handsets and their base units.The 3.5mm jack plug can then be plugged into the base station of the Roger Pen to allow the user to listen to the telephone via the Roger X receivers. The easily shaped, flexible goose-neck collar microphone is comfortable to wear around the neck and leaves the hands free for keyboard entry.
Including:
Roger Pen transmitter set
2 x Roger X receivers (type 03)         

Office telephone pack with collar mic for Phonak Roger Pen (3PRPK5D)

The Roger Pen is supplied with: Roger Pen transmitter, docking station, MicroUSB lead, UK USB charging plug, storage pouch, lanyard, 3.5mm to 3.5mm audio cable, 3.5mm to MicroUSB audio adaptor cable, 3.5mm to Phono plugs audio adaptor cable & Quick Set Up Guide.                   
Please choose the 'Hearing aid direct input shoes' section from the left hand panel to add the appropriate direct input shoes to your order.
 
Note, we would usually advise purchasing a spare shoe.
Bespoke on-site user set up and training visit available.
All new Radio Aids systems are supplied with full instructions and support cards and are easy to set up and use. Telephone and email support is always available free of charge. However, we also offer a bespoke on-site set up and training visit for individual systems where we will tailor the session to the specific needs of the user. Our friendly and approachable trainer will spend as long as is required to get the system working in your specific environment and to ensure that you are happy and confident about all the different ways the equipment can work for you.
We would strongly recommend this service for those in employment situations where the radio aid needs to interact with existing equipment.    
Please note: we do not recommend the type 03 Roger X receivers for use with cochlear implants. Type 02 Roger X receivers are compatible with some cochlear implants but need to be set up correctly by your implant centre or teacher of the deaf. Please contact us for more information.                                   

Roger Pen details:
Charging time: 2 hours
Dimension: Ø15 x 142mm
Weight: 28g
Operating range: 20m (ideal case). 10m (typical)

Battery life: 7 hours
Number of microphones working together: up to 10
The Roger Pen will work with Roger Clip-On Mic transmitters and Roger receivers but not with the Roger inspiro, DigiMaster SoundField systems, Roger DynaMic or Roger AudioHub. 

Bluetooth Class 2. for handsfree phone calls (does not support music streaming)
Bluetooth Range: 3m (10ft).
Bluetooth operating time: 5 hours active / 2 days standby

Roger Pen can support (connect to) two phones at the same time, but only one call at a time is possible.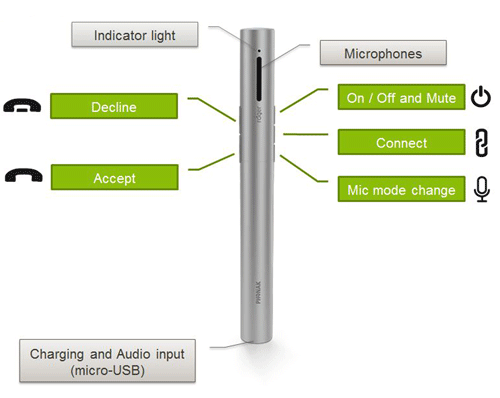 Roger X receiver details:
Roger digital wireless technology

very small in size and weight
compatible with virtually all behind-the-ear hearing instruments
compatible with Cochlear BP100 & BP110 Bahas & with the Advanced Bionics cochlear implant with the iConnect earhook
Autoconnect
No frequency management necessary
Roger receiver type 03

Don't forget that you will also need to purchase Roger X compatible direct input shoes. Please note that the Roger X is compatible with standard MLxi/MLxS audio input shoes.

Height: 9.65mm
Range: up to 20m Power consumption: 3.2mA   
Click here to view the Roger Pen User Guide   
Click here to view the Quick Guide
Click here to view the technical datasheet

Phonak Roger with Hearing Aids
Phonak Roger X technical datasheet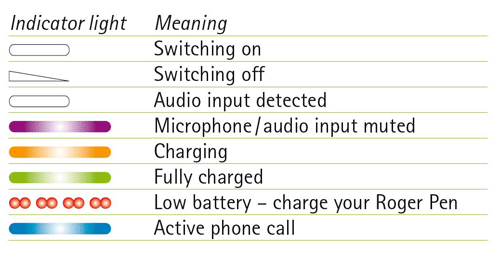 International warranty for Phonak equipment purchased for use outside of the UK.
Phonak offers a one-year limited international warranty, valid as of the date of purchase. This limited warranty covers manufacturing and material defects. The warranty only comes into force if proof of purchase is shown.
For customers using Phonak equipment outside the UK, in the unlikely event that your equipment requires repair it may be returned directly to your
local Phonak service centre