The small and stylish Phonak ComPilot Air II is focused on Bluetooth technology, to connect Phonak Venture & Belong hearing aids wirelessly to mobile phones or Bluetooth enabled music sources. It can also be used with the Phonak TVLink II or the Phonak RemoteMic II. Unlike the ComPilot and ComPilot II the device does not need to be worn over your neck and instead it can be clipped onto yourself for easy and discreet wearing.

Phonak ComPilot Air II key features:
Built-in demonstration capability
No neckloop
Clip for easy wearing
Binaural streaming of audio signals in stereo
Built-in remote control for hearing aids
Spoken messages and callers name for easy interaction
Supports the Phonak RemoteControl App
The ComPilot Air II is only compatible with the following Phonak Venture & Belong hearing aids: Audéo V, Bolero V, Virto V (excluding nano and NW 0), Naida V, Sky V, CROSS II, Audéo B, Bolero B and Nathos Auto.

How to wear:
Before any phone call, music or TV streaming:
Insert the hearing aids into your ears correctly and switch them on.
Switch ComPilot Air II on.
Clip it securely on to your clothing.
Distance to the mouth:
The best results are achieved at 20 cm (8").
A distance of 40 cm (16") to the hearing aids should not be exceeded.
To prevent scratching sounds, do not cover ComPilot Air II with clothing during phone calls. The ComPilot Air II is able to tell you the name of the caller, inform you about the different operation modes and status of the ComPilot Air II and about a low battery.

Please note - the ComPilot Air II is easy-to-use for audio streaming, straight out of the box. 
However for the remote control feature to work, the ComPilot Air II needs to be set up with your hearing instruments by your audiologist or hearing aid dispenser. Before purchasing a ComPilot Air II for use as a remote control, you need to contact your hearing aid distributor and confirm that they are happy for you to make an appointment for them to set up your equipment.  
Phonak part number: 076-0028-P509
Dimensions (L x W x H): 54 x 34 x 12/19 mm (2.13 x 1.34 x 0.47/0.75 inches)
Weight:  24 g
Color:  Champagne
Charging socket: mini USB
Operating conditions: 0°C - 40°C (+32° to +104° Fahrenheit) /< 95% relative humidity (non condensing)
Transport and storage conditions: -20 °C to +60 °C (–4° to +140° Fahrenheit) /  
< 90% relative humidity (non condensing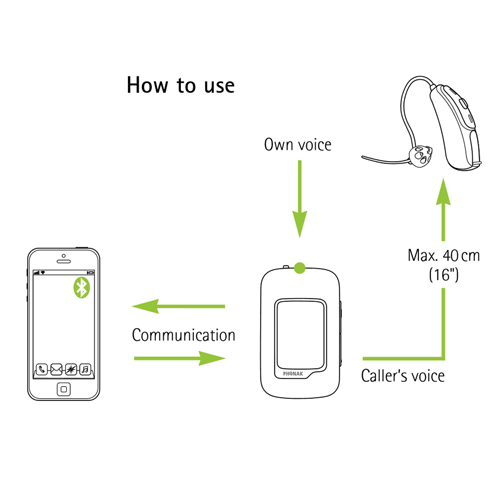 Click here to view pdf user guide for the ComPilot Air II
Click here to view pdf data sheet for the ComPilot Air II
Click here to view information about how to pair the ComPilot Air II to the RemoteMic II

For further information about Bluetooth, visit www.bluetooth.org

International warranty for Phonak equipment purchased for use outside of the UK.
Phonak offers a one-year limited international warranty, valid as of the date of purchase. This limited warranty covers manufacturing and material defects. The warranty only comes into force if proof of purchase is shown.
For customers using Phonak equipment outside the UK, in the unlikely event that your equipment requires repair it may be returned directly to your local Phonak service centre