A super simple mobile phone with 4 speed dial memory buttons only - ideal for those who need a mobile phone for security but don't make many calls!
The Doro Secure 580 is a durable and splash-proof mobile phone with four speed dial keys for calling the people you need to stay in contact with in one simple press. This phone is great for an elderly relative or someone who struggles to use a conventional phone or to remember phone numbers.
There is the option to create a 'Whitelist' where the phone will only accept incoming calls from pre-approved numbers. This is an important feature for vulnerable individuals or those who receive a lot of nuisance calls.

Feel even safer thanks to an assistance button and a safety timer that can automatically dial up and send an SMS alarm to pre-set numbers, along with GPS localisation information to let people know where you are.
This phone replaces the popular Doro HandlePlus 334. The Secure 580 has all the same functions plus new features which include: GPS data with SOS alarm, colour display with high contrast themes, improved handling, splash proof, HD voice and remote managing via Doro Manager.
In the opinion of our evaluation panel, this unique phone has loads of fantastic features. We particularly like the ability to create a Whitelist to restrict incoming nuisance calls. You can also set up an auto-reply for received text messages which tells people that the phone cannot send outgoing messages, plus the Safety Timer which gives peace of mind to vulnerable people who still want to live independently. A recommended choice for people with visual impairment or memory loss.

For ease of use, this mobile phone cannot send text messages (although it can receive them so you can get Pay As You Go balance messages etc). It is possible to set up an automatic reply to inform people that they will not get a response by text.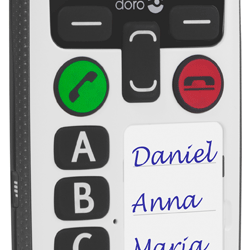 The Secure 580 has soft touch surfaces for optimised grip, keypad lock and a high quality colour display. The answer and hang up buttons are large, clear and easy to use, as are the 4 memories. 

Ideally the Secure 580 should be set up for the user by a friend or relative. Because the Secure 580 has no conventional keypad, programming requires a little patience and can be fiddly but is relatively straightforward and is well-explained in the instructions. It is also possible to register for an online Doro Manager account and set-up and manage the Secure 580 remotely. This is easier and saves time but it will use 3G to sync with the phone which can be expensive if you don't have an internet data allowance as part of your mobile phone contract.

The Doro Secure 580 has an SOS emergency button on the back. To make an emergency call, press and hold the key on the back - this will cause the phone to send your pre-programmed SOS emergency SMS text message to all numbers in the Emergency numbers list (max. 5). It will then dial the first number on the list. If the call isn't answered within 30 seconds, the next number is dialled. Dialling is repeated 3 times or until the call is answered. Note - the emergency call function can be turned off. The Secure 590 also has the added feature of a Safety Timer. This is ideal for times when you are doing 'risky' activities such as walking the dog or taking a shower. If the timer is not turned off within the allotted time, the SOS alert will automatically trigger. This phone is the perfect solution for giving peace of mind to relatives, as users can now be reachable and can call family or carers while enjoying an independent lifestyle.
Due to it's robust design and well spaced, tactile buttons, the Doro Secure 580 is ideal for people with visual impairment, memory loss or who simply struggle with handling conventional mobile phones.
Key features





3G network

GPS ensures fast and accurate position information (only when alert message is sent to a smartphone)

4 direct dialling keys with handwriting labels
Emergency call sending text to 5 nominated numbers
Optional display modes optimised for visually impaired users
Speakerphone
HD voice & Hearing Aid Compatible
Very easy to use
Charging cradle included
Water protected (IP54)
Whitelist option to restrict incoming calls

Box contains: Doro Secure 580 handset & 800mAh Li-ion battery, charging cradle, Lanyard, USB cable & UK plug

This phone is supplied unlocked and SIM-Free. You will need to arrange for a micro-SIM card (the new smaller kind) from a mobile phone network operator for use with this phone. If you are planning on using the remote Doro Manager feature we recommend you talk to your mobile phone operator about including an internet data allowance.
The Doro Secure® 580 only accepts a micro SIM card.
A range of accessories for use with this phone are available to purchase separately - see Associated Items on the right.
Review this product
Doro Secure 580 GSM simple mobile phone (40GSMS580)
Reviewed by: Mike
Bought this for my gran, good phone
Doro Secure 580 GSM simple mobile phone (40GSMS580)
Reviewed by: Ants in my eyes johnson
Because of ants in my eyes, This phone is ideal for my daily activities.Can call my nan in Yorkshire, fam. Sick deal. I can't feel anything, I hope you appreciate this rating due to my condition.
Doro Secure 580 GSM simple mobile phone
4.5
5
2
2