Phonak ComPilot - The smart 3-in-1 accessory
Phonak ComPilot is your perfect 3-in-1 companion, offering true convenience, wireless freedom and the reassurance of VoiceAlerts, spoken messages. ComPilot provides easy wireless access to TVs, MP3 players and phones to name but a few - additional items may be required, see below. It guarantees stable connectivity, best voice quality for phoning and keeps hands free.
The built-in remote control is designed for ease of use with convenient program and volume changes. ComPilot is the first accessory to offer the benefit of spoken messages, making it easier than ever to interact with your hearing aids.
Phonak ComPilot key features:
Wireless streaming
Remote control
VoiceAlerts - The only accessory to offer spoken alerts
Perfect partner with TVLink S base-station
More than 8 hours continuous streaming time in StereoSound
The Phonak ComPilot gives you the following possibilities:

Hands free mobile phone conversations via Bluetooth - connect more than one phone at a time
Listening to TV sound - TVLink S adaptor available separately
Listening to audio (e.g. music) from a radio, PC, MP3 player etc.
wired to ComPilot - connecting lead available separately
Listening to audio (e.g. music) from a wireless stereo device via Bluetooth
Listening to a person - RemoteMic available separately
Remote Volume Control of some specific models of hearing aid (see below) 
ComPilot is also compatible with Phonak's range of ear level receivers (such as Roger X) via its Europlug socket.  Connecting a radio system via a ComPilot can offer a convenient way of connecting a radio aid for users in home and work situations.  However, ear level receivers (for example Roger 17) connected directly to hearing aids or implant processors offer a number of practical advantages for children in educational settings.

The ComPilot is compatible with Phonak CORE, Spice, Spice+ and Quest hearing aids. The ComPilot does not operate with any non Phonak hearing aids.

Audio Streaming only:

Audéo Smart, Audéo YES, Certéna, Certéna Art, Exélia Art, Nathos w, Naída, Nios micro, Versáta and Versáta Art.  (Please note, only Nathos models with the suffix "w" are compatible.)
Audio Streaming plus Remote Control Features:
Ambra, Audeo Q, Audeo S Smart, Audeo S Yes, Bolero Q, Cassia, CROS, Naída Q, Naída S, Nathos S+ ("W" versions only), Nios S, Sky Q, Solana, Virto Q-13 and Virto Q-312 (wireless version only). Also compatible with Advanced Bionics Naída CI Q70 and Q90 cochlear implant processor. Please note that the Phonak ComPilot does not operate with non Phonak hearing aids.
(Please note, the above list is contrary to our Issue 51 catalogue page 206, which is incorrect)  

Please note - the ComPilot is easy-to-use for audio streaming, straight out of the box. 
However for the remote control feature to work, the ComPilot needs to be set up with your hearing instruments by your audiologist or hearing aid dispenser. Before purchasing a ComPilot for use as a remote control, you need to contact your hearing aid distributor and confirm that they are happy for you to make an appointment for them to set up your equipment.  
Phonak part number: 076-0128-2509
Includes: ComPilot inc long neck cord, power supply & user guide 
Power Supply: 100 – 230 V ac 50-60Hz. UK, EU & USA plug options.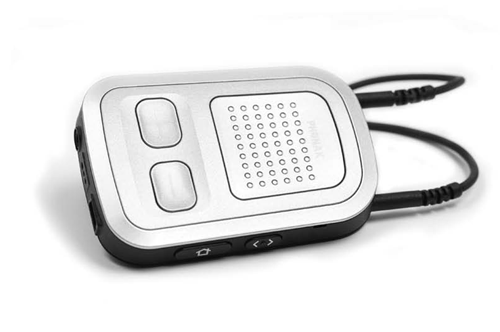 Technical information:
Dimensions: L x W x H: 7.2 x 4.9 x 1.4 cm
Weight: 46 g
Colour: Palladium/black
Operating conditions: 0o C to +45o C / < 95% relative humidity
(non condensing)
Storage and transportation -20o C to +60o C / < 90%
conditions: relative humidity (non condensing)
Power supply:
Battery: Lithium Polymer 3.7V DC
Charging time: 1hour.
Charging time depends on initial battery state. Full
performance is achieved after three complete charge
and discharge cycles.
Capacity: 450 mAh (typ.)
Operating time: 8 hours Bluetooth streaming
48 hours switched on, Bluetooth on stand-by
10 hours audio streaming via cable
9 hours streaming via FM system
2 month remote control
Charging input: Type: DC, stabilized 5V +/- 5%. MiniUSB
Max. current: 500 mA
The battery cannot be over-charged. It may become
warm during charging.
Important notice: It is recommended to only use the original Phonak charging unit.

Audio information
Audio input supported:
Wired (3.5 mm jack)
Bluetooth audio (stereo)
Bluetooth phone
FM (Europlug)
Audio quality: Stereo / 22 kHz sample frequency
Audio bandwidth: 20 Hz – 10 kHz
Bluetooth
Bluetooth profiles supported:

Headset Profile (HSP)
Handsfree Profile (HFP)
Advanced Audio Distribution Profile (A2DP)
Audio Video Remote Control Profile AVRCP
Phone Book Access Profile PBAP
Bluetooth range: 10 m (Class 2)
Bluetooth compliance: Bluetooth version 2.1
QDID: B018562
Max. paired devices: 8
Maximum of simultaneously connected profiles:
2 A2DP
2 HSP/HFP
(usually 2 cellular phones or 1 cellular phone and 1 TVLink S basestation)
Radio information
Loop antenna Ferrite antenna
Type: Removable, inductive Integrated, inductive
Operation frequency: 10.6 MHz
Occupied bandwidth (99% BW): 588 kHz 570 kHz
Modulation: FSK
Channel: Single channel radio
Magnetic field Strength@10 m: <-34 dB?A/m <-11.5 dB?A/m
Operating range to hearing aid: 20 cm (8") 80 cm (33")
Wearing option: Worn around neck Handheld
Use case: Streaming and remote control Remote control only
Standards applied:
Europe
Radio: ETSI EN 300 330 (HiBAN)
ETSI EN 300 328 (Bluetooth)
EMC: EN/IEC 60601-1-2
El. Safety: EN/IEC 60601-1
USA
47 CFR Part 15.209 (HiBAN)
47 CFR Part 15.247 (Bluetooth)
Canada
RSS-210 (Issue 8) Annex 1 (HiBAN)
RSS-210 (Issue 8) Annex 8 (Bluetooth)
Japan
EWPE (HiBAN),
ARIB-T66 (Bluetooth)
Compatibility to Phonak wireless hearing aids
Streaming: CORE, Spice & Quest Generation
Streaming and remote control*: Spice & Quest Generation

*note - some features might not work unless paired with hearing aids. 
Persons using medical devices such as pacemakers are not permitted to use this device.
Click here to view pdf user guide
For further information about Bluetooth, visit www.bluetooth.org
Click here to view information about how to pair the ComPilot with your mobile phone
Click here to view pdf datasheet   
ComPilot with Naida CI Quick Guide
International warranty for Phonak equipment purchased for use outside of the UK.
Phonak offers a one-year limited international warranty, valid as of the date of purchase. This limited warranty covers manufacturing and material defects. The warranty only comes into force if proof of purchase is shown.
For customers using Phonak equipment outside the UK, in the unlikely event that your equipment requires repair it may be returned directly to your local Phonak service centre.