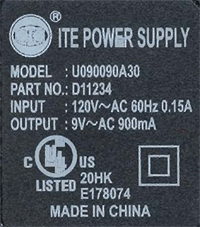 Sonic Boom clock PSU - 110V 60Hz
Important note:  this is an 9V AC power supply, suitable for use with older versions of the Sonic Boom clocks.  Newer versions require a 9V DC power supply.  Please check your product user guide carefully to see which version you require.

US 2 flat pin plug fixed voltage AC/AC power supply - UL Listed.

Input: 120v ac 60Hz 0.15A
Output: 9V AC 900mA
Lead length approx 1.8 metres
Fixed right angled plug