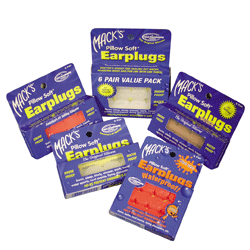 Whether you are troubled by a snoring partner, the noise from passing cars, the neighbours or planes overhead we have a suitable Mack's earplug for you.
Mack's Pillow Soft earplugs are made from mouldable, non-irritating silicone rubber.

They are reusable however, they should be replaced once they get dirty or are no longer sticky. Keeping your hands and ears clean and dry prior to handling/applying the earplugs will help prolong the useable life of the earplugs.