Sonic Shaker travel vibrating alarm clock SBP100SS
40CLSBP100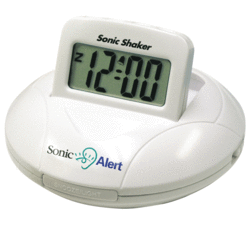 £19.99
(save £3.99)
our price:
£16.00
inc VAT
(£13.33 ex VAT)
quantity pricing:
1 +

£16.00 each

(£13.33 each)
VAT Relief is available if you make a declaration in the Shopping Basket
Choose Quantities
Sonic Shaker travel vibrating alarm clock SBP100SS
Order now for despatch today.
The
Sonic Shaker
is a particularly nice vibrating travel alarm clock with good vibration. The clock is very easy to set and use; with vibrate only, beep only or vibrate with beep modes.
Other features include:
12 hour clock with pm indicator
4 minute snooze
Clip & lead to secure in/under pillow
Manual display LED light (when display is raised)
Protective travel pouch for easy packing
In our view the vibration of the Sonic Shaker has noticeably stronger vibration than the 'Shake Awake'.

This clock is also very suitable for those working shifts wishing not to wake the whole house with the sound of an audible alarm clock.
Dimensions: 90mm in diameter, 30mm high.
Weight: approx. 200g with batteries.


Supplied with 2 x AA and 1 AAA alkaline batteries
The AAA battery powers the clock and lasts quite a long time.
The AA batteries power the vibrator and need to be replaced more often. Order spares now and take advantage of Connevans lower than high street battery prices.

The following additional information is available for this product

Reviewed by: DE
I am not deaf but this is a really super clock. I have been woken by one for more than two years all over the world. Very loud and reliable. I would also advise not using rechargeables.
Reviewed by: Wendy J
A lovely alarm clock which is easy to use and set. I use it every day - it is loud and having used it for over 3 years a reliable product.
Reviewed by: Mike Everitt
It's excellent as a travelling clock, strong vibration, require some moving about to turn the alarm off, the only bad thing I could find about this is that the vibration is only constant, would be nice if it pulses as an option
Reviewed by: Ellie Gray
I'm profoundly deaf and not good in morning. I often use snooze button. i don't like this alarm because when i tried to look for snooze button, i often press on/off or mode button which is useless for me. Those buttons is located on the outer surface of the alarm. If i accidentally press on/off or mode, I wont be able to wake up or wake up my hearing partner with buzz sounds.
Reviewed by: Laura E
This clock is really great for travelling. The way the screen folds down and the buttons are protected, I can just throw it in the case and not worry about it. The vibration is really powerful - i'm not deaf but i am a heavy sleeper so it's really useful to be able to wake myself up without waking the whole house!
Reviewed by: CMJ
A reliable clock with an easy-to-see clock face. Tip - use alkaline batteries, not rechargeable.
Reviewed by: John Coulson
Alarm is so unreliable as to be useless. Alarm began to fail a few days after the warranty ran out. Looks good,reliability very poor.
Reviewed by: Paul Bradley
The vibration on this alarm is excellent - I wasn't sure what to expect, but I set it to wake me up and was surprised to find it very nearly blew my ***** off. Five stars.
Related Products
Share with Friends
Let a friend know about this product. (or send it to yourself)
Send To A Friend
ASSOCIATED ITEMS
AA alkaline battery - pack of 4

£1.63

AAA alkaline battery - pack of 4

£1.63
There is nothing in your basket
Connevans Limited

Bridge House
1 Nutfield Road
Merstham, Surrey, RH1 3EB
United Kingdom

Customer Service

01737 247571

Minicom

01737 644016

Fax

01737 223475

Email