Doro PhoneEasy 615 GSM mobile phone
40GSM615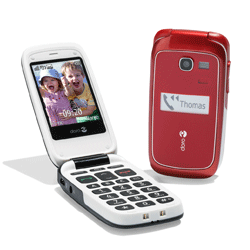 £137.60
(save £18.07)
our price:
£119.53
inc VAT
(£99.61 ex VAT)
quantity pricing:
1 - 9

£119.53 each

(£99.61 each)

10 +

£111.58 each

(£92.98 each)
VAT Relief is available if you make a declaration in the Shopping Basket
Choose quantity and options
Order now for despatch on Mon 20th May.
An easy to use 3G amplified mobile phone with good functionality - this flip phone makes dialling and messaging very simple thanks to extra large screen and enlarged buttons and characters, while offering plenty of functionality with vibrating ringer, Bluetooth™ wireless technology and the addition of an easy-to-use camera.
This mobile telephone is a recommended choice for hearing aid wearers.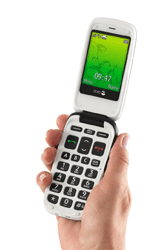 The 615 is a good sized mobile phone, not too small and not too big, fantastic for simply making and receiving calls and text messages. Dialling is easy thanks to an extra large full colour display and a large and clear keypad with separated keys and a phonebook for 200 names and numbers. The 615 also has soft touch, low reflective surfaces, speakerphone and Bluetooth.
The 615 is also the only one of our range of mobiles that has a camera and the ability to send and receive MMS picture messages. The camera has been specially designed to be easy-to-use and is accessed through a one-touch button.
The display is nice and big, in full colour with a large display font making it clear and easy to read. Call volume is adjusted by volume buttons on the side of the phone and the 615 has a good loud listening volume and nice sound quality. The 610 includes some more conventional 'proper' ringing sounds as well as more modern polyphonic tunes.
There is also a standard 2.5mm headset socket.
The 615 a really nice new model which has features not seen in other phones in the range such as a camera and the ability to send/receive MMS picture messages. It also has tone control and can be used on the 3G network. See Details tab for full list of features.


The PhoneEasy 615 has a Hearing Aid Compatibility rating of T4/M3 - the best of all the mobile phones in our range! This means there is possibly still an element of interference with hearing aids, but it has the best performance possible with current technology. Most hearing aid users should find the level of background noise acceptable when using the phone directly with 'T' with their hearing aid - those who find the background noise unsatisfactory can use an inductive earhook. We are unable to give guidance; it is simply a matter of trial and personal preference.


Hearing aid users (with a telecoil facility) have two alternative ways of using the PhoneEasy 615 with their hearing aid:
Directly from the telephone handset using 'T'
Indirectly using an inductive earhook (for those who find an unsatisfactory level of inductive noise when used directly)
Please note, our 'T-Link' inductive earhook will not work with this phone. See Associated Items on the right for compatible earhook.
The Doro PhoneEasy 615 also has an emergency SOS button on the back. To make an emergency call, press and hold the key on the back - this will cause the phone to send your pre-programmed SOS emergency SMS text message to all numbers in the Emergency numbers list (max. 5). It will then dial the first number on the list. If the call isn't answered within 30 seconds, the next number is dialled. Dialling is repeated 3 times or until the call is answered. Note - the emergency call function can be turned off.
A list of features can be found on the Details tab!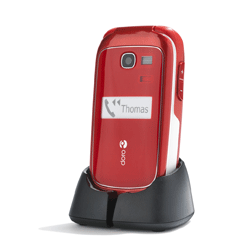 Supplied with: 615 mobile phone & battery, UK mains charger with USB lead, charging cradle, detachable lanyard, stereo earphones and user instructions
This phone is supplied unlocked and SIM-Free. You will need to arrange for a SIM card from a mobile phone network operator for use with this phone.


A range of accessories for use with this phone are available for purchase separately - see Associated Items on the right.                          

Main features
Speakerphone
Keylock
Call timer
Backlit keypad
FM-radio
Menu navigation
Icon based navigation
Dial up safety alarm
Key tone
Camera resolution (megapixel): 3.2
Camera flash

Calculator
Calendar
Clock

Memories
Call log positions: 60
One touch memories: 3
Two touch memories: 9
Phonebook Positions: 300
Multiple numbers per contact
List top 10 contacts first

Handset unit display
Colour display
External display

Display size (H x W mm): 49*36
Resolution (H x W pixels): 320 * 240
Big display font
Optional display modes optimised for visually impaired users
Adjustable font size for SMS and phonebook
Wallpapers: 8

Sounds & Signals
Polyphonic ring tones: 20
Visible ring indicator
Vibrating ringer
Ringer volume settings except off: 7
Ringer off setting
Alarm
Reminders

Acoustics
Receiving maximum level (dB RLR): -35
Maximum receiving amplification (dB): 35
HAC (hearing aid compatible)
Hearing Aid Compatibility Rating: M3/T4
Maximum ringer volume (dB(A) at 1 meter: 85
Speaker phone volume settings: 7
Microphone Mute
Volume settings: 7

Ergonomic sound™
SMS

Ergonomics

Hide unwanted functions
Handset size (mm): 102x53x23

Handset weight including batteries (g): 115
Soft touch coating for better grip
High contrast keys with low reflective finish
Concave keys
Cables & Connections
Powering handset unit

Standby time (hours): 533
Continues use on batteries (hours): 3.2
Battery included (type): Li-ion 1000mA
Low battery warning
Charging pod included with UK PSU

Universal Charging solution (UCS)

Technology

GSM
GSM tri-band: 900/1800/1900
3G

Bluetooth
VCard support
Accessories

Related Products
Doro PhoneEasy 715 slider GSM mobile phone


an easy to use amplified SLIDER mobile phone with large colour screen, big buttons, adjustable text size & tone control, SMS text message capability and Bluetooth - make and receive calls and text messages without any hassle - WITH A CAMERA!

£117.60

£99.00

(£82.50 ex VAT)

BUY
Doro PhoneEasy 612 GSM mobile phone


an easy to use amplified flip mobile phone with large colour screen, big buttons, adjustable text size & tone control, SMS text message capability and Bluetooth - make and receive calls and text messages without any hassle - WITH A CAMERA!

£107.60

£96.84

(£80.70 ex VAT)

BUY
Doro PhoneEasy 338 GSM mobile phone


a very easy to use basic mobile phone with 3 direct dial memory buttons - make and receive calls without any hassle

£99.73

£79.69

(£66.41 ex VAT)

BUY
Doro HandlePlus 334 GSM simple mobile phone


a super simple, easy to use basic mobile phone with 4 direct dial memory buttons - to give peace of mind

£112.60

£91.63

(£76.36 ex VAT)

BUY
Geemarc CL8400BT GSM flip mobile phone with Bluetooth


the CL 8400 is a very easy to use amplified mobile phone with large font and screen, SMS text message capability and a good 'flip' design - supplied complete with desktop charging cradle

£87.59

£73.12

(£60.93 ex VAT)

BUY
Amplicomms PowerTel M7000 GSM mobile phone


A very loud amplified mobile phone with an extra loud ringer, extra large colour display and Bluetooth connectivity.

£77.59

£63.00

(£52.50 ex VAT)

BUY
Amplicomms PowerTel M4000 GSM mobile phone


a very easy to use entry level basic amplified mobile phone with large font, keypad lock, SMS text message capability and a bright, clear colour screen - supplied complete with desktop charging cradle *New! now available in Black*

£57.59

£44.99

(£37.49 ex VAT)

BUY
Amplicomms PowerTel M6500 GSM mobile phone


an easy to use amplified mobile phone with more advanced features such as tone control, large font, SMS text message capability and a comprehensive phonebook facility - supplied complete with desktop charging cradle & Bluetooth facility

Shipping Discount

£67.60

(£56.33 ex VAT)

BUY
Amplicomms PowerTel M6000 GSM mobile phone


an easy to use amplified mobile phone with more advanced features such as tone control, large font, SMS text message capability and a comprehensive phonebook facility - supplied complete with desktop charging cradle & Bluetooth facility

£77.59

£59.99

(£49.99 ex VAT)

BUY
Share with Friends
Let a friend know about this product. (or send it to yourself)
Send To A Friend
There is nothing in your basket
Connevans Limited

Bridge House
1 Nutfield Road
Merstham, Surrey, RH1 3EB
United Kingdom

Customer Service

01737 247571

Minicom

01737 644016

Fax

01737 223475

Email