Oticon ConnectLine Streamer 1.4
3OASTREAM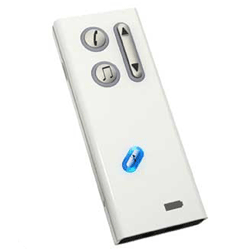 our price:
£160.38
inc VAT
(£133.65 ex VAT)
VAT Relief is available if you make a declaration in the Shopping Basket
Choose quantity and options
Please allow around a working week for despatch of this product
The Oticon Streamer is the connectivity interface for the Oticon hearing
instruments that are Streamer compatible - currently compatible with  Agil Pro, Agil, Epoq XW, Epoq W, Epoq V, Acto Pro, Acto, Vigo Pro Connect, Vigo Connect, Ino Pro, Dual XW, Dual W, Dual V, Chili SP9, Chili SP7, Chili SP5, Spirit Zest Communicate, Spirit Zest Plus, Safari 900 & Safari 600. Excepting: CIC, CIC Power, MIC, MIC Power and ITC Power products. (may require software update).
It wirelessly connects the hearing instruments to audio sources for communication, entertainment and information purposes, such as a mobile phone, landline phone, TV, music player, PC, etc.

T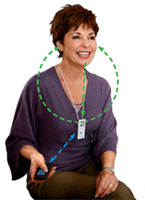 he Oticon Streamer connects your hearing instruments wirelessly to different audio sources and makes your hearing instruments work like wireless headphones.
The Streamer transmits the sound directly into both hearing instruments and thereby improves the audio experience by giving excellent sound clarity.
Streamer is the core in the ConnectLine system where easy, convenient daily use is in focus. Due to the AutoConnect and AutoPriority, the system will always respond correctly to the touch of a single button on Streamer.

Streamer gives you the following possibilities:

Hands free home phone conversations - ConnectLine Phone adaptor available separately
Hands free mobile phone conversations -connect up to two phones at a time

Listening to TV sound - ConnectLineTV adaptor available separately
Listening to audio (e.g. music) from a radio, PC, MP3 player etc.
wired to Streamer
Listening to audio (e.g. music) from a wireless stereo device via Bluetooth
Remote Volume Control and Programme Shift in the hearing instruments 
Features
Quality sound streaming
Streamer uses the digital EarStream technology to transmit real time audio
directly to the instruments. The benefit is a 10 kHz undistorted, crystal clear audio signal.
A fully integrated system
In the ConnectLine system, Streamer identifies all other ConnectLine devices (purchased seperately, see Associated Items on Right) connected and ensures that the desired audio source are heard when needed.
The hearing instruments need no operation by the user but will automatically switch to the correct program dedicated the selected audio source.
Personal wireless headphones
When a set of hearing instruments is linked to Streamer, audio is transmitted directly and securely to both instruments. The binaurally fitted instruments resembles miniature wireless headphones, custom tailored to the user's hearing loss. Streamer also works with one instrument in case of a monaural fitting.
Ease of use
The AutoConnect feature makes sure that other ConnectLine devices and mobile phones are always connected and ready for use. Just turn on the 'Connect' function and all ConnectLine applications are easily controlled by pressing one button on Streamer. Controlled by AutoPriority, 4 wireless devices can stay connected and be used seamlessly.
When not used for audio streaming, Streamer also functions as a remote control for volume control and program shift.
Bluetooth technology
Streamer has built-in Bluetooth technology for wireless connectivity to ConnectLine devices and supports all relevant Bluetooth profiles. Bluetooth is a commonly used global standard for mobile phones and offers a transmission range of up to 30 feet. 

Supplied with: Neck straps (short and long)*, UK Power adapter for charging, USB PC-charger cord, Audio cord 1m (2.5 mm – 3.5 mm jack), Protective silicone skin.
* The neckstrap is part of the system, and should always be used for best
possible performance.      
 
Oticon part number: 110546 (white), 110547 (black)

The Streamer needs to be set up with your hearing aids by your audiologist or hearing aid dispenser. Before purchasing a Streamer, you need to contact your hearing aid distributor and confirm that they are happy for you to make an appointment for them to set up your equipment.
Technical data (firmware release 1.4)
Dimensions 88 x 35 x 12 mm
Weight 43 g
Power supply Built-in, rechargeable battery
Battery life 5 h streaming time, 70 h stand-by (Connect on), 1 Year stand-by (Connect off)
Charging time 5 h
AutoConnect Yes (30 feet)
AutoPriority Yes
Streaming frequency 3.84 MHz
Audio interfaces Wired Audio (2.5 mm jack), Bluetooth Phone, Bluetooth Stereo
Line input sensitivity 400 mVrms (analogue)
Bluetooth compliance Ver. 2.0
Bluetooth Profile support Advanced Audio Distribution Profile (A2DP) 1.0, Head Set Profile (HSP) 1.1, Hands Free Profile (HFP) 1.0
No. of A2DP paired devices 1 at a time
No. of paired devices 8 at the same time
No. of connected devices 4 at the same time
Bluetooth range 10 meters (Class 2)
EarStream range 0.5 meter nom.
Audio Quality Mono / 20 kHz sample frq
Audio Bandwidth 80 Hz - 10 kHz
Status indications LEDs on user interface and acoustic to HI, Back light and Battery low warnings
Colors Black, White
Emissions Max. -15dBμA / 10 meters, In compliance with all relevant standards
Operating temperature 10 - 45 °C
Storage temperature -20 - 70 °C
Currently compatible with  Agil Pro, Agil, Epoq XW, Epoq W, Epoq V, Acto Pro, Acto, Vigo Pro Connect, Vigo Connect, Ino Pro, Dual XW, Dual W, Dual V, Chili SP9, Chili SP7, Chili SP5, Spirit Zest Communicate, Spirit Zest Plus, Safari 900 & Safari 600. Excepting: CIC, CIC Power, MIC, MIC Power and ITC Power products.
(Note: standard Spirit Zest hearing aids are not compatible.  In order to use the Streamer you must have Communicate (C) or Plus versions of the Spirit Zest.)             
                 

Reviewed by: David West
THis is such fantastic piece of electronic equipment it has opened up a whole new life for me in conjunction with my Oticon spirit zest hearing aids. The streamer is stylish, compact, very easy to use. The sound quality perfect. IT allows for clear speech direct to the ears so you dont miss any of the conversation.
Connection to the mobile is effortless as is to my ipod. Thank you Oticon for developing this neat piece of equipment and to connevans for your prompt delivery
Warning you must have your audiologist set up the right settings
Reviewed by: Gary Hardman
This is an absolute must have device. It allows ease of communication with a wide range of other equipment. My work involves alot of telephone communication and this has made hands free telephony so simple. It also connects to my pc as a two way device ideal for skype and language learning. Class one product cannot recommend enough
Reviewed by: Ms Jayne Price
Absolutely changed my life. Am able to listen to music i havent been able to hear properly for more than 20 years. streaming directly to my NHS Spirit zest c aids, from my laptop. Can talk handsfree on mobile, watch films on laptop or tv without disturbing others. can hear sat nav - who would have thought?? IF YOU ARE NHS YOU WILL NEED ZEST COMMUNICATE AIDS AND AGREEMENT FROM YOUR AUDIOLOGIST to set them up. Mine were really helpful. This is really fantastic .
Related Products
Share with Friends
Let a friend know about this product. (or send it to yourself)
Send To A Friend
There is nothing in your basket
Connevans Limited

Bridge House
1 Nutfield Road
Merstham, Surrey, RH1 3EB
United Kingdom

Customer Service

01737 247571

Minicom

01737 644016

Fax

01737 223475

Email