System kit X25B - MICRO with wired microphone & superb sound quality
40SFKX25B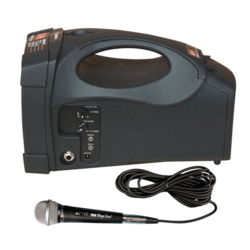 our price:
£132.60
inc VAT
(£110.50 ex VAT)
quantity pricing:
10 +

£119.34 each

(£99.45 each)
Out of Stock
Sorry, but this product is not in stock at the moment.
If you would like us to notify you when it is back in stock, please complete the form below and click submit.
To help us with our stock control, please could you let us know how many of this product you are interested in.
Please note that this is not a commitment from you to order
Micro amplifier RPN 20 c/w wired hand microphone.
A highly portable 20-watt, battery-powered amplifier c/w shoulder strap and wired handheld microphone. 
It is an ideal way of addressing a small group of people without the complexity, size and weight of a conventional PA system. An external sound source, such as an iPod can be connected to play music etc..

The RPN-20 is as easy to use as a megaphone but in our view with a hugely better sound quality.

The amplifier is about the size of a shoebox and weighs less than 3Kg, making it easy for anyone, even a young child, to use and to move about.
Even if you have never used a microphone before, you will find the Micro easy and user-friendly. There are no controls other than the volume control on the amplifier.
The Micro will run for up to 8 hours on its internal battery and you then plug it into the mains to recharge. The Micro can be used on mains power while recharging.

20 watts, rechargeable battery/mains powered.
Please note that this model does not have a radio microphone receiver.

Approx size (mm): 285d x 160w x 178h.

Approx. weight: 2.95kg inc. battery.
Specification:
Product Ref:

RPN-20

Power Output:

20 watts into a 4-ohm load

Freqency Response:

+/- 3dB 50Hz to 15 kHz

THD:

<1%

Additional Inputs:

Auxiliary input for music source

Speakers:

Single high sensitivity 5-inch full range

Power Supply:

12Volt 2.7 Ah rechargeable battery with intelligent charging. 18Volt mains power supply included

Charging Time:

Approximately 4 hours

Operating Time:

Up to 8 hours

Dimensions (mm):

285L x 160W x 178H

Weight: 2.95Kg with battery
The following additional information is available for this product

Related Products
Share with Friends
Let a friend know about this product. (or send it to yourself)
Send To A Friend
There is nothing in your basket
Connevans Limited

Bridge House
1 Nutfield Road
Merstham, Surrey, RH1 3EB
United Kingdom

Customer Service

01737 247571

Minicom

01737 644016

Fax

01737 223475

Email