Phonak ComPilot & TVLink S bundle
3PACOMPTV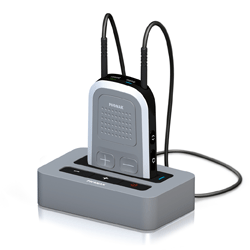 £328.80
(save £9.80)
our price:
£319.00
inc VAT
(£265.83 ex VAT)
quantity pricing:
1 +

£319.00 each

(£265.83 each)
VAT Relief is available if you make a declaration in the Shopping Basket
Choose quantity and options
Order now for next working day dispatch.
Phonak ComPilot and TVLink S Bundle

Phonak ComPilot is your perfect 3-in-1 companion, offering true convenience, wireless freedom and the reassurance of VoiceAlerts, spoken messages. ComPilot provides easy wireless access to TVs, MP3 players and phones to name but a few. It guarantees stable connectivity, best voice quality for phoning and keeps hands free.
The built-in remote control is designed for ease of use with convenient program and volume changes. ComPilot is the first accessory to offer the benefit of spoken messages, making it easier than ever to interact with your hearing aids.
The Phonak ComPilot & TVLink S bundle gives you the following possibilities:

Hands free mobile phone conversations via Bluetooth - connect more than one phone at a time
Listening to TV sound - with supplied TVLink S
Listening to audio (e.g. music) from a radio, PC, MP3 player etc.
wired to ComPilot - connecting lead available separately
Listening to audio (e.g. music) from a wireless stereo device via Bluetooth
Listening to a person - RemoteMic available separately
Remote Volume Control of some specific models of hearing aid (see below)
Phonak ComPilot key features:


    Wireless streaming
    Remote control
    VoiceAlerts - The only accessory to offer spoken alerts
    Perfect partner with TVLink S base-station
    More than 8 hours continuous streaming time in StereoSound

The TV Link S is a dedicated TV solution. Combined with the ComPilot it offers a terrific listening experience. The extremely fast transmission from your TV to your hearing aids in stereo provides excellent sound quality. Plus, its easy one-step set-up means that the TVLinks S and ComPilot are ready to go in less than 60 seconds!
Phonak TVLink S key features:


    Specially designed for ComPilot
    Quick and easy installation
    No line of sight to hearing instruments necessary
    Up to 30 meters (100 ft) transmission range
    Digital volume adjustment with audio-visual feedback
    Embedded charging slot for ComPilot
The ComPilot is compatible with Phonak CORE, Spice, Spice+ and Quest hearing aids.
Audio Streaming only:

Audéo Smart, Audéo YES, Certéna, Certéna Art, Exélia Art, Nathos w, Naída, Nios micro, Versáta and Versáta Art.  (Please note, only Nathos models with the suffix "w" are compatible.)
Audio Streaming plus Remote Control Features:
Ambra, Audeo Q, Audeo S Smart, Audeo S Yes, Bolero Q, Cassia, CROS, Naída Q, Naída S, Nathos S+ (not Micro &?M), Nios S, Sky Q, Solana and Virto Q. Also compatible with Advanced Bionics Naída CI Q70 cochlear implant processor. Please note that the Phonak ComPilot does not operate with non Phonak hearing aids.
(Please note, the above list is contrary to our Issue 51 catalogue page 206, which is incorrect) 
Please note - the ComPilot is easy-to-use for audio streaming, straight out of the box. 
However for the remote control feature to work, the ComPilot needs to be set up with your hearing instruments by your audiologist or hearing aid dispenser. Before purchasing a ComPilot, you need to contact your hearing aid distributor and confirm that they are happy for you to make an appointment for them to set up your equipment.  
Phonak part number: 076-0816-2520
                                
Includes: ComPilot inc neck cord, TV Link S, UK power supply, SCART adaptor, 3.5mm plug to plug audio cable, 3.5mm plug to phono plug cable  & user guides          
Please note: Individual components supplied as part of a bundle cannot be returned separately for credit .
ComPilot Technical information:
Dimensions: L x W x H: 7.2 x 4.9 x 1.4 cm
Weight: 46 g
Color: Palladium/black
Operating conditions: 0o C to +45o C / < 95% relative humidity
(non condensing)
Storage and transportation -20o C to +60o C / < 90%
conditions: relative humidity (non condensing)
Power supply:
Battery: Lithium Polymer 3.7V DC
Charging time: 1hour.
Charging time depends on initial battery state. Full
performance is achieved after three complete charge
and discharge cycles.
Capacity: 450 mAh (typ.)
Operating time: 8 hours Bluetooth streaming
48 hours switched on, Bluetooth on stand-by
10 hours audio streaming via cable
9 hours streaming via FM system
2 month remote control
Charging input: Type: DC, stabilized 5V +/- 5%
Max. current: 500 mA
The battery cannot be over-charged. It may become
warm during charging.
Important notice: It is recommended to only use the original Phonak charging unit.
Audio information
Audio input supported:
Wired (3.5 mm jack)
Bluetooth audio (stereo)
Bluetooth phone
FM (Europlug)
Audio quality: Stereo / 22 kHz sample frequency
Audio bandwidth: 20 Hz – 10 kHz
Bluetooth
Bluetooth profiles supported:
Headset Profile (HSP)
Handsfree Profile (HFP)
Advanced Audio Distribution Profile (A2DP)
Audio Video Remote Control Profile AVRCP
Phone Book Access Profile PBAP
Bluetooth range: 10 m (Class 2)
Bluetooth compliance: Bluetooth version 2.1
Max. paired devices: 8
Maximum of simultaneously connected profiles:
2 A2DP
2 HSP/HFP
(usually 2 cellular phones or 1 cellular phone and1 TVLink S basestation)
Radio information
Loop antenna Ferrite antenna
Type: Removable, inductive Integrated, inductive
Operation frequency: 10.6 MHz
Occupied bandwidth (99% BW): 588 kHz 570 kHz
Modulation: FSK
Channel: Single channel radio
Magnetic field Strength@10 m: <-34 dB?A/m <-11.5 dB?A/m
Operating range to hearing aid: 20 cm (8") 80 cm (33")
Wearing option: Worn around neck Handheld
Use case: Streaming and remote control Remote control only
Standards applied:
Europe
Radio: ETSI EN 300 330 (HiBAN)
ETSI EN 300 328 (Bluetooth)
EMC: EN/IEC 60601-1-2
El. Safety: EN/IEC 60601-1
Compatibility to Phonak wireless hearing aids
Streaming: CORE, Spice & Quest Generation
Streaming and remote control*: Spice & Quest Generation

*note - some features might not work unless paired with hearing aids. 

TVLink S Technical Information:

Dimensions: L x W x H: 90 x 60 x 23 mm
(3.8 x 2.5 x 1 inches)Weight: 100 g
Colour: Light silver metallic
Operating conditions: The product has been designed for trouble-free operation without restrictions when used as intended, unless otherwise stated in the user guide -10°/55° Celsius and relative humidity of<95% (non condensing)
Transport and storage -20°/60° Celsius and relative humidity of conditions: 90% for a long period of time
Power Supply:
Type: DC, stabilized
Secondary voltage: 5 VDC
Max.current: 500 mA
Plug: Mini-USB
Important notice: Only use the original Phonak power plug oran USB certified power adaptor > 500 mA
Audio Information:
Audio input: Wired (3.5 mm socket)
Audio quality: Stereo, 20 Hz – 22 kHz
Bluetooth:
Bluetooth profile: A2DP, Advanced Audio Distribution Profile
Frequency range: 2402.0 to 2480.0 MHz
RF power: 100 mW max.
Bluetooth range: Up to 30 m (100 ft)
Bluetooth compliance: Bluetooth version 2.1, Class 1
Maximum paired devices: 4
Optimized for use with Phonak ComPilot. Compliance to non-Phonak devices is not guaranteed
Standards:
Europe
Radio: EN 300 328
EMC: EN 301.489
El. Safety: EN 60950-1
Persons using medical devices such as pacemakers are not permitted to use this device.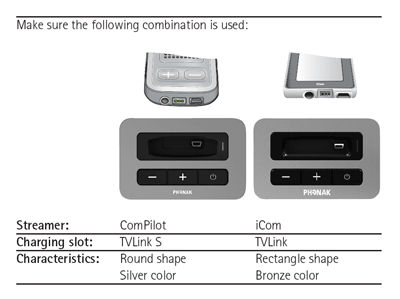 Phonak ComPilot & TVLink S bundle (3PACOMPTV)
Reviewed by: Mr Aitken
I recently purchased the Phonak Tv Link which included the co pilot.Having had the previous version icom, I expected to get the same quality sound from the com pilot but, to my delight,I now heard an even clearer, sharper sound.Since I have a sound distortion type of hearing loss I have always had to use the subtitles together with the tv link thus giving me the illusion of perfect hearing of the spoken words.As anyone using these will know,it is very difficult to follow live broadcasts such as the news etc since the subtitles simply cannot follow the dialogue in sync so making sense of the dialogue is next door to impossible.
All of this I expected to remain the same with the introduction of the com pilot,but to my great pleasure I find I can now dispense with the subtitles for a lot of the time while watching live programmes. Needless to say, I am delighted to be able,after years of missing out on a lot of delays and missing words, to now hear most of the words as they are spoken, if only some of these presenters would no gabble it would be even better.
You will gather that I am more than pleased with purchase of the com pilot and the fact that I did so from Connevans who have given me excellent service over quite a few years now,many thanks.
Related Products
Phonak ComPilot II & TVLink II Set for Venture hearing aids


The ComPilot II is a bridge between your hearing instruments and audio devices. The TVLink II is a dedicated TV solution. Combined with the ComPilot II it offers a terrific listening experience.

BUY
Phonak ComPilot & RemoteMic bundle


The ComPilot is a bridge between your hearing instruments and audio devices. The RemoteMic offers are wireless microphone, great for listening in noisy places.

Shipping Discount

£390.00

(£325.00 ex VAT)

BUY
Phonak ComPilot Air II & RemoteMic II Bundle for Venture Hearing Aids


The Phonak ComPilot Air II with the RemoteMic II - the lightweight wireless micro phone. Specifically designed for Phonak Venture hearing aids.

BUY
Phonak ComPilot


The ComPilot is a bridge between your hearing instruments and audio devices - it provides easy wireless access to TVs, MP3 players and phones to name but a few plus remote control function for certain hearing aids

£210.00

£199.00

(£165.83 ex VAT)

BUY
Phonak ComPilot Air II for Venture hearing aids


The ComPilot Air II is the small, stylish clip-on audio streamer that is focused on Bluetooth technology. For Phonak Venture platform hearing aids only.

BUY
Phonak ComPilot II streamer for Venture hearing aids


The Phonak ComPilot II brings together the convenience of wireless connectivity, the security of individual remote control and offers spoken messages (VoiceAlerts). All functionalities are bundled in one simple device.

BUY
Phonak TVLink S


the TVLink S works with the ComPilot making it easy to connect to the TV

BUY
Phonak TVLink II


The TVLink II works with the ComPilot, ComPilot II and ComPilot Air II making it easy to connect to the TV

BUY
Phonak RemoteMic II for use with the Phonak ComPilot


The RemoteMic II is the latest version for ComPilot, ComPilot II and ComPilot Air II.

BUY
Phonak ComPilot replacement neck loop


spare/replacement neck loop for use with Phonak ComPilot (only)

BUY
ComPilot External Lapel Microphone MC1


External Lapel Microphone for Phonak ComPilot

BUY
Spare/replacement USB lead for Phonak products


spare USB lead as supplied with Phonak inspiro, DynaMic and + range transmitters and iView, iCom, ComPilot & myPilot

BUY
Stereo 3.5mm jack to jack leads 1.2 metre


Stereo 3.5mm jack plug to stereo 3.5 jack plug - 1.2 metre.

BUY
Phonak Power supply/charger


UK power supply/charger for Phonak inspiro, SmartLink+, ZoomLink+, EasyLink+ & DynaMic fm transmitters, iCom, ComPilot, iView, myPilot, Phonak CP1 DECT phone, Phonak DECT II phone

BUY
There is nothing in your basket
Connevans Limited

Bridge House
1 Nutfield Road
Merstham, Surrey, RH1 3EB
United Kingdom

Customer Service

01737 247571

Minicom

01737 644016

Fax

01737 223475

Email