ADULT size.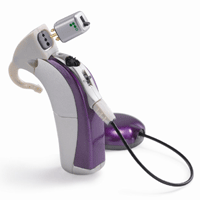 The iConnect is used with the Phonak Roger X or MLxi. Together they offer Advanced Bionics Auria & Harmony recipients wireless, earlevel FM access. This special earhook attaches to the Auria/Harmony so that users can plug the universal Roger X / MLxi receiver directly into their processor.
Features:  
dedicated ear level receiver adaptor of the Auria and Harmony processors
No external cables
Separate (standard size 10) battery compartment for the FM receiver
Available in 3 colours to match the processor body - please select above.
Please note, neither the radio receiver nor the implant processor are included with the iConnect earhook. The receiver must be purchased separately (see below).   Please note as a special order item this product is excluded from the Connevans extended returns policy.