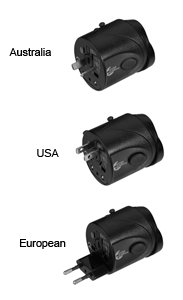 Universal power plug adaptor - suitable for use in 150 countries! Allows equipment from most countries to be plugged into most sockets - Variable plugs and sockets giving maximum flexibility!
Integrated power fuse for security & safety.

All 150 countries are listed on the back of the packet. These include
American plug: America, Thailand, Japan, Jamacia etc

Australian plug: Australia, Argentina, Uruguay etc

European plug: all EU countries, Brazil, Canary Islands, Vietnam etc
UK plug: UK, Gibralta, Malta, Jordan, St. Lucia etc
This is a fantastic bit of design with sliders allowing you to select the plug pins you require. It's suitable for use worldwide - this is quite possibly, the only plug adaptor you'll ever need!
This is purely a socket adaptor - you must ensure your device is suitable for the local voltage.
The worldwide plug adaptor has a selection of sockets, allowing you to plug in equipment from most parts of the world.
Product code: PL08013