Amplifies your mobile phone up to 100 times louder (40dB), plus includes tone control and inductive T-coil mode to help you understand every word, with or without your hearing aids!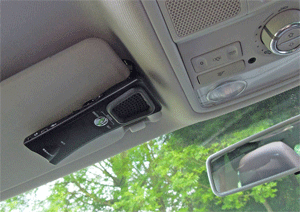 The SA-40 is a unique Bluetooth amplifier for mobile phones. You can pair it with any Bluetooth compatible mobile allowing you to make and receive calls and adjust the volume and tone to suit you, all while your phone is in your pocket or bag. This unique gadget provides access to any 'conventional' mobile phone, making it louder and hearing aid compatible! There is also a very loud and clear speakerphone which can be used to make and receive handsfree calls. A neat magnetic clip is supplied so that you can clip the SA-40 onto the sun visor in your car.
The SA-40 has a 'T-Coil' mode for use with your hearing aids set to the 'T' or Loop program in this mode the SA-40's loudspeaker is turned off, so nobody else can overhear the call.
Our evaluation panel particularly liked this unique gadget because it allows any mobile phone to become amplified and hearing aid compatible! It is very easy to use and gives excellent volume and sound quality.

Features: 
Amplifies up to 40 dB.

Adjustable tone booster makes your caller's voice crystal clear and intelligible.
Loud and clear speaker mode for "hands-free" calls.
Easy mount magnetic visor clip for "hands-free" conversations while driving in cars.
"T-Coil mode" so users can listen in private via their hearing aids on the "T" or "loop" programme, without speaker sound.
Padded speaker adds comfort/noise isolation.
Up to 8 hours of talk time.         


Supplied with SA-40 amplifier, rechargeable battery, magnetic visor clip, power supply with UK & EU plugs and user guide.
Size: 30 x 50 X 20mm. Weight: 87g.
Connevans is the UK Master Distributor for this product - if you are interested in trade pricing please email purchase@connevans.com
Click here to view pdf user guide

Product FAQs
Q:     My caller cannot hear me.
A:     You may have your mute button on. If the light is on, press the mute button once and your caller should be able to hear you.

Q:     Will voice command work with the SA-40 to access voicemails?
A:     Yes, if your phone supports this operation.

Q:     If I am using my SA-40 as a handset, must I leave my phone turned on?
A:     Yes, your phone must be turned on.

Q:     My SA-40 is turned on and is paired with my phone, but I cannot receive or make calls?
A:     Your SA-40 works within a range of 30 feet from your paired cellphone.

Q:     How do I reset to factory default?
A:     To reset, press and hold SA-40 "VOL+" button and the "Multi-function" button for 10 seconds so you hear 5 beeps. The reason to reset your SA-40 is when the unit is not connecting to your phone or it will not release and allow you to connect to a different phone.

Q:     Can I use the SA-40 if I wear hearing aid/s with a "T" or "loop" programme?
A:     YES! The SA-40 was designed with a special T-Coil mode setting. When the SA-40 is set to "T", those who wear a T-Coil hearing aid will hear their caller's voice directly through their hearing aid with no annoying static/interference! No sound will be emitted from the SA-40 in this mode, allowing total privacy.