Marpac dohm Sleepmate - dual speed
14SLEEP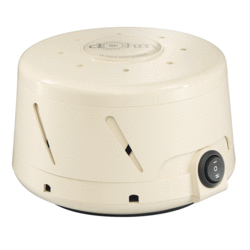 £72.60
(save £12.61)
our price:
£59.99
inc VAT
(£49.99 ex VAT)
quantity pricing:
1 - 9

£59.99 each

(£49.99 each)

10 +

£50.40 each

(£42.00 each)
VAT Relief is available if you make a declaration in the Shopping Basket
Choose quantity and options
Order now for next working day despatch.
This "white noise" sound conditioner effectively masks unwanted noises and creates a sense of calm, making it easier to concentrate, relax and/or sleep. The Marpac dohm works by creating a constant, smooth sound of rushing air, similar to the sound of a vacuum cleaner or a hair-dryer, which helps control unwanted or distracting noise.
Two speeds are available and the tone and volume of the sound are controlled by simply rotating the "cap" and "collar" of the housing. Electrical consumption is relatively minimal making it energy efficient and economical.
These sound conditioners are recommended for restless sleepers, shift workers, infants, children, students, apartment dwellers, office workers (for confidentiality) and many others.
Features:
Electro-Mechanical Durability
Excellent Sound Quality
Patented Housing Design
This product is available with either the Sound Screen® or the Sleep Mate® brand name.
Lightweight
Economical
Dual Speed
One Year Limited Warranty
Mains powered
Note: Sleep Mate and Sound Screen are identical except for the name. Sleep Mate applies to home use for sleep, relaxation or study. The Sound Screen name is more suited to professional/office applications for masking conversation to help increase privacy and promote concentration within the office.
APPLICATIONS
Home Use - Aid sleep by masking noises such as:
Street noise
Television and stereo
Barking dogs
Snoring spouse
Appliance noise
Tinnitus
(ringing, buzzing in the ears)
Noisy neighbors
Air traffic
Conversation
Recommended for Use in:
College dorms
Health care institutions
Apartment living
Day Care centres
Motor homes & RV's
Hotels / Motels
Assisted living centres
Bedrooms of young children
Other Uses:
May also be helpful in your office or study to help mask distracting noise or to provide conversational confidentiality. Can also be used to add sound where it might otherwise be too quiet.
Size: 146mm base diameter x 83mm height. Weight: 730g   Please note that trade pricing is available on this product - please contact phil@connevans.com      
The following additional information is available for this product

Related Products
Sound Oasis Deluxe sound relaxer - S-5000


the Sound Oasis Deluxe is a top-of-the range sound therapy system with a choice of 24 high fidelity sounds plus 5 mixing sounds giving 145 sound combinations, dual alarm clock radio and treble/bass control

£134.54

£119.99

(£99.99 ex VAT)

BUY
Tinnitool ear laser


The Tinnitool provides a proven self-treatment therapy for Tinnitus, Menieres and other aural conditions. TinniTool works by increasing the blood flow in the inner ear, the soft laser penetrates the subcutaneous layers which in effect will speed up the re-generation of healthy cells.

£298.80

£274.80

(£229.00 ex VAT)

BUY
Lifemax Rise & Shine Nature Sounds Alarm Clock


a tinnitus sound relaxer with built-in alarm clock and gradual wake-up light, gently brightening before alarm time

BUY
Sound Oasis Classic sound relaxer S-550-05


the Sound Oasis Classic S550 is an attractive easy-to-use sound therapy system with a choice of 6 high fidelity sounds with the option to purchase additional sound cards - very similar to the S-650 Style but without the alarm clock function

BUY
Rhythms of the Sea Sound Card


optional sound card for use with Sound Oasis Classic S-550-05 (only)

BUY
Wilderness Journey Sound Card


optional sound card for use with Sound Oasis Classic S-550-05 (only)

BUY
Tropical Rain Forest Sound Card


optional sound card for use with Sound Oasis Classic S-550-05 (only)

BUY
Sounds for Sleep Sound Card


optional sound card for use with Sound Oasis Classic S-550-05 (only)

BUY
Sound Oasis Style sound relaxer and alarm clock S-650


the Sound Oasis Style is a stylish sound therapy system with a choice of 12 high fidelity sounds with the option to purchase additional sound cards and alarm clock

£54.00

£48.60

(£40.50 ex VAT)

BUY
Spa Retreat sound card


optional sound card for use with Sound Oasis Style S-650 (only)

£16.80

£15.12

(£12.60 ex VAT)

BUY
Ear Therapy sound card


optional sound card for use with Sound Oasis Style S-650 (only)

BUY
Sound Oasis Travel sound relaxer and alarm clock


the Sound Oasis Travel is a compact sound therapy system with a choice of 19 high fidelity sounds and a 2 time zone alarm clock

BUY
Wellcare Tinnitus Sound Relaxer


naturecare relaxation - sound enricher designed to help relieve the symptoms of tinnitus through relaxation or distraction - choice of 7 sounds

£23.70

£21.34

(£17.78 ex VAT)

BUY
UK mains power supply for use with the Wellcare


this 240v UK mains power supply is optional for use with the Wellcare

BUY
Wellcare EU mains power supply


this 2-pin EU mains power supply is optional for use with the Wellcare

BUY
Sound Oasis Stereo Sleep Therapy Pillow Speakers


a pair of small pillow speakers with handy in-line volume control. Allows you to listen in privacy and comfort to your personal audio device

BUY
Pillow speaker


a small pillow speaker with heavy duty cable. Allows you to listen in privacy and comfort to your personal audio device

BUY
Sound pillow


Sound pillow for use with radio, CD, personal stereo, iPod etc.

BUY
Pillow case for small sound pillow


spare pillow case for small sound pillow (14PILLOWS)

BUY
Small sound pillow & pillow case


small sound pillow & pillow case for use with radio, CD, personal stereo, iPod etc.

£25.20

£22.68

(£18.90 ex VAT)

BUY
Stereo sound pillow insert


a small pair of pillow speakers in a fabric insert designed to tuck neatly into an pillow -allows you to listen in privacy and comfort to your personal audio device

BUY
Stereo 3.5mm extension lead 3 metre


Stereo 3.5mm extension lead 3 metre.

BUY
Power supply for Sound Oasis Style S-650 with UK plug


Power supply for Sound Oasis Style S-650 with UK plug

BUY
Wilderness journey sounds


Wilderness journey sound card for blue Sound Oasis original (14SOASIS)

£14.40

£5.99

(£4.99 ex VAT)

BUY
Tropical rain forest sounds


Tropical rain forest sound card for blue Sound Oasis original (14SOASIS)

£14.40

£5.99

(£4.99 ex VAT)

BUY
Share with Friends
Let a friend know about this product. (or send it to yourself)
Send To A Friend
There is nothing in your basket
Connevans Limited

Bridge House
1 Nutfield Road
Merstham, Surrey, RH1 3EB
United Kingdom

Customer Service

01737 247571

Minicom

01737 644016

Fax

01737 223475

Email