Libra+ D911 with strobe 200m portable doorbell kit with extender/converter
42FD911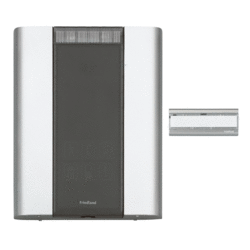 £53.12
(save £5.31)
our price:
£47.81
inc VAT
(£39.84 ex VAT)
quantity pricing:
1 - 19

£47.81 each

(£39.84 each)

20 +

£46.48 each

(£38.73 each)
Choose quantity
Order now for despatch today.
Friedland's Libra+ is a stylish state-of-the art range of wirefree chimes and pushes. It includes functions new to door chimes such as identification icons and analogue volume control, as well as operating on the 868MHz FM frequency.
Features include:
Stylish silver colour – 200m range*

Analogue (rotary) volume control with loud 90dB sound output

CD quality chime sound

Portable/wall mounted chime

Battery operated, but additional mains power supply available

Converter/landscape bell push

Choice of 6 chime sounds

6 visual chime icons which visually identify source of chime activation - a number of options are available including front door push and back door push

Flashing light for visual indication for the hard of hearing or noisy environments

Easy installation – no wiring required

Pre-programmed push to chime and self-learning to avoid interference with neighbours' chimes

Bell push fixings included

Battery included with push

Wall mounting fixings included

2 year guarantee
*maximum range between push and chime. Note: Building structures e.g. metal and thick walls may affect transmission range
Weight: 507g with batteries
Dimensions: 140 x 110 x 40mm
4 x C batteries required (not supplied)
Converter/landscape bell push
A wirefree landscape silver push

The push is water resistant to IP55

Functions as a converter to adapt a wired bell push for use with any Libra+ chime

Functions as an extender to adapt a wired installation

A wired chime and push can use a Libra+ chime as an addition to the system.
Requires 1 x Lithium CR2032 battery (supplied)
N.B. This product is not compatible with Friedland products from other ranges
Friedland Libra+ model D911

Please note that positioning a wirefree bell push or door chime on or near metal structures, re-inforced PVC doors or door frames may reduce the transmission range.  

Reviewed by: Mrs Jane Portas
What a gem! Originally I bought one for my Mum who is hard of hearing & kept missing visitors. The Libra has a loud chime and the flashing lights makes sure she knows that someone is calling. I've since bought one for myself and one for my Aunty( the portable unit is ideal when out in my garden) and I'm about to buy my fourth now for a friend.
Related Products
Libra+ D913 classic portable 100m doorbell kit


Friedland's stylish, state-of-the art 100m wirefree doorchime and white push - D913

£43.27

£37.86

(£31.55 ex VAT)

BUY
Libra+ D943E mains plug-in 150m doorbell kit


Friedland's stylish, state-of-the art 150m mains plug-in wirefree doorchime and white push - D943

£50.17

£45.16

(£37.63 ex VAT)

BUY
Libra+ D914 with strobe 200m portable doorbell kit


Friedland's stylish, state-of-the art 200m wirefree doorchime with bright strobe and white push - D914

£50.84

£44.50

(£37.08 ex VAT)

BUY
Libra+ D917 with strobe 200m portable doorbell


Friedland's stylish state-of-the art 200m wirefree door chime with bright strobe - push not included - D917

£39.47

£34.54

(£28.78 ex VAT)

BUY
Libra+ D936 telephone ringer & dual adaptor pack


allows you to be alerted to the telephone via your doorbell - when the phone rings, a radio signal is sent to the Libra+ doorchime, which sounds/flashes to alert you - supplied in a pack with a socket dual adaptor.

£46.88

£42.19

(£35.16 ex VAT)

BUY
Audio transmitter for Libra+


allows you to be alerted to any device with a sound output eg. door entry phones via your doorbell - when the device sounds, a radio signal is sent to the Libra+ doorchime, which sounds/flashes to alert you

BUY
Libra+ D936 & D917 flashing doorbell and telephone ringer kit


a good portable wirefree ring indicator solution - kit includes wirefree chime, telephone ringer & adaptor (no push included)

£85.90

£80.96

(£67.47 ex VAT)

BUY
Libra+ D914 & D936 flashing chime with push and telephone ringer kit


a good portable wirefree ring indicator solution - kit includes wirefree chime and white doorbell push, telephone ringer & adaptor

£90.95

£79.66

(£66.38 ex VAT)

BUY
Libra+ L220 Spectra wirefree PIR movement detector


Spectra wirefree PIR movement detector for use with Libra+ doorchime - L220

£34.72

£31.25

(£26.04 ex VAT)

BUY
Libra+ D930 Wirefree white bell push


additional push for the Libra+ range of wirefree doorchimes - D930

£15.17

£13.66

(£11.38 ex VAT)

BUY
Libra+ D931 Wirefree black/silver bell push


additional push for the Libra+ range of wirefree doorchimes - D931

£15.17

£13.66

(£11.38 ex VAT)

BUY
Libra+ D932 Wirefree brass/black bell push


additional push for the Libra+ range of wirefree doorchimes - D932

£25.79

£23.21

(£19.34 ex VAT)

BUY
Libra+ D935E mains adaptor


mains adaptor for use with 200m portable Friedland Libra+ chimes - D935

BUY
CR2032, 3V, 210mAh, 3.2 x 20mmØ 5pc/card.


lithium button cells

Please register & login to view pricing
Share with Friends
Let a friend know about this product. (or send it to yourself)
Send To A Friend
There is nothing in your basket
Connevans Limited

Bridge House
1 Nutfield Road
Merstham, Surrey, RH1 3EB
United Kingdom

Customer Service

01737 247571

Minicom

01737 644016

Fax

01737 223475

Email