Siemens Acuris S & P, Cielo 2, Artis 2S, Artis 2SVC, Centra P, S & SVC, Motion M & MVC, Triano S & SL audio i/p shoe
DSIED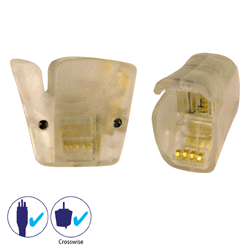 our price:
£16.20
inc VAT
(£13.50 ex VAT)
VAT Relief is available if you make a declaration in the Shopping Basket
Choose quantity
Order now for next working day despatch.
Delivery on this product is usually about 7 days.
Audio input shoe for Siemens Acuris S & P, Cielo 2, Artis 2S, Artis 2SVC, Centra P, S & SVC, Motion M & MVC, Triano S & SL hearing aids.
ID marks: F5 inside shoe

Contacts: four
Colour: translucent
Manufacturer's part number: 7220424
Shoes supplied singly and priced each. Multiple views are shown to help with identification.


Related Products
SIEMENS Signia, Signia S & Prisma 2VC+ audio i/p shoe


SIEMENS Signia, Signia S & Prisma 2VC+ audio i/p shoe.

BUY
SIEMENS Swing S3 & Prisma 2SP+ audio i/p shoe


SIEMENS Swing S3 & Prisma 2SP+ audio i/p shoe.

BUY
SIEMENS Triano SP, Infiniti Pro SP, Music Pro SP, Prisma 2DSP & Prisma 2DSP+


SIEMENS Triano SP, Infiniti Pro SP, Music Pro SP, Prisma 2DSP & Prisma 2DSP+ audio i/p shoe.

BUY
Siemens Infiniti Pro audio input shoe


DSIEB - Siemens Infiniti Pro audio input shoe

BUY
Siemens Prisma Pro & Prisma 2 Pro audio i/p shoe


DSIEC - Siemens Prisma Pro & Prisma 2 Pro audio i/p shoe

BUY
SIEMENS Music Pro audio i/p shoe


DSIEE - Siemens Music Pro audio i/p shoe

BUY
Siemens Chroma VC, Chroma P, Centra HP, Artis S, P & 2P, Cielo P & 2P, Motion P, Reflex DP, Impact M & DP, Impact Pro M & Pro DP, Prisma 2 Pro DP & Prisma 2 Pro P and Specsavers Siemens Advance 411P, 511P & 711P audio i/p shoe


DSIEG - Siemens Chroma VC, Chroma P, Centra HP, Artis S, P & 2P, Cielo P & 2P, Motion P, Reflex DP, Impact M & DP, Impact Pro M & Pro DP, Prisma 2 Pro DP & Prisma 2 Pro P and Specsavers Siemens Advance 411P, 511P & 711P audio i/p shoe

BUY
Siemens Cielo Dir audio i/p shoe


DSIEH - Siemens Cielo Dir audio i/p shoe

BUY
Siemens Prisma 2 Pro DSP, Prisma 2 Pro SP, Advantage SP, Artis SP & 2SP, Centra SP, Cielo 2SP, Reflex DSP, Intuis SP DIR, Impact DSP, Chroma SP, Nitro 300SP & 700SP and Specsavers Siemens Advance 311P & 512HP


DSIEI - Siemens Prisma 2 Pro DSP, Prisma 2 Pro SP, Advantage SP, Artis SP & 2SP, Centra SP, Cielo 2SP, Reflex DSP, Intuis SP DIR, Impact DSP, Impact Pro DSP, Chroma SP, Nitro 300SP & 700SP and Specsavers Siemens Advance 311P & 512HP

BUY
SIEMENS Intuis DIR audio i/p shoe


DSIEL - Siemens Intuis DIR audio i/p shoe

BUY
SIEMENS Reflex M audio input shoe


DSIEO - Siemens Reflex M audio i/p shoe

BUY
SIEMENS Advantage P audio input shoe


DSIEP - Siemens Advantage P audio input shoe

BUY
SIEMENS Select, Prisma 2M & 2VC audio input shoe


SIEMENS Select, Prisma 2M & 2VC audio input shoe.

BUY
Share with Friends
Let a friend know about this product. (or send it to yourself)
Send To A Friend
RELATED PRODUCTS
There is nothing in your basket
Connevans Limited

Bridge House
1 Nutfield Road
Merstham, Surrey, RH1 3EB
United Kingdom

Customer Service

01737 247571

Minicom

01737 644016

Fax

01737 223475

Email