Geemarc CLA7 hands free telephone neck loop
40TCLA7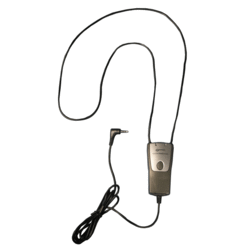 our price:
£40.00
inc VAT
(£33.33 ex VAT)
quantity pricing:
10 - 19

£36.00 each

(£30.00 each)

20 +

£32.50 each

(£27.08 each)
VAT Relief is available if you make a declaration in the Shopping Basket
Choose Quantities
Geemarc CLA7 hands free telephone neck loop
Order now for despatch today.
Please note, this product is not recommended for use with a mobile phone
The Geemarc CLA7 is for use by hearing aid users who have a hearing aid fitted with a 'T' setting. The loop is worn around the neck and there is a microphone in the amplifier/battery pod which also has an ON/OFF button and volume control.

Our evaluation panel rate the product as good for use with the AmpliDect 250, AmpliDect 280/5, AmpliDect 350, CL455 & AmpliPOWER 40/50. It is also compatible with the ScreenPhone and any cordless telephone with a 2.5mm headphone socket eg. the Amplicom PowerTel.

We do not recommend its use with a mobile phone as we found unacceptably high levels of interference with some mobile phones during tests.
Size: 70 x 38 x 22mm. Connecting lead 1200mm with a loop diam. of 270mm.
Requires 2 x AAA alkaline batteries (not supplied).
Please note that the level of sound of your own voice (side tone) is relatively low with this product.
The following additional information is available for this product

Reviewed by: Joanne
Wow, I didn't know it was possible to hear so clearly over the phone! This neckloop has transformed my phone conversations and I love it. I use rechargeable batteries and they seem to go on forever! The caller can also hear me very clearly. I am very pleased with this product and would recommend it. You can control the volume and tone using the phone controls as normal.
I have a moderate (borderline severe in the high frequencies) hearing loss and wear digital aids.
Reviewed by: M Rogers
My wife and I just wanted to say "thank you" to Connevans. Our daughter is severely to profoundly deaf. For Christmas we purchased the DECT 250 phone and a CLA7 neckloop - now she can use the phone to talk to her friends and grandparents for the first time! I wanted to let you know that the CLA7 neckloop is fantastic with her new mp3 player - she is currently listening to an audiobook, Dracula, and loving it - to quote her she can hear it 'really clearly' and is loving every moment. Now she is also getting into music, just like any child her age. I don't know why we didn't buy these items before, except that the technology looks so confusing.
once again, many thanks,
M Rogers
Related Products
Amplicom AB 900 digital answering machine


a Digital Answering Machine with adjustable playback speed and extra-loud message amplification of speaker & headset output!

BUY
Line Simulator


portable line simulator allows two telephones to be tested or demonstrated without plugging into the national BT exchange

BUY
Call record & play adaptor


Telephone call record & play adaptor.

BUY
Amplicomms PowerTel vibrator PTV100


Vibrator for Amplicom PowerTel range - PowerTel cordless 500, 501, 502, 580, 580 Combo & PowerTel 58 corded

£19.99

£17.99

(£14.99 ex VAT)

BUY
Optional Vibrator for CL200+, CL400, AmpliPOWER 40, AmpliPOWER 50, AmpliDect 250, CL1 & CL2


Vibrator for CL200+, CL400, AmpliPOWER 40, AmpliPOWER 50, AmpliDect 250, CL1 and CL2

BUY
Amplicom PowerTel 601 wireless wrist vibrator


Optional wireless wrist vibrator for BigTel & PowerTel DECT range (note, not compatible with PowerTel 58)

£43.99

£35.99

(£29.99 ex VAT)

BUY
CLA2 vibrator for Geemarc products & Sonic Alert clocks


CLA2 Vibrator for CL200+, CL400, AmpliPOWER 40, AmpliPOWER 50, AmpliDect 250, CL1, CL2, Wake'n'Shake & Sonic Alert clocks

BUY
Rechargable battery pack for cordless phones - NiCd 3.6V (T107)


rechargeable battery pack for cordless phones

Please register & login to view pricing
Share with Friends
Let a friend know about this product. (or send it to yourself)
Send To A Friend
ASSOCIATED ITEMS
AAA alkaline battery - pack of 4

£1.63
There is nothing in your basket
Connevans Limited

Bridge House
1 Nutfield Road
Merstham, Surrey, RH1 3EB
United Kingdom

Customer Service

01737 247571

Minicom

01737 644016

Fax

01737 223475

Email