Azden FMX-42A 4-Channel Portable Mixer
460FMX42A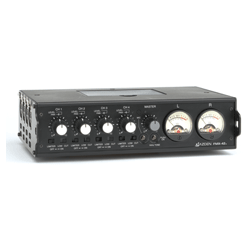 £618.00
(save £72.00)
our price:
£546.00
inc VAT
(£455.00 ex VAT)
quantity pricing:
1 +

£546.00 each

(£455.00 each)
Choose quantity
Please allow around a working week for despatch of this product
Having 4 balanced XLR line/mic inputs with individual level and pan controls, the FMX-42a provides switchable (per channel) 48V phantom power and limiting, professional quality VU meters for accurate level setting, master level control, 1k tone generator, 2 balanced XLR outputs (line/mic switchable), stereo mini-jack output for DV cameras, 10-pin Camera Return, mini-jack Camera Return and a headphone monitor with level control.

The FMX-42a can be powered by either 6 internal "AA" batteries or an optional 12V DC external supply (Locking 4-Pin Hirose connector). A ballistic nylon carrying case is included.
The only difference between the FMX-42 and the FMX-42a is the camera return feature that the 42a has but the 42 doesn't.  This feature will allow you to return the mixed audio to the video camera and monitor the audio through the camera as the final product.  The majority of professional production folks prefer this feature but it may be something that amateurs can live without.
 

Manufacturer's part number: FMX-42A
Technical Specs:
GENERAL
Frequency Response
Balanced and Unbalanced Output:
20 Hz - 30 kHz (+0 / -1.5 dB)

Monitor Out: 30 Hz - 30 kHz (+0 / -2 dB)

Signal-To-Noise
Balanced Output: -120 dBu
(A weighted, Input Equivalent Level)

T.H.D.
Balanced Output: <0.005% @ 1 kHz (@ LINE position +19 dBu output)

Phantom Power Voltage: 48V (± 4V)
Sample Tone Freq: 1 kHz

POWER
Battery Requirement: 6 Alkaline "AA"
Battery Runtime: Approx. 9 hours (Meter Illum. & Phantom Power OFF)
External Power: 12VDC @ 200 mA (10.5-17VDC - Locking 4-Pin Hirose Connector)
Current Drain:
164 mA (Meter Illum. & Phantom Power OFF - @ 9V)
192 mA (Meter Illum. OFF/Phantom Power ON w/1 mic@9V)
125mA (Meter Illum. & Phantom OFF @15V)

DIMENSIONS
56H x 220W x 160D mm (without protrusions)
2.25H x 9W x 6.5D inches (without protrusions)

Weight: 1350 g (w/o batteries)
           3 lb (w/o batteries)

INPUT
Balanced Input:
XLR 3-pin Female x 4 (CH1, 2, 3 and 4)

Level
Line Input - Standard : +4 dBu (electronically balanced)
              - Maximum: > +26 dBu

Mic 1  - Standard: -38 dBu (electronically balanced)
                 - Maximum: +4 dBu
Impedance: 2k ohm

Mic 2  - Standard:-58 dBu (electronically balanced)
                 - Maximum: -15 dBu
Impedance: 2K ohm

High Pass Filter (HPF):
100 Hz – 6 dB/oct
Return Inputs: Hirose 10-pin Female for Hirose Part #RM15TD-10P
                     3.5mm (1/8") Stereo Mini-jack
    Input Level: -20 dBu - +19 dBu (unbalanced)
     Impedance: 11k ohm

OUTPUT
Balanced Output: XLR 3-pin x 2 (Output L and R)
                        Hirose 10-pin Female
Unbalanced Output: 3.5 mm (1/8") Stereo Mini-jack
Monitor Output: 6.3 mm (1/4") Stereo jack

Level
Electronically Balanced Output
Standard: +4 dBu (> 10 k ohm load)
Maximum: +20 dBu (>10 k ohm load)
Impedance: 600 ohm
Electronically Balanced Output
Standard: -36 dBu (> 10 k ohm load)
Maximum: -20 dBu (>10 k ohm load)
Impedance: 600 ohm
Unbalanced Output
Standard:-36 dBu (> 10 k ohm load)
Maximum:-20 dBu (> 10 k ohm load)

Monitor Out - Max.: +1 dBu - 32 ohm @9V
(16-100 ohm load recommended)

Meters
Standard Level: 0 VU (+4 dBu)

Related Products
Professional Low Noise Audio Mixer for DSLR Cameras


The all New FMX-DSLR is a Professional Low Noise Audio Mixer for DSLR Cameras.

£324.00

£254.40

(£212.00 ex VAT)

BUY
Azden FMX-42 4-Channel Portable Mixer


Pro portable mixer with 4 XLR assignable-panable inputs, 2 XLR outputs plus mini output, dual analogue meters, switchable phantom power and limiter per input, master level control, monitor output with level control, 1K tone generator.

£558.00

£486.00

(£405.00 ex VAT)

BUY
Azden FMX-32A 3-Channel Portable Mixer


Pro audio camera mixer 3 XLR microphone inputs each with 2 input settings, 3 input level controls, master level control & monitor headphone jack

£468.00

£412.80

(£344.00 ex VAT)

BUY
Deluxe Carrying case for FMX-32A with neck strap


Deluxe Carrying case for Azden FMX-32A mixer with neck strap and fold-down covers for front panel, inputs and outputs

BUY
Azden FMX-22 2-Channel Portable Mixer


New and improved, the FMX-22 now uses the same circuit topology as the more expensive Azden mixers. With improved signal to noise ratio and wider frequency response the new FMX-22 is designed for the demanding needs of Professional Videographers.

£348.00

£300.00

(£250.00 ex VAT)

BUY
Azden CAM-3 Miniature 3-channel Mixer


miniature 3-channel microphone mixer - allows you to add and mix sound from 3 microphone sources simultaneously. The ultimate in portability.

£71.99

£47.99

(£39.99 ex VAT)

BUY
Share with Friends
Let a friend know about this product. (or send it to yourself)
Send To A Friend
RELATED PRODUCTS
Professional Low Noise Audio Mixer for DSLR Cameras BUY

The all New FMX-DSLR is a Professional Low Noise Audio Mixer for DSLR Cameras.

Azden FMX-42 4-Channel Portable Mixer BUY

Pro portable mixer with 4 XLR assignable-panable inputs, 2 XLR outputs plus mini output, dual analogue meters, switchable phantom power and limiter per input, master level control, monitor output with level control, 1K tone generator.

Azden FMX-32A 3-Channel Portable Mixer BUY

Pro audio camera mixer 3 XLR microphone inputs each with 2 input settings, 3 input level controls, master level control & monitor headphone jack
There is nothing in your basket
Connevans Limited

Bridge House
1 Nutfield Road
Merstham, Surrey, RH1 3EB
United Kingdom

Customer Service

01737 247571

Minicom

01737 644016

Fax

01737 223475

Email