Lifemax Rise & Shine Nature Sounds Alarm Clock
14L385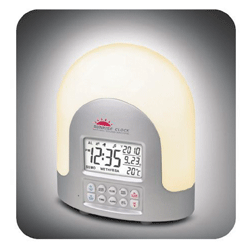 our price:
£26.20
inc VAT
(£21.83 ex VAT)
quantity pricing:
10 +

£23.58 each

(£19.65 each)
VAT Relief is available if you make a declaration in the Shopping Basket
Out of Stock
Sorry, but this product is not in stock at the moment.
If you would like us to notify you when it is back in stock, please complete the form below and click submit.
To help us with our stock control, please could you let us know how many of this product you are interested in.
Please note that this is not a commitment from you to order
This compact and stylish sound therapy system has a built-in alarm clock and a sunrise light which builds, gradually waking you before the alarm.
The Rise & Shine Nature Sounds alarm clock also has a sleep timer which will turn the sounds off after 30mins, after you've dropped off to sleep.
Features:
Simulates the rising sun with nature sounds.
Up to 60 minutes before the alarm time it will gradually light up like sunrise.
Then, at the alarm time in will wake you to your sound choice
Select from sounds including bird song, ocean waves, brook, summer night, rain, dawn, ringing tone or alarm bell.
Can also be used to send you to sleep with relaxing sounds that turn off automatically after 30 minutes.
Full function digital alarm clock with date and temperature feature
Uses 3 x AAA batteries or mains adapter (neither included)

In the opinion of our evaluation panel, the Rise & Shine clock does not have as high a level of performance and design as the Sound Oasis products but is good value for money and offers a unique sunrise feature which will suit some people, although the light brightness is not adjustable. As a tinnitus relaxer, the sounds are good and it has an attractive design.
Please note this is not a doctor-approved SAD light.

Size: 12.8 x 14.3 x 7.5 cm.
Weight
:
228g
incl
uding batteries.      

Related Products
Share with Friends
Let a friend know about this product. (or send it to yourself)
Send To A Friend
ASSOCIATED ITEMS
AA alkaline battery - pack of 4

£1.63
There is nothing in your basket
Connevans Limited

Bridge House
1 Nutfield Road
Merstham, Surrey, RH1 3EB
United Kingdom

Customer Service

01737 247571

Minicom

01737 644016

Fax

01737 223475

Email