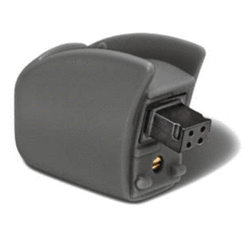 Please register & login to view pricing
VAT Relief is available if you make a declaration in the Shopping Basket
Please allow around a working week for despatch of this product
The ML14i is a dedicated, self -contained, micro radio receiver. This is one of the new receivers designed for use with the Phonak inspiro and + range transmitters.

It is compatible with the Cochlear Nucleus 5 CP800 * cochlear implant and offers all features of the Phonak MLxi fm receivers. * Please note the Nucleus 5 processor must be build standard C or above to be compatible (the build version is marked on the BTE speech processor at the end of the serial number).
The ML14i is easy to fit with no user adjustments. It does not need to be orientated.
The ML14i gives similar sound quality to the MLxS but the performance is not as good as the fmGenie. There is minimal setting up and, with no connecting wires, it has high visual appeal it is the cosmetics and small size which appeals to people.

For an audio demonstration of the benefits of Dynamic fm:
For Children

Features:

very small in size and weight
integrated with the hearing aid
Dynamic FM

Smart Noise Blocker technology to improve sound quality and listening comfort
automatic squelch for improved reception
improved range of up to 30m
built-in antenna which makes the pin orientation unnecessary
intelligent stand-by mode to save power when the transmitter is switched off.
Available in 5 colours to match the processor body.
UK Frequencies only.
Please note that using the ML14i on channel H02 is not recommended as a buzzing sound is heard when the transmitter is turned off. Channel H06 is advised instead.

Manufacturer's part number: 052-3147-871L0 (brown), 052-3147-871L8 (white), 052-3147-871L9 (black), 052-3147-871M1 (beige), 052-3147-871M2 (charcoal)  
2 year warranty as standard.                    
The following additional information is available for this product
For an audio demonstration of the benefits of Dynamic fm:

Related Products
Phonak MLxi receiver


Phonak MLxi Dynamic FM receiver module for use with post aural direct input hearing aids - for use with the inspiro, SmartLink+, ZoomLink+ & EasyLink+ transmitters

Please register & login to view pricing

MLxi Baha receiver


Phonak MLxi Baha Dynamic FM receiver module for use with Divino, Compact & Intenso BAHAs from Cochlear and Oticon Ponto and Ponto Pro - for use with the inspiro transmitter

Please register & login to view pricing

Phonak ML9i integrated receiver


Phonak integral Dynamic FM receiver for the Savia, Eterna, eXtra, Eleva, Una, Certéna, Versáta and Exélia

Please register & login to view pricing

Phonak ML10i integrated receiver


integral Phonak Dynamic FM receiver for the Naída UP, Naida S UP, Milo Plus UP & Nathos UP

Please register & login to view pricing

Phonak ML11i integrated receiver


Phonak integral Dynamic FM receiver for the Naída SP, Naída S SP & Nathos SuperPower

Please register & login to view pricing

Phonak ML12i integrated receiver


Phonak integral Dynamic FM receiver for the Nathos micro, Nios micro, Nios S micro, Certéna micro, Versáta micro, Exélia micro & Exélia ART micro

Please register & login to view pricing

Phonak ML13i integrated receiver


Phonak integral Dynamic FM receiver for the Ambra microP & SP, Solana microP & SP, Cassia microP & SP

Please register & login to view pricing

Phonak ML15i integrated receiver


Phonak integral Dynamic FM receiver for the PHONAK Ambra M H2O, Solana M H2O, Cassia M H2O, Nios S H2O, Dalia M H2O, Naída S CRT and Bolero Q-M13

BUY
Phonak ML16i integrated receiver


Phonak integral Dynamic FM receiver for the PHONAK Bolero Q-P & Q-SP

BUY
Phonak ML14i Checker


to allow testing of a Phonak ML14i integrated FM receiver with an FMG750 accessories tester or direct input

BUY
inspiro Premium transmitter and two MLxi receivers - QINSP1


Ready-made package - inspiro Premium transmitter and two MLxi Receivers for use with 2 hearing aids

Please register & login to view pricing

inspiro Premium transmitter and MLxi receiver - QINSP1M


Ready-made package - inspiro Premium transmitter and one MLxi Receiver for use with 1 hearing aid

Please register & login to view pricing

Phonak MyLink+ receiver


a Dynamic FM receiver with neck-loop. Compatible with any hearing instrument with a 'T'-coil and all Phonak & Connevans fmGenie transmitters

Please register & login to view pricing

AB iConnect earhook for Auria & Harmony cochlear implants ADULT size *new style*


ADULT size iConnect earhook for use with Advanced Bionics Auria & Harmony cochlear implants - connects the Phonak MicroMLxS directly to the processor

BUY
Share with Friends
Let a friend know about this product. (or send it to yourself)
Send To A Friend
ASSOCIATED ITEMS
AS12 fm & general d/i shoe for Phonak Nios micro, Nios S micro, Certéna micro, Versáta micro, Exélia micro, Nathos micro

£16.97

Phonak ML14i Checker

£60.00

BUY

to allow testing of a Phonak ML14i integrated FM receiver with an FMG750 accessories tester or direct input

£60.00
There is nothing in your basket
Connevans Limited

Bridge House
1 Nutfield Road
Merstham, Surrey, RH1 3EB
United Kingdom

Customer Service

01737 247571

Minicom

01737 644016

Fax

01737 223475

Email