Sonic Boom SB200SS bedside alarm clock with bed shaker
40CLSB200?
A shipping discount of £3.00 will be applied when this product is purchased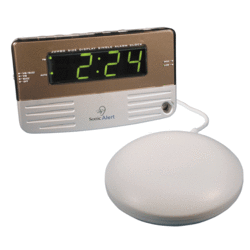 our price:
£31.99
inc VAT
(£26.66 ex VAT)
quantity pricing:
10 - 19

£28.79 each

(£23.99 each)

20 +

£25.48 each

(£21.23 each)
VAT Relief is available if you make a declaration in the Shopping Basket
Choose quantity and options
Order now for despatch today.
Sonic Boom SB200 bedside alarm
A neat clock to sit by the bed or to tuck into your suitcase with vibrating pad. Adjustable tone and volume. The vibrator pulses on and off. Mains powered with battery backup facility - clock only.
Features:
Alarm sound - adjustable from off to loud
Adjustable 'warble' tone - from fairly low to high
Vibrating pad - included in price
Choice of alarm settings - buzzer or vibrate or both
Snooze button - approx. 9 mins
Adjustable display brightness
Particularly easy to set controls - all visible from front
Large digital display - numbers approx. 22mm tall

N.B. Clocks are 220V 50Hz
Approx size: 155 x 90 50mm.
Approx weight: 225g
Vibrator lead length: 1.93m approx.
Price includes vibrator. PP3 clock back up battery not included
Please note, this is a mains powered clock - the battery is for back up only. It will only prevent the clock from loosing time in case of loss of power and will not drive the clock, alarm or vibrator. 

Reviewed by: Miss Carol Terry
The earth certainly moved for me the very first time used AND the vibrating pad was under the mattress!! Staying in bed is now NOT an option. I must admit I was sceptical that anything could actually wake me up AND keep me awake. If you were like me then buy this. You have been warned - it does exactly what it says on the tin - thank goodness!!
Reviewed by: Colin Terry
Great alarm but please note that the vibrating pad is called a "Bed Shaker" in the instructions that come in the box. This is closer to the truth! I have it in between my mattresses and it still gives a good judder of the bed!
Reviewed by: Douglas Ker
Excellent product - very very simple to use (i didnt look at the instructions!!) and is exactly the same as a normal alarm clock. The important thing is does the vibrating pad wake me up ? Short answer YES !!! I am now expecting to get the fright of my life every week day @ 06.43 !! Top product !!
Related Products
Global360 countdown timer/alarm clock with bedshaker


Mains countdown timer / alarm clock with bedshaker for those who are deep sleepers

£44.46

£40.01

(£33.34 ex VAT)

BUY
Sonic Boom SBA475SS analogue alarm clock with bed shaker


ideal for deaf or hard of hearing people who prefer a conventional clock face that's easy to use; but with the added benefit of a vibrating pad to slip under the pillow.

Shipping Discount

£32.99

(£27.49 ex VAT)

BUY
Sonic Boom Pink Sweetheart alarm clock SBH400SS with bed shaker


designed especially for young ladies; with funky heart shape, hot pink colour & multi coloured display. A valentines love clock present with a difference!

BUY
Sonic Bomb SBS550BC Skull digital alarm clock with bed shaker


The Sonic Boom sonic Skull alarm clock is a dramatic silver digital clock, with Skull snooze alarm killer, complete with piercing red eyes! Deaf or hearing, young or old, it is a not a clock that you will ignore.

Shipping Discount

£34.99

(£29.16 ex VAT)

BUY
Sonic Bomb SBB500SS digital alarm clock with bed shaker


The Sonic Boom sonic bomb alarm clock is an attractive black digital clock, designed for active guys of all ages! Deaf or hearing, young or old, it is a not a clock that you will ignore.

£31.99

£28.79

(£23.99 ex VAT)

BUY
Sonic Bomb Junior alarm clock with super shaker SBJ525SS


The new Sonic Bomb Jr, AKA "The Bomb Jr™", has been designed for guys and girls of all ages, on a mission and a budget

BUY
Sonic Boom SBD375SS dual alarm clock with vibrating pad


Sonic Boom SBD375 bedside alarm. Attractive clock with very large display.

Shipping Discount

£44.99

(£37.49 ex VAT)

BUY
Amplicom TCL 190 analogue alarm clock with wireless vibrating pad


analogue alarm clock with illuminated face and easy to set controls - supplied with a wireless vibrating pad

£49.99

£44.99

(£37.49 ex VAT)

BUY
Wake'n' Shake vibrating alarm clock


This compact and stylish large display digital alarm clock can wake you with sound, strobe light and a vibrating pad - ideal for everyone, deaf or hearing. It can also alert you to the telephone, including timed alarm calls.

£38.99

£35.99

(£29.99 ex VAT)

BUY
VC10 vibrating analogue alarm clock


Ideal for those who prefer a conventional clock face but with the added benefit of a vibrating pad to slip under the pillow - can be used with a Nightingale or PPS Pager System

BUY
Time Flash analogue alarm clock


A particularly good choice for deaf or hard of hearing people who prefer a conventional clock face but with a bright strobe and the option of adding a vibrator.

BUY
DeafGard Fire Alarm Warning System


Deafgard is a battery operated device designed to rouse deaf and hard of hearing people in hotel bedrooms where an audible fire alarm would normally do so. The system also includes a vibrating alarm clock feature.

£283.33

£255.00

(£212.50 ex VAT)

BUY
Share with Friends
Let a friend know about this product. (or send it to yourself)
Send To A Friend
There is nothing in your basket
Connevans Limited

Bridge House
1 Nutfield Road
Merstham, Surrey, RH1 3EB
United Kingdom

Customer Service

01737 247571

Minicom

01737 644016

Fax

01737 223475

Email