TM-26 Megaphone with piezo converter
MZMTM26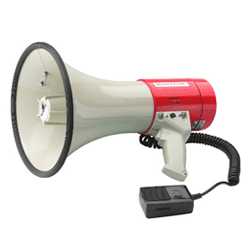 £42.84
(save £2.14)
our price:
£40.70
inc VAT
(£33.92 ex VAT)
quantity pricing:
1 - 4

£40.70 each

(£33.92 each)

5 +

£38.56 each

(£32.13 each)
Choose quantity
Order now for despatch in 1-2 working days.
Megaphone,
with piezo converter.
Lightweight, high sound pressure and low current consumption due to piezo technology
Hand-held microphone with fixed helix cable
Lockable talk button and volume control at the microphone
Siren and tone can be switched
Battery status indication
Pistol grip, carrying strap
Supplied without batteries
Extra lightweight version.
Monacor product code: TM-26 17.2150
TECHNICAL DATA:
Output power
25WMAX
SPL (1W/1m)
117dB
Power supply
8 x 1.5V batt. C size
Dimensions
Ø 225mm x 345mm
Weight
1.2kg

Related Products
TM-6 Small lightweight 8W megaphone


MZMTM6 - small and lightweight megaphone ideal for crowd control and indoor spaces

£24.98

£23.74

(£19.78 ex VAT)

BUY
TM-10 entry-level 10W pistol grip megaphone


TM-10 entry-level 10W pistol grip megaphone with siren

£18.86

£23.92

(£19.93 ex VAT)

BUY
Compact loudhailer for hand-held use


high output but very compact loudhailer for hand-held use

BUY
Small lightweight 10W megaphone


Adastra small and lightweight megaphone ideal for crowd control and indoor spaces

£21.42

£16.79

(£13.99 ex VAT)

BUY
Eagle 2 W Portable Megaphone with Carry Strap


highly portable and easy to use megaphone

BUY
Eagle Portable Megaphone with Carry Strap


Highly portable and easy to use megaphone by Eagle

£31.81

£30.22

(£25.18 ex VAT)

BUY
Eagle Portable Megaphone with Carry Strap and Record Function


highly portable and easy to use Eagle megaphone with 15 second record function

BUY
TM-11 15W pistol grip megaphone


TM-11 a 15W pistol grip megaphone, easy to handle - great for crowd control

BUY
TM-22 lightweight megaphone


MZMTM22 - a battery-operated megaphone loudhailer with 20W max. output and two switchable signal sounds

£42.84

£40.70

(£33.92 ex VAT)

BUY
Blue megaphone 25W with siren and remote microphone


25W shoulder slung durable megaphone with siren and cigarette lighter power cable

£52.92

£44.56

(£37.13 ex VAT)

BUY
Heavy duty megaphone 20W with siren


Adastra 20W hand grip megaphone with siren

£71.82

£59.94

(£49.95 ex VAT)

BUY
Heavy duty megaphone 20W with siren and remote microphone


MX952125 - 20W shoulder slung loudhailer megaphone with siren

£81.90

£71.99

(£59.99 ex VAT)

BUY
Eagle 20W Megaphone With Pistol Grip


professional Eagle high output megaphone with an effective audible distance of up to 1 km

BUY
TM-25 25W megaphone


TM25 25 watt megaphone with pistol grip, carrying strap, connection cable for motor vehicles

£56.80

£53.95

(£44.96 ex VAT)

BUY
TM-15 25W pistol grip megaphone


TM-15 25W megaphone with pistol grip and siren

BUY
TM-17 25W Monacor megaphone


TM-17 25W Monacor megaphone with pistol grip and hand held microphone

£46.40

£44.09

(£36.74 ex VAT)

BUY
Eagle 25 W Professional Megaphone with Pistol Grip and Fist Microphone


professional Eagle P636 high output megaphone with an effective audible distance of up to 1 km

BUY
25W Eagle Megaphone With Pistol Grip, Fist Mic & Shoulder Strap


Eagle P117 megaphone for hand-held or shoulder slung use

£57.23

£54.36

(£45.30 ex VAT)

BUY
TM-27 heavy duty megaphone with siren and remote microphone


MZMTM27 - a battery-operated megaphone with 25W max. output and remote microphone

£63.11

£56.80

(£47.33 ex VAT)

BUY
30W Megaphone with Siren


A powerful and durable pistol grip megaphone for outdoor voice reinforcement applications

£30.88

£29.33

(£24.44 ex VAT)

BUY
TM-35 35W high power megaphone


TM-35 35 watt high power megaphone with hand-held microphone with fixed helix cable

£111.02

£103.20

(£86.00 ex VAT)

BUY
TM-45 45W high power megaphone with shoulder strap


TM45 45W high power megaphone with shoulder strap

BUY
TXM-48 Megaphone 45W with wireless handheld microphone


TXM48 - a very loud battery-operated megaphone with 45W max. output, optional wireless handheld microphone and cigarette lighter power cable

BUY
System kit X25B - MICRO with wired microphone & superb sound quality


System X25B: handheld wired microphone and a MICRO battery-powered amplifier. The RPN-20 is as easy to use as a megaphone but in our view with a hugely better sound quality.

BUY
Backpack/sandwich board Portable amplifier system


Portable amplifier system suitable for processions, marches and other mobile applications

BUY
Digital Personal Waistband Voice Amplifier WAP-7D


A simple product with good sound quality to help reduce voice strain and improve intelligibility when talking to a group although it is not a replacement for a soundfield system.

BUY
Personal Waistband Voice Amplifier WAP-3


A simple product to help reduce voice strain and improve intelligibility when talking to a group although it is not a replacement for a soundfield system.

BUY
WAP-4 Waistband amplifier (dynamic microphone)


A simple product to help reduce voice strain and improve intelligibility when talking to a group although it is not a replacement for a soundfield system.

BUY
WAP-5 waistband amplifier with electret microphone and iPod line input


WAP5 Waistband amplifier (electret microphone), consisting of 1 headband microphone, 1 active speaker, 1 plug-in charger, but supplied without batteries/rechargeable batteries

£50.40

£45.36

(£37.80 ex VAT)

BUY
Share with Friends
Let a friend know about this product. (or send it to yourself)
Send To A Friend
There is nothing in your basket
Connevans Limited

Bridge House
1 Nutfield Road
Merstham, Surrey, RH1 3EB
United Kingdom

Customer Service

01737 247571

Minicom

01737 644016

Fax

01737 223475

Email