DigiMaster 5000 & inspiro transmitter bundle WITH FREE DYNAMIC
3PSFSYSD5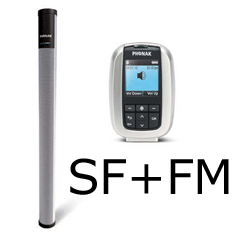 Please register & login to view pricing
Please allow around a working week for despatch of this product
Phonak DigiMaster 5000 loudspeaker inc. wall mount & Phonak inspiro transmitter with iLapel microphone - set to SoundField + FM mode & pre-paired with DigiMaster.
Includes a free DynaMic handheld microphone transmitter!
This bundle is ideal for classrooms where a SoundField system will be used in conjunction with an FM radio system for a deaf student.

Note - the inspiro transmitter in this bundle is set to SoundField + FM mode. 
Phonak's innovative new loudspeaker array is called the DigiMaster 5000. This features no less than 12 individual high-quality loudspeakers, all housed in a robust aluminium frame. Phonak's inspiro Dynamic transmitter has already proved itself popular with teachers through it's use in fm systems.
When purchased in this bundle, the system will be delivered pre-paired - ready to use straight out of the box - both for SoundField & FM!

The ratio between the teacher's speech signal and any undesired background noise (the Signal to Noise Ratio, or SNR) is much more favourable using this kind of loudspeaker design. This is especially true when children are sat further away from the teacher, where they need high sound quality the most.

The DigiMaster 5000 array emits cylindrical sound waves at the most important speech frequencies, ensuring that the required sounds are carried effectively across a large area, while generating very little speech-hindering 'late reverberation' or echo. The DigiMaster 5000 is available with a sturdy floor stand or can be wall-mounted. 
System Features:
Exclusive built-in FM compatibility for children using hearing instruments
Virtually installation-free - Designed for use in classrooms up to 8 x 10m

Unique 'line-source' loudspeaker unit for crystal clear sound
12 high-quality loudspeakers per loudspeaker unit

Dynamic Speech Extractor - intelligent voice activation detection which mutes the receiver when the teacher stops speaking

Monitoring & Data-logging functions

Multicolour LED status indicator provides immediate feedback to the teacher

Only one loudspeaker per classroom with unlimited number of Dynamic SoundField systems per school
Automatic frequency hopping for interference-free sound

Automated Dynamic behaviour for optimal signal-to-noise ratios (SNRs)
Floor-stand or wall-mountable use
mini-USB for downloading new features
MultiTalker Network with inspiro and DynaMic for up to 7 transmitters
Bundle includes:
Transmitter: inspiro transmitter preset to SoundField+FM mode, iLapel microphone, lavalier neck cord, detachable belt clip, audio input 3.5mm cable, user instructions, presentation case, usb programming cable & power supply.
Speaker unit: 1 x DigiMaster 5000 loudspeaker unit, 1 x wall mount & fixings, 1 x power adaptor & 1 x UK power cable, 1 x tool kit, 1 x 3m USB cable & user instructions. 

Phonak part No. 052-3025

Please note: as per Phonak's standard terms of sale, the Digimaster 5000 is a non-creditable item. It is supplied with a 2 year manufacturer's warranty, however it must be returned for repair in it's original packaging (with associated inspiro) - so please don't throw it away!
  (spare packaging is available for purchase - please contact Customer Services)    
DigiMaster 5000:

General data
Height: 895 mm (35 inches)
Diameter: 72 mm (2.8 inches)
Weight (without floor stand): 2070 g
Operating temperature range: 0°C to +45°C
Humidity: 20 % to 85 %
Transmission technology: 2.4 GHz with automatic frequency hopping
Frequency planning: not necessary
Number of Dynamic SoundField systems per school: unlimited
Operating range: typically >10 meters (> 33 feet) 
Audio characteristics
Audio bandwidth for speech: 200 Hz–7.5 kHz
Audio bandwidth for auxiliary audio input: 200 Hz–15 kHz
Signal-to-noise ratio of external audio: > 70 dB
Volume control for voice: +/– 8 dB
Volume control for auxiliary audio input: +/–10 dB
Power output: up to 40 W
Loudspeaker impedance: 4 Ω
Vertical aperture angle of the main lobe @500Hz: +/–25°
Vertical aperture angle of the main lobe @2kHz: +/–7°
Auxiliary input socket: 3.5 mm jack
Auxiliary input impedance: > 10 kΩ

Dynamic characteristics
Target gain for noise level < 54 dB SPL: +6 dB compared to the voice level
Start of dynamic adaptation: noise level > 54 dB SPL
SNR with 45 dB SPL noise level in classroom: > 20 dB*
SNR with 55 dB SPL noise level in classroom: > 12 dB*
SNR with 65 dB SPL noise level in classroom: > 10 dB*
Typical average output level (Volume control 0 dB, speech level of 65 dB
S@1 m)PL:
Noise level < 54 dB SPL: 71 dB SPL@1 m, 66 dB SPL in the reverberant field
Noise level = 60 dB SPL: 75 dB SPL@1 m, 70 dB SPL in the reverberant field
Noise level = 66 dB SPL: 81 dB SPL@1 m, 76 dB SPL in the reverberant field
Noise level > 66 dB SPL: 81 dB SPL@1 m, 76 dB SPL in the reverberant field
Maximum peak output level over auxiliary audio input: 100 dB SPL

Power supply
Voltage input: 100–240 V
Voltage output: 19VDC/65 W
Power consumption in standby mode: < 1 W
Power consumption in Off mode: < 0.5 W

Floor stand
Height: 1035 mm (41 inches)
Diameter of the foot print: 750 mm (29 inches)
Weight: 2165 g

The Phonak Dynamic SoundField system has been designed for use in classrooms with a maximum size of 8 x 10m (24 x 30ft)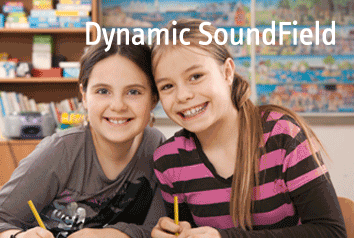 Related Products
DigiMaster 5000 loudspeaker


Phonak DigiMaster 5000 loudspeaker unit including wall mount - part of the Phonak SoundField system. (No inspiro transmitter included)

Please register & login to view pricing

Phonak DynaMic Premium passaround microphone


Phonak DynaMic Premium - Dynamic FM passaround microphone transmitter - for use with an inspiro MultiTalker Network

Please register & login to view pricing

Upgrade service for existing inspiro FM transmitters


when existing inspiro fm transmitters are to be used with a new Phonak SoundField system they will require upgrading. This can be done by a professional with the FM Successware software, alternatively we offer a service which will do it for you - includes a programming change, supply of new EasyBoom SoundField headmic and installation of microphone adaptor cable

Please register & login to view pricing

inspiro audioHub


The Inspiro AudioHub allows one or two audio sources to be connected wirelessly to a Digimaster and any Phonak FM receiver. It also has a built in charger for an inspiro transmitter.

Please register & login to view pricing
Share with Friends
Let a friend know about this product. (or send it to yourself)
Send To A Friend
There is nothing in your basket
Connevans Limited

Bridge House
1 Nutfield Road
Merstham, Surrey, RH1 3EB
United Kingdom

Customer Service

01737 247571

Minicom

01737 644016

Fax

01737 223475

Email