Compact 2C 40W amplifier with rechargeable battery & 2 radio mic receivers, RP2-40B
40SF2C40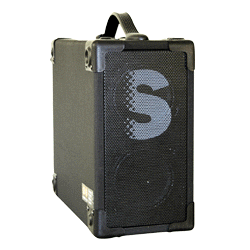 our price:
£595.20
inc VAT
(£496.00 ex VAT)
quantity pricing:
10 +

£535.68 each

(£446.40 each)
Choose quantity and options
Please allow a couple of working days for despatch of this product as it is manufactured to order
Compact 2C 40 watt amplifier with rechargeable battery and two radio microphone receivers -

RP2-40B

 

The COMPACT 2C is the 40-watt big brother of the MICRO, but is also easily portable and operates entirely without cables or wires. It can be used with any of the three radio-microphone options - beltpack and collar worn mic, beltpack and headset mic or handheld mic.

The amplifier is battery-powered with an intelligent charging circuit. Just plug it into the mains to re-charge. It has been designed to provide exceptional clarity and intelligibility of speech.

Audiences of 150 or more can be addressed with ease.

The amplifier weighs approximately 11Kg and is ideally located on a tripod stand (available for purchase separately).

There are separate inputs for an additional cable microphone and for a line level input (CD player, tape machine or other sound source).

The controls are kept to a bare minimum for ease of operation. There is a volume control for the radio-microphone and a separate volume control for the auxiliary inputs. There is a bass control and a "Speech Clarity" control, both of which are normally left in their upright (optimum) setting.

The amplifier is just as easy to use as the Micro and can be quickly moved anywhere inside or outside a building without the need to find a mains socket.

The COMPACT 2C will run for up to 12 hours on its internal battery and will then need to be plugged into the mains to charge up.

If you need more power or wider dispersion, you can use more than one COMPACT 2C with a single wireless microphone.

40 watts, rechargeable battery/mains powered.
Approx size (mm): 370d x 190w x 345h.

Approx. weight: 11kg.

 

   
COMPACT 2C Specification:
Aerial (Antenna):

Built-in

Carrier Frequency:

MPT1345 approved (173.8 to 175 MHz)

Oscillation Mode:

Quartz controlled

Max. Deviation:

15 kHz

Power Output:

40 watts into an 8-ohm load

Frequency Response:

+/- 3dB 50Hz to 15 kHz

THD:

<1%

Additional Inputs:

Cable (wired) microphone or line level

Speakers:

Pair of super-high sensitivity 5-inch full range

Power Supply:

12Volt 7.2 Ah rechargeable battery with intelligent charging

Charging Time:

Approximately 6 hours

Operating Time:

Up to 12 hours

Dimensions (mm):

370L x 190W x 345H

Weight:

11kg

Related Products
Soundranger belt pack transmitter & collarworn microphone


RMT-103H Soundranger belt pack transmitter & collarworn microphone bundle

BUY
Soundranger belt pack transmitter & headworn microphone


RMT-103H Soundranger belt pack transmitter & headworn microphone bundle

BUY
MICRO 20W Amplifier RPN-20


MICRO 20W Amplifier RPN-20

BUY
Micro receiver/amplifier RPA-20


Micro receiver/amplifier RPA 20

BUY
Compact 2C 40 Watt amplifier with rechargeable battery & 1 radio mic receiver, RP1-40B


Compact 2C 40 watt amplifier with rechargeable battery and one radio microphone receiver

BUY
Compact 2M 70 watt amplifier & 1 radio mic receiver, RP1-70M


Compact 2M 70 watt amplifier and 1 radio mic receiver

BUY
Compact 2M 70 watt amplifier and 2 radio mic receivers, RP2-70M


Compact 2M 70 watt amplifier and 2 radio mic receivers

BUY
Compact 2X wired extension speaker, RPX-70X


Compact 2X wired extension speaker

BUY
Soundranger belt pack transmitter (RMT-103H)


RMT-103H Soundranger belt pack transmitter (exc. mic.)

BUY
Collarworn microphone for Soundranger RMT-103 beltpack transmitter


Collarworn microphone for Soundranger RMT-103 beltpack transmitter

BUY
Soundranger (Mipro) lightweight headset microphone MU-53HN


Soundranger (Mipro) lightweight headset microphone

BUY
Lightweight head mic with 3.5mm plug for RMT103 belt pack


Soundranger lightweight headset microphone with 3.5mm plug

BUY
Lightweight hi-quality Pink HM-22 Soundranger headset microphone


Lightweight hi-quality Pink HM-22 Soundranger headset microphone with 4 pin plug

BUY
Soundranger handheld radio microphone


Soundranger handheld radio microphone transmitter

BUY
Lapel mic. with 4 pin plug for RMT103H belt pack MU-53L


Soundranger lapel microphone MU-53L

BUY
Windshield for head mic


Pack of 4 Windshields for Smart wireless M Power head microphone

BUY
SM-B1 quality dynamic microphone with lead and 1/4" plug


A good quality dynamic microphone at a realistic price.

BUY
Standard dynamic cable microphone c/w stand clip


Standard dynamic cable microphone c/w stand clip

BUY
Nylon zip pouch for handheld microphone


a pencil-case style pouch for safe storage and transportation of microphones

BUY
Microphone holder


Microphone holder

BUY
High quality microphone stand with boom arm


A professional microphone stand with a stable base and spring loaded to allow the user to adjust the height easily. Suitable for use with a SoundRanger Micro receiver/amplifier.

BUY
Lightweight speaker stand


Lightweight aluminium speaker stand

BUY
Carrying bag for Compact 2


Carrying bag for COMPACT 2C or COMPACT 2M

BUY
Carry case for Micro


Carry case for Micro

BUY
Nylon Bag for 2x Microphone Stands


Nylon Bag for 2x Microphone Stands

BUY
Microphone Stand Carry Bag


carrying bag for microphone stand

Please register & login to view pricing

Speaker Stand Carry Bag Large


carrying bag for speaker stands

Please register & login to view pricing

Wall bracket for SoundRanger Compact 2


Wall mount bracket for Compact 2C, 2M & 2X (only)

BUY
Wall mount bracket for SoundRanger Micro


Wall mount bracket for Micro (only)

BUY
Speaker safety chain and eye for Micro


Speaker safety chain and eye for Micro

BUY
Micro to fmGenie transmitter connection kit


Micro to Connevans transmitter connection kit, For fmG

BUY
Micro to CRM-220 transmitter connection kit


Micro to Connevans transmitter connection kit, for CRM-220

BUY
SM-M1 4 channel microphone mixer


Miniature, battery-powered, four channel microphone mixer

BUY
Lead acid rechargeable battery for Soundranger Compact 2C (RP1-40B, RP2-40B)


Lead acid NP7-12 12V 7Ah YUASA

BUY
Lead acid battery for Micro Soundranger, Smartwireless M Power, TXA-110 & Mipro


Lead acid battery 12V 2.7Ah

BUY
Single Phono Plug to Plug lead. 15m


Single 15m Phono Plug to Plug lead

BUY
Power supply for SoundRanger Micro


with UK mains lead.

BUY
6.3 Skt - 6.3 Skt Adaptor


6.3mm stereo jack socket to 6.3mm stereo jack socket

Please register & login to view pricing

6.35mm mono plug to Phono socket adaptor


6.35mm mono plug to Phono socket adaptor

BUY
Soundranger Beltpack 4 pin to external audio lead. 3.5mm jack to 4-pin plug


Soundranger Beltpack to external audio lead. 3.5mm jack to 4-pin plug

BUY
Phono plug to 2 x sockets


1 x phono (RCA) plug to 2 x phono (RCA) sockets - Gold plated.

BUY
6.5mm Mono Jack plug to plug lead. 15m


Single 15m 6.5mm Mono Jack plug to plug lead for interconnecting early model Soundranger Compact 2C amplifiers.

BUY
Slide-on belt clip for 40SFXMT4 Soundranger Tx


Spare/replacement belt clip for SoundRanger beltpack transmitter

BUY
Lead 2x Phono plugs to 1x Phono plug 1.2m


A lead with two Phono plugs at one end and a single Phono plug at the other, wired internally to combine the two channels of a stereo signal/source into mono.

BUY
IEC to 13A plug 2m lead


IEC to 13A plug [5A fuse] 2M black lead

BUY
Speaker Stand Mounting Plate for 35mm pole


Speaker Stand Mounting Plate for 35mm pole

BUY
Carry bag for 1x Speaker Stand


Carrying bag for 1x Speaker Stand

BUY
Share with Friends
Let a friend know about this product. (or send it to yourself)
Send To A Friend
There is nothing in your basket
Connevans Limited

Bridge House
1 Nutfield Road
Merstham, Surrey, RH1 3EB
United Kingdom

Customer Service

01737 247571

Minicom

01737 644016

Fax

01737 223475

Email