S4.16 Cube with 4 radio mics 606-614MHz
48S4WC4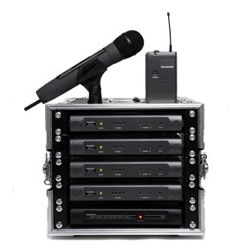 £1,887.11
(save £371.88)
our price:
£1,515.23
inc VAT
(£1,262.69 ex VAT)
quantity pricing:
1 +

£1,515.23 each

(£1,262.69 each)
Choose quantity and options
Please allow around a working week for despatch of this product
4 S4.16 systems with ADU, PSU and cube Flight Case 
Trantec code: S4.16L-G3-CUBE-4W
Please note that the photos here show how the system works and do not represent the actual contents of this particular system.
---
We are pleased to announce that Trantec are continuing to work to save you money and bring high quality products designed here in the UK.

The S4.16, the latest product, is the bigger brother of the successful S4.4 system; it's a 16-channel system that will enable you to run up to 12 channels simultaneously at a price you will find hard to match.

This unique, compact, turnkey package will appeal to schools, amateur dramatics, churches, audio-visual and is ideal for your hire stock.
    * Professional Flight Case
    * 16 UHF Frequencies
    * Antenna Distribution
    * Built In Power Supply
    * Tested & Ready To Go
 Fully assembled package includes:-

    * 4 x 4.16 receivers
    * 4  x 4.16 transmitters in any combination of handheld or beltpack (includes LP2 lapel microphone)
    * Antenna
    * Rack mounting trays
    * Power supply allowing 1 single cable for assembled rack
230v ac 50Hz UK plug
TECHNICAL SPECIFICATION
4.16RX-EA RECEIVER
RF Frequency Range: Channel 38 Frequencies, 606-614MHz
16 Channel Capability
Audio Frequency Response: Handheld 80Hz-16kHz (+/-3dB), Belt pack 60Hz-16kHz (+/-3dB)
Audio S/N Ratio: >96dBA
Audio output: Variable to +10dBu via unbalanced 1/4" mono jack, +16 dBu via balanced XLR 3F
Display: 4 position RF bar graph, AF Peak (Overload), Diversity A/B
DC Input: 12V, 100mA
Dimensions: 35 x 213 x 98mm
Weight: Approx 580g
S4.16LTX-EA TRANSMITTER
16 Channel capability
Controls: Frequency select, On/Off switch, Lapel/Instrument select, Gain adjust
Indicator: Battery status LED
P2 Lavalier microphone: Omni-directional back electret condenser
Operating voltage 9v @ <50mA
Operating time approx 10 hours
Power Output: Max 10mW
Connectors: Audio input via 3.5mm jack socket
Dimensions: 60 x 100x 30mm including belt clip
Weight: Approx 90g
Fully meets with requirements of ETSI 300-422/455, FCC part 74h
S4.16HTX-EA TRANSMITTER
16 Channel Capability
Controls: Frequency select and On/Off switch
Indicator: Battery status LED
High quality cardioid dynamic head
Operating voltage 9v @ <50mA
Operating time approx 10 hours
Power Output: Max 10mW
Dimensions: 280 x 50 max (including grille)
Weight: 210g
Fully meets with requirements of ETSI 300-422/455 FCC part 74h

Related Products
S4.16 Cube with 4 radio mics 606-614MHz with remote antenna kit


Four S4.16 systems with ADU, PSU and Cube Flight Case - supplied with remote antenna kit - channel 38

£2,131.30

£1,711.30

(£1,426.08 ex VAT)

BUY
S4.16 Racked n Ready with 4 radio mics 606-614MHz


Four S4.16 systems with ADU, PSU and 4 "U" Flight Case - channel 38

£1,887.11

£1,515.23

(£1,262.69 ex VAT)

BUY
S4.16 Racked n Ready with 4 radio mics 606-614MHz with remote antenna kit


Four S4.16 systems with ADU, PSU and 4 "U" Flight Case - supplied with remote antenna kit - channel 38

£2,131.30

£1,711.30

(£1,426.08 ex VAT)

BUY
S4.16 Racked n Ready with 6 radio mics 606-614MHz


Six S4.16 systems with ADU, PSU and 4 "U" Flight Case - channel 38

£2,731.06

£2,192.87

(£1,827.39 ex VAT)

BUY
S4.16 Racked n Ready with 6 radio mics 606-614MHz with remote antenna kit


Six S4.16 systems with ADU, PSU and 5 "U" Flight Case - supplied with remote antenna kit - channel 38

£2,975.24

£2,388.94

(£1,990.78 ex VAT)

BUY
S4.16 Racked n Ready with 8 radio mics 606-614MHz


Eight S4.16 systems with ADU, PSU and 5 "U" Flight Case - channel 38

£3,573.92

£2,869.66

(£2,391.38 ex VAT)

BUY
S4.16 Racked n Ready with 8 radio mics 606-614MHz with remote antenna kit


Eight S4.16 systems with ADU, PSU and 5 "U" Flight Case - supplied with remote antenna kit - channel 38

£3,818.11

£3,065.72

(£2,554.77 ex VAT)

BUY
Share with Friends
Let a friend know about this product. (or send it to yourself)
Send To A Friend
There is nothing in your basket
Connevans Limited

Bridge House
1 Nutfield Road
Merstham, Surrey, RH1 3EB
United Kingdom

Customer Service

01737 247571

Minicom

01737 644016

Fax

01737 223475

Email