Sophie - large signing puppet
300P159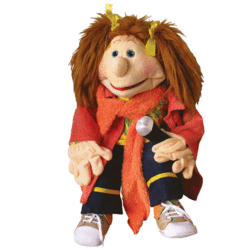 our price:
£61.74
inc VAT
(£51.45 ex VAT)
Out of Stock
Sorry, but this product is not in stock at the moment.
If you would like us to notify you when it is back in stock, please complete the form below and click submit.
To help us with our stock control, please could you let us know how many of this product you are interested in.
Please note that this is not a commitment from you to order
Large figurative puppet - 'Sophie' the pop star.
Each puppet has it's own character with a lovely friendly face. 'Sophie' is made from a soft, smooth material, giving her a tactile charm which makes everyone (both young and old!) instantly want to pick her up, cuddle him and play with her! 
Offering amazing dexterity, with an amusing facial expression or lively gesture, these puppets instantly come to life. Ideal for teaching sign language and fingerspelling to children of all ages, 'Sophie' helps create a fun learning environment.
The user inserts one hand into the entrance at the back of the head in order to work the puppet's mouth (and tongue). These soft mouthed puppets are extremely easy to use, giving full mouth movement and plenty of head movement. The puppeteer can also use their other hand to move one of the puppet's large hands and arms while working the mouth. You can also use both hands and arms for picking things up, signing etc.The hand-holes are large but elasticated, so will suit hands of all sizes.
Sophie comes with removable trousers, coat & scarf and attached microphone.

Due to hygiene issues this item cannot be returned for credit unless faulty.
Note - design of boots may vary.

'Sophie' comes with shorts and boots that are removable for washing at 30°. Made from high quality materials, the puppets are designed for day-to-day use.

All puppets have been tested and given the CE mark of approval of conformity for toys.
Height: 65cm approx. Weight: 0.8kg
Recommended for children aged 3+

Related Products
Share with Friends
Let a friend know about this product. (or send it to yourself)
Send To A Friend
There is nothing in your basket
Connevans Limited

Bridge House
1 Nutfield Road
Merstham, Surrey, RH1 3EB
United Kingdom

Customer Service

01737 247571

Minicom

01737 644016

Fax

01737 223475

Email