FCP fused european converter plug - black
MX429823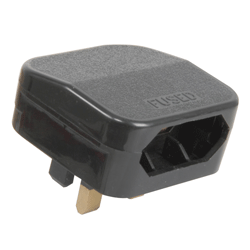 our price:
£1.82
inc VAT
(£1.52 ex VAT)
quantity pricing:
10 - 19

£1.73 each

(£1.44 each)

20 +

£1.49 each

(£1.24 each)
Choose quantity
Order now for next working day despatch.
FCP fused european converter plug - black

This 5A fused plug converts 2 pin Euro plugs to the UK BS1363 13A 3 pin plug standard.

Please note: Once fitted a 'U ended' security screwdriver is needed for removal if required.   After fully assembling, a 'pull test' safety check is recommended.
Mercury product code: 429.823UK

Related Products
Universal Travel Adaptor Set


Universal travel adaptor set that can be used in over 150 countries on 6 continents.

BUY
European to UK plug adaptor - BLACK


Neat adaptor that turns a 2 pin 'flat' european plug into a fitted UK 13 amp mains plug.

BUY
European to UK plug adaptor - WHITE


Neat adaptor that turns a 2 pin 'flat' european plug into a fitted UK 13 amp mains plug.

BUY
FCP fused european converter plug - white


This 5A fused plug converts 2 pin Euro plugs to the UK BS1363 13A 3 pin plug standard

BUY
White SCP3 13A rated Euro converter plug


scp3 fused european converter plug

BUY
White SCP3 5A rated Euro converter plug- bulk


scp3 fused european converter plug

BUY
European schuko SCP3 to UK 13A plug adaptor - BLACK 13A fused


Neat adaptor that turns a 2 pin 'round' schuko european plug into a fitted UK 13 amp mains plug & 13A fuse.

BUY
European schuko SCP3 to UK 13A plug adaptor - BLACK 5A fused


Neat adaptor that turns a 2 pin 'round' schuko european plug into a fitted UK 13 amp mains plug & 5A fuse.

BUY
BCA fused Euro to UK plug adaptor - black


This 3A fused plug adaptor allows a power supply with a 2 pin european 2 pin plug to be used in a UK 13A plug socket

BUY
BCA fused Euro to UK plug adaptor - white


This 3A fused plug adaptor allows a power supply with a 2 pin european 2 pin plug to be used in a UK 13A plug socket

BUY
Black SCP 13A Euro converter plug


black scp fused european converter plug

Please register & login to view pricing

White SCP 13A Euro converter plug


scp fused european converter plug

Please register & login to view pricing

White SCP 5A Euro converter plug


White scp fused european converter plug

Please register & login to view pricing

Black SCP 5A Euro converter plug- bulk


scp fused european converter plug

Please register & login to view pricing

Shaver adaptor


UK mains adaptor for electric shaver

BUY
UK 13 amp socket to 2 pin American plug travel adaptor


UK 13 amp socket to 2 flat pin American mains plug adaptor (can also be used in Australia)

BUY
Plug-in 4 way mains adaptor with surge protection


A unique 4-way mains adaptor which plugs into a 13A mains socket. Ideal for adding extra sockets without having trailing leads

BUY
CEE 16A line plug 3 pole


Waterproof free plug with moveable strain relief for easy wiring and terminal screws for secure connection

BUY
CEE 16A Line Socket


Waterproof free socket with moveable strain relief for easy wiring and terminal screws for secure connection

BUY
Surface mount socket, 16A, 3-pole


A wall/surface mountable, waterproof socket with spring loaded cover to protect against water and dirt ingress when not in use

BUY
2-way UK mains plug adaptor (13A)


2-way mains plug adaptor allowing 2 devices to be powered from a single UK mains socket

BUY
3-way fused UK plug adaptor


3-way fused Uk mains plug adaptor - MSA335F

BUY
White 3 Way 13A Adaptor


Three way plug in adaptor with fuse allowing 3 devices to be powered from a single UK mains socket

BUY
International travel adaptor set


Mains adaptors to allow devices fitted with UK mains plugs to be used in European or USA sockets

BUY
In-line 13A 3 Terminal Connector


in-line mains connector 13A - WA51

BUY
1 Gang anti-surge adaptor


protects extension leads or equipment from power surges

BUY
Visitor adaptor - various sockets to UK plug


allows equipment from various countries including USA, France, Belgium and Italy to be used in a UK mains outlet

BUY
Mains in-line 6A switch


A 3 terminal in line white mains rocker switch

BUY
Rubber UK mains plug, 13A fuse, black


rubber uk mains plug

Please register & login to view pricing

Rubber UK mains plug, 13A fuse, white


rubber uk mains plug

Please register & login to view pricing

UK MAINS PLUG - black with 13A fuse


UK Mains plug, approved to BS1363 with 13A fuse

BUY
UK mains plug, 3A fuse, white


fused uk mains plug

Please register & login to view pricing

UK mains plug, 13A fuse, white


fused uk mains plug

Please register & login to view pricing

UK mains plug, 5A fuse, white


fused uk mains plug

Please register & login to view pricing

Safety plugs


Plastic safety blanking 13A plugs for keeping small fingers out of sockets. - Priced and supplied as a bag of 5

BUY
3-pin polycarbon connector 10A, white


MSB51W 3-pin polycarbon connector 10A, white

BUY
Rubber 2Pin 10A in-line connector Orange


Rubber 2 Pin 10A Orange - MSB48OR

BUY
UK 3 pin socket to 2 pin european plug 7.5A - white


white UK 3 pin socket to 2 pin european mains plug adaptor, 7.5 Amps

BUY
EU socket to UK plug


3 pin EU socket to UK plu

BUY
Weatherproof 1 gang outdoor socket


Weatherproof 1 gang outdoor socket

BUY
Weatherproof 2 gang outdoor socket


Weatherproof 2 gang outdoor socket

BUY
Share with Friends
Let a friend know about this product. (or send it to yourself)
Send To A Friend
There is nothing in your basket
Connevans Limited

Bridge House
1 Nutfield Road
Merstham, Surrey, RH1 3EB
United Kingdom

Customer Service

01737 247571

Minicom

01737 644016

Fax

01737 223475

Email