Telecoil unit for Baha BP100 and BP110
DCBA91181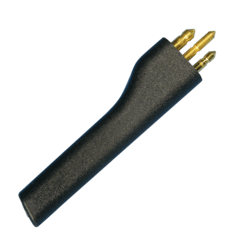 our price:
£269.57
inc VAT
(£224.64 ex VAT)
Choose quantity
Please allow around a working week for despatch of this product
The Telecoil unit is for use with personal loop systems in the home and in buildings with loop facilities to improve sound quality. The telecoil unit will pick up the sound in theatres, cinemas, lecture theatres etc. and from telephones provided they are fitted with a loop facility.
With the BP100 you have the option of either "MT" or "T" settings, which you can select using the programme button on the Baha.  These settings may need to be programmed by your audiologist if they have not already been activated.

Manfr. no: 91181
Colour: blackSize: 30 x 8 x 4mm  Weight: 2g.  
   

Related Products
Audio adaptor for Baha BP100 and BP110


allows a Baha user to connect external equipment eg. MP3 players or FM systems directly to the sound processor. For use with Baha BP100 and BP110 - available in two lengths

BUY
Audio adaptor for Baha Intenso, Divino, Classic 300 & Compact


allows a Baha user to connect external equipment eg. MP3 players or FM systems directly to the sound processor. For use with Baha Intenso, Baha Divino, Baha Classic 300 and Baha Compact

BUY
Bilateral connection cord for Baha Intenso, Divino, Classic 300 and Compact


bilateral connection cord for use with the DCBA065 Baha audio adaptor

BUY
Monaural audio cord for Baha for use with fmGenie - 1m


allows a Baha user to connect an fmGenie directly to the sound processor. For use with Baha Intenso, Baha Divino, Baha Classic 300 and Baha Compact

BUY
Audio adaptor for Baha Cordelle II


allows a Baha user to connect external equipment eg. MP3 players or FM systems directly to the sound processor. For use with a Baha Cordelle II

BUY
MLxi Baha receiver


Phonak MLxi Baha Dynamic FM receiver module for use with Divino, Compact & Intenso BAHAs from Cochlear and Oticon Ponto and Ponto Pro - for use with the inspiro transmitter

Please register & login to view pricing

Telecoil unit for Baha Intenso, Divino & Compact


allows Baha users to enjoy the benefits of inductive listening

BUY
MLxS Baha test adaptor


in circuit emulator to allow easy testing of Baha MLxS - allows you a MLxS Baha to be connected into any standard hearing aid audio shoe/fmGenie accessories tester in order to carry out a listening check

BUY
750mm Output cord for Baha Cordelle II


750mm Output cord for Baha Cordelle II in black or beige

BUY
1.5m Output cord for Baha Cordelle II


1.5m Output cord for Baha Cordelle II in black or beige

BUY
Share with Friends
Let a friend know about this product. (or send it to yourself)
Send To A Friend
ASSOCIATED ITEMS
Geemarc Clearsound CL iLoop BUY

CL iLoop with 3.5mm stereo plug for MP3 player, CD player, PC etc - especially good for use with iPods

Geemarc CL100 amplified telephone BUY

The Geemarc CL100 is designed to help those with a high frequency hearing loss - it is very similar to the CL1100
There is nothing in your basket
Connevans Limited

Bridge House
1 Nutfield Road
Merstham, Surrey, RH1 3EB
United Kingdom

Customer Service

01737 247571

Minicom

01737 644016

Fax

01737 223475

Email