Stereo 3.5mm jack to jack leads 1.2 metre
MXA117A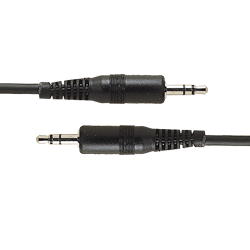 our price:
£1.01
inc VAT
(£0.84 ex VAT)
quantity pricing:
20 - 49

£0.73 each

(£0.61 each)

50 - 99

£0.47 each

(£0.39 each)

100 +

£0.46 each

(£0.38 each)
Out of Stock
Sorry, but this product is not in stock at the moment.
If you would like us to notify you when it is back in stock, please complete the form below and click submit.
To help us with our stock control, please could you let us know how many of this product you are interested in.
Please note that this is not a commitment from you to order
Stereo 3.5mm jack plug to stereo 3.5 jack plug - 1.2 metre.
Aux/TV i/p lead for Connevans IR Swift and Phonak fm transmitters - inspiro, SmartLink & SmartLink+, ZoomLink & ZoomLink+, EasyLink & EasyLink+, Campus S, Campus SX.
Can also be used to connect the Phonak iCom and ComPilot to external audio sources such as the TV or MP3 players.

Electrovision product code: A117A

Related Products
Mono 6.3mm patch leads - various colours


Pack of 6, 1 metre, mono 6.3mm patch leads with right angled plug.

BUY
Mono 6.3mm patch leads - black


Pack of 6, 1 metre, mono 6.3mm patch leads with right angled plug.

BUY
Mono 6.3mm patch lead - 2 metre


Mono 6.3mm patch lead with straight plug, 2 metre black.

BUY
Phono plug to plug - 1.2 metre


Two phono plugs to two phono plugs - 1.2 metre

BUY
Phono plug to plug - 3 metres


Phono plug to plug - 3 metres

BUY
Phono plug to plug - 5 metres


Phono plug to plug - 5 metres

BUY
Phono plug to plug - 10 metres


Phono plug to plug - 10 metres

BUY
Stereo 3.5mm to phono lead - 1.2 metre


Stereo 3.5mm plug to phono lead plug pair - 1.2 metre

BUY
Stereo 3.5mm to phono lead - 5 metre


Stereo 3.5mm plug to phono lead - 5 metre

BUY
Stereo 3.5mm to phono lead - 15 metre


Stereo 3.5mm plug to phono lead - 15 metre

BUY
Phono socket to phono plug lead - 1.2 metre


Phono socket to phono plug extension lead - 1.2 metre

BUY
Phono socket to phono plug lead - 5 metre


Phono socket to phono plug extension lead - 5 metre

BUY
Phono Lead - 1.8 metre


Phono Lead - 1.8 metre with stackable plugs

BUY
Mono 3.5mm jack to jack lead 1.2 metre


Mono 3.5mm jack plug to mono 3.5mm jack plug - 1.2 metre.

BUY
TV headphone conversion kit


4m stereo 3.5 extension lead an a range of adaptors. Suitable for use with TV, PC etc.

BUY
Stereo 3.5mm extension lead 3 metre


Stereo 3.5mm extension lead 3 metre.

BUY
3.5mm plug to socket extension lead


3.5mm plug to socket, 3m extension lead - with mono/stereo switch.

BUY
Precision 3.5mm stereo extension lead 3.0m


precision 3.5mm stereo extension lead

BUY
Precision 3.5mm stereo jack lead 0.5m


precision 3.5mm to 3.5mm stereo jack leads

Please register & login to view pricing

Phono to 6.35mm mono lead - 1.5metre


2 x phono to 2 x 6.35mm mono plug (red & black), 1.5 metre.

BUY
Phono to 6.35mm mono lead - 3metre


2 x phono to 2 x 6.35mm mono plug (red & black), 3 metre.

BUY
Phono to 6.35mm mono lead - 5metre


2 x phono to 2 x 6.35mm mono plug (red & black), 5 metre.

BUY
Stereo 6.35mm jack to 2 x Phono - 1 metre


Stereo 6.35mm jack to 2 x Phono - 1 metre

BUY
Stereo 6.35mm jack to 2 x Phono - 2 metres


Stereo 6.35mm jack to 2 x Phono - 2 metres

BUY
Stereo 6.35mm jack to 2 x Phono - 5 metres


Stereo 6.35mm jack to 2 x Phono - 5 metres

BUY
Mono 6.35mm jack to 2 x Phono - 2 metres


Mono 6.35mm jack to 2 x Phono - 2 metres

BUY
3.5mm to 2.5mm lead


stereo 3.5mm to 2.5mm lead - 1.5m

BUY
Audio connecting lead 0.5m


2 x Gold plated phono plugs to 2 gold plated RCA phono plugs.

BUY
2 x phono plug to phono plug lead


2 x gold plated RCA phono plugs to 2 RCA phono plugs

BUY
6.3mm jack plug to RCA phono plug lead - 5m mono


Mono 6.3mm plug to phono lead - 5 metre

BUY
2 x right angled Phono Plug/Plug lead 1.2m


Right angled phono socket to phono plug extension lead - 1.2 metre

BUY
3 metre 3 x RCA phono plugs to 3 x RCA phono plugs. 75 ohm video & stereo audio


3 x RCA phono plugs to 3 x RCA phono plugs. 75 ohm video & stereo audio - 3 metres

BUY
5 metre 3 x RCA phono plugs to 3 x RCA phono plugs. 75 ohm video & stereo audio


3 x RCA phono plugs to 3 x RCA phono plugs. 75 ohm video & stereo audio - 5 metres

BUY
10 metre 3 x RCA phono plugs to 3 x RCA phono plugs. 75 ohm video & stereo audio


3 x RCA phono plugs to 3 x RCA phono plugs. 75 ohm video & stereo audio - 10 metres

BUY
20 metre 3 x RCA phono plugs to 3 x RCA phono plugs. 75 ohm video & stereo audio


3 x RCA phono plugs to 3 x RCA phono plugs. 75 ohm video & stereo audio - 10 metres

BUY
1x Phono plug to 2x Phono sockets lead. 230mm

BUY
1 x RCA phono plug - 1 x RCA phono plug, 5.0m, bag and header


single rca phono plug to phono plug

Please register & login to view pricing

3.5mm stereo plug - 3.5mm stereo plug, 1.2m - Blister


3.5mm stereo jack plug to 3.5mm stereo jack plug

Please register & login to view pricing

2.5mm Right Angle Stereo Plug to 3.5mm Stereo Line Socket


2.5mm right angle stereo plug to 3.5mm stereo line socket

Please register & login to view pricing
Share with Friends
Let a friend know about this product. (or send it to yourself)
Send To A Friend
RELATED PRODUCTS
Pack of 6, 1 metre, mono 6.3mm patch leads with right angled plug.

£3.66
There is nothing in your basket
Connevans Limited

Bridge House
1 Nutfield Road
Merstham, Surrey, RH1 3EB
United Kingdom

Customer Service

01737 247571

Minicom

01737 644016

Fax

01737 223475

Email