On-site Radio Aid training and set-up support visit
MTRAIN0000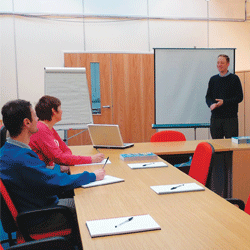 Please register & login to view pricing
VAT Relief is available if you make a declaration in the Shopping Basket
Order now for despatch on Mon 20th May.
Connevans have been established nearly 50 years. Over that time we have amassed a wealth of experience and product knowledge which has supported our position within the industry. We now offer the option to purchase a training session with one of our experienced professionals, who will visit you to teach you in a one-to-one session how to use your equipment and set it up for you so that it will work for you in your particular situation.
We firmly believe that in situations where the end-user isn't familiar with the equipment, a training session is a valuable tool in ensuring that they are able to get the most out of their equipment. 
Highly recommended.
We are only able to offer training on equipment purchased from us. Training may be purchased at the time of equipment sale, or within one month of equipment sale.

The price includes travel and expenses. The training visit is not a set time - it will last as long as is required to set up & explain the system.

If you would like more information about the on-site training services offered by Connevans, please contact our Customer Services Team on 01737 247571 or info@connevans.com.

Note - while our trainers are able to cover the majority of the UK mainland, there are some areas where we cannot run training sessions. We will contact you if we anticipate any problems.

Reviewed by: Reviewed by: Connevans Customer Services
The training was of a very high standard. The trainer fully understood my hearing loss and delivered all information so I could understand easily. I left feeling very elated for the future. Thank you.
Reviewed by: New fmGenie User
Extract taken from Training Completion form: Outstanding product clearly and simply explained; helpful and pleasantly put over
Reviewed by: fmGenie in the Workplace
Extract from Training Completion form: This will make a huge difference to my working and home life. Looks good. Wish I'd known about it earlier
Reviewed by: New Workplace User
Fab Training. Learnt alot about my hearing aids and equipment and other equipment available. Fully understand everything. Trainer was brilliant
Reviewed by: New Radio Aid User
Feedback taken from Training Completion form: Helpful, informative and friendly. Put me at ease straight away. Explained objectives well and achieved these objectives with knowledge and patience. Thank you.
Reviewed by: New Radio Aid User
Extract from completed Training Completion form: Very helpful to have clear instructions to use quite complex equipment. I think training is required for all people getting hearing aid equipment - very good support.
Reviewed by: Connevans Customer Services
Comment made on training completion form: I had used other equipment but the fmGenie helps me here(sic) frequencies I hadn't been able to previously.
Reviewed by: Connevans Customer Services
Really helpful demonstration, clearly explained. Will help me immeasurably.
Reviewed by: Reviewed by: Connevans Customer Services
Excellent and very thorough training on all equipment - loop system, fm with microphone, group microphone. Also trained on use of system in the home. Very pleased indeed with the training.
Reviewed by: New fmGenie user
fmGenie Direct Input System with a pack 5B telephone headset. Phone system explained and understood.Confident to use the system due to the simplified way it was demonstrated.
Related Products
fmGenie transmitter and receiver package - FMGQ1


includes only transmitter and receiver, no accessories

£1,228.80

(£1,024.00 ex VAT)

BUY
Neck loop fmGenie package - FMGQ2


standard package for individuals using a neck loop with their hearing aid on the 'T' setting

£1,510.84

(£1,259.03 ex VAT)

BUY
Direct input fmGenie package - FMGQ3


standard package for individuals with direct input hearing aids

£1,460.62

(£1,217.18 ex VAT)

BUY
Neck loop & conference microphone fmGenie package - FMGQ4-N


for individuals wishing to use a conference microphone for use in meetings, seminars etc with a neck loop

£1,641.70

(£1,368.08 ex VAT)

BUY
Direct input & conference microphone fmGenie package - FMGQ4-DI


for individuals wishing to use a conference microphone for use in meetings, seminars etc. with direct input leads

£1,591.48

(£1,326.23 ex VAT)

BUY
DDA visitor's fmGenie package - FMGQ5


An fmGenie radio aid system to offer a provision as required by the Disability Discrimination Act for a visiting hearing aid user using their hearing aid on 'T'

£1,297.61

(£1,081.34 ex VAT)

BUY
DDA visitor's fmGenie group package - PGFMG6


an fmGenie radio aid system to offer a provision as required by the DDA for a visiting group of up to 5 visitors and one guide

£3,692.11

(£3,076.76 ex VAT)

BUY
Cochlear implant fmGenie package - FMGQ7


standard package for individuals with cochlear implants

£1,407.16

(£1,172.63 ex VAT)

BUY
fmGenie transmitter set - FMGQ9


standard Team Teaching package - a second fmGenie transmitter for use by a second speaker or connection to a TV

BUY
Headphone fmGenie package - FMGQ11


standard package allowing a fmGenie to be used with headphones - ideal for non-hearing aid wearers, especially children with attention difficulties

£1,403.56

(£1,169.63 ex VAT)

BUY
Call Centre fmGenie package - FMGQ12


A complete fmGenie package that provides a high quality hands-free telephone/telesales facility for people who wear hearing aids.

£1,786.00

(£1,488.33 ex VAT)

BUY
fmGenie transmitter and two Phonak MicroMLxS receivers - QMLXSM2


fmGenie Transmitter and MicroMLxS Receivers for use with 2 hearing aids.

Please register & login to view pricing

fmGenie transmitter and Phonak MicroMLxS receiver - QMLXSM2M


fmGenie Transmitter and MicroMLxS Receiver for use with 1 hearing aid.

Please register & login to view pricing
Share with Friends
Let a friend know about this product. (or send it to yourself)
Send To A Friend
There is nothing in your basket
Connevans Limited

Bridge House
1 Nutfield Road
Merstham, Surrey, RH1 3EB
United Kingdom

Customer Service

01737 247571

Minicom

01737 644016

Fax

01737 223475

Email