Phonak ML12i integrated receiver
3PINS12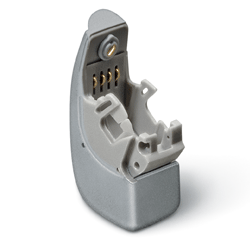 Please register & login to view pricing
VAT Relief is available if you make a declaration in the Shopping Basket
Please allow around a working week for despatch of this product
The ML12i is a dedicated, self -contained, micro radio receiver. This is one of the new receivers designed for use with the Phonak inspiro and + range of transmitters (but is also compatible with earlier transmitters such as the Smartlink SX).

It is compatible with the Nathos micro, Nios micro, Nios S micro, Certéna micro, Versáta micro, Exélia micro & Exélia ART micro (size 13 battery) microBTE hearing instruments from Phonak and offers all features of the Phonak MLxi fm receivers.

The ML12i is easy to fit with no user adjustments. It does not need to be orientated.
The ML12i gives similar sound quality to the MLxS but the performance is not as good as the fmGenie. There is minimal setting up and, with no connecting wires, it has high visual appeal it is the cosmetics and small size which appeals to people.

For an audio demonstration of the benefits of Dynamic fm:
For Children

Features:

very small in size and weight
integrated with the hearing aid
Smart Noise Blocker technology to improve sound quality and listening comfort
automatic squelch for improved reception
improved range of up to 30m
built-in antenna which makes the pin orientation unnecessary
intelligent stand-by mode to save power when the transmitter is switched off.
water resistant

Manufacturer's part number: 052-3405-87101 (beige), 052-3405-87106 (black), 052-3405-87135 (taupe)  
Helpful hint: your hearing aid may have a small sticker covering the contacts inside the battery drawer, which will need to be removed for the ML12i to work! 

Please note that the ML12i will not work with any 'In The Ear' hearing aids.
The ML12i takes its power from the hearing aid, typically 1.8mA, so the battery life of the aid is reduced by about half. When no 'FM' signal is received for 40 seconds, the ML12i goes into a low current sleeping mode drawing typically 200mA.
Technical notes: ML12i receivers have technical limitations with the RF sensitivity and requires channel separation. These limitations result in a low number of simultaneously usable channels ad the need to use a 'high power' radio transmitter - Campus SX, SmartLink, ZoomLink, EasyLink, inspiro or an fmGenie. ML12i users should be aware that nearby fm transmitters on any frequency up to at least 5 channels away may cause interference.
The following additional information is available for this product
For an audio demonstration of the benefits of Dynamic fm:

Related Products
Phonak MLxi receiver


Phonak MLxi Dynamic FM receiver module for use with post aural direct input hearing aids - for use with the inspiro, SmartLink+, ZoomLink+ & EasyLink+ transmitters

Please register & login to view pricing

MLxi Baha receiver


Phonak MLxi Baha Dynamic FM receiver module for use with Divino, Compact & Intenso BAHAs from Cochlear and Oticon Ponto and Ponto Pro - for use with the inspiro transmitter

Please register & login to view pricing

Phonak ML9i integrated receiver


Phonak integral Dynamic FM receiver for the Savia, Eterna, eXtra, Eleva, Una, Certéna, Versáta and Exélia

Please register & login to view pricing

Phonak ML10i integrated receiver


integral Phonak Dynamic FM receiver for the Naída UP, Naida S UP, Milo Plus UP & Nathos UP

Please register & login to view pricing

Phonak ML11i integrated receiver


Phonak integral Dynamic FM receiver for the Naída SP, Naída S SP & Nathos SuperPower

Please register & login to view pricing

Phonak ML13i integrated receiver


Phonak integral Dynamic FM receiver for the Ambra microP & SP, Solana microP & SP, Cassia microP & SP

Please register & login to view pricing

Phonak ML15i integrated receiver


Phonak integral Dynamic FM receiver for the PHONAK Ambra M H2O, Solana M H2O, Cassia M H2O, Nios S H2O, Dalia M H2O, Naída S CRT and Bolero Q-M13

BUY
Phonak ML16i integrated receiver


Phonak integral Dynamic FM receiver for the PHONAK Bolero Q-P & Q-SP

BUY
ML14i receiver


integral Dynamic FM receiver for the Cochlear Nucleus 5 CP800 cochlear implant processor - build standard C and onwards

Please register & login to view pricing

Phonak ML14i Checker


to allow testing of a Phonak ML14i integrated FM receiver with an FMG750 accessories tester or direct input

BUY
inspiro Premium transmitter and two MLxi receivers - QINSP1


Ready-made package - inspiro Premium transmitter and two MLxi Receivers for use with 2 hearing aids

Please register & login to view pricing

inspiro Premium transmitter and MLxi receiver - QINSP1M


Ready-made package - inspiro Premium transmitter and one MLxi Receiver for use with 1 hearing aid

Please register & login to view pricing

Phonak MyLink+ receiver


a Dynamic FM receiver with neck-loop. Compatible with any hearing instrument with a 'T'-coil and all Phonak & Connevans fmGenie transmitters

Please register & login to view pricing

AB iConnect earhook for Auria & Harmony cochlear implants ADULT size *new style*


ADULT size iConnect earhook for use with Advanced Bionics Auria & Harmony cochlear implants - connects the Phonak MicroMLxS directly to the processor

BUY
Share with Friends
Let a friend know about this product. (or send it to yourself)
Send To A Friend
ASSOCIATED ITEMS
There is nothing in your basket
Connevans Limited

Bridge House
1 Nutfield Road
Merstham, Surrey, RH1 3EB
United Kingdom

Customer Service

01737 247571

Minicom

01737 644016

Fax

01737 223475

Email