Amplicomms PowerTel 58
40TAC58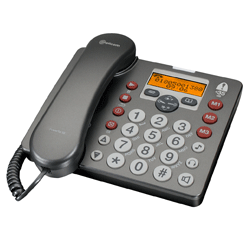 our price:
£59.99
inc VAT
(£49.99 ex VAT)
quantity pricing:
10 - 19

£53.99 each

(£44.99 each)

20 +

£44.99 each

(£37.49 each)
VAT Relief is available if you make a declaration in the Shopping Basket
Choose quantity
Order now for next working day despatch.
The Amplicom PowerTel 58 has good volume levels and is full of popular features.
It has a very large phonebook memory, caller ID, speakerphone and even an answerphone. The on-hook dialling and phonebook have a voice announce option for those with visual impairments and the buttons are large and clear. The phone has adjustable tone and volume, with a boost button. Especially nice is the User Profile feature which allows 3 users to pre-program their personal volume, tone and boost settings.
The PowerTel 58 has an inductive T coil in the handset and is compatible with all hearing aids with a telecoil facility (as with all our amplified corded telephones). 

In our view the Amplicom PowerTel 58 is a top-end, well designed phone, packed full of nice features for deaf people. Due to the number of features, the phones aren't necessarily intuitive to use and we'd recommend reading the instruction booklet! The User Profile option is particularly useful, especially in a multi-user household.

For full list of features, see Details tab!

Contents:
1x Corded Telephone, 1x Power supply, 1x Telephone cable, 1x User Guide 

Maximum loudness:
•
••
Features

Extra Big Buttons for easy use
Easy to use menu with bold font
3 line extra large LCD Display with backlight
Integrated answer machine with up to ca. 11 mins record time  - Easy to use keys to play back messages
Answer machine voice prompts in English, German and French
Time and Date stamp message log
Listen to messages via handset or handsfree
Display in 5 Languages ( GB, D, F, I, E)
Caller ID with 30 numbers recall
200 name and number phonebook
Handsfree Speakerphone
9 ringtones including traditional bell ring tone
Call Ringer – 5 extra loud levels plus Off
Optical flashing ringer
Alarm Clock function which will also activate a vibrate / shaker device if connected (must be purchased separately)
Hearing Aid Compatible
Adjustable Tone Control 
3 programmable personalized volume / tone control settings for multi user profiles
High quality speaker for amplified calls up to max 35 dB
Boost amplification button 
Bright flashing white LED to indicate incoming calls
Super loud adjustable base ringer up to 90 dB
Mute function
Headset socket on base (2.5mm)
Base connection for optional shaker / vibration alarms (not included)
Phone can be used in the event of a power failure (some features might not work as normal eg. display)
Dialled numbers with voice prompt confirmation
Talking number and Caller ID
3 Programmable Emergency Buttons
PABX compatible
RNID Product code: T403
Manufacturer's product code: 592827

This phone is also available in a Combo model, with an additional cordless handset [40TACCOMBO] - see Associated Items panel on the right.
Please note, contrary to the comparison chart in our catalogue, this phone is not wall mountable.            

Related Products
Geemarc CL100 amplified telephone


The Geemarc CL100 is designed to help those with a high frequency hearing loss - it is very similar to the CL1100

£39.18

£35.27

(£29.39 ex VAT)

BUY
Geemarc AmpliPOWER 40


The Geemarc AmpliPOWER 40 is a very loud phone, with a volume boost button of +40dB

BUY
Geemarc AmpliPOWER 50


The Geemarc AmpliPOWER 50 is a very, very loud phone, with a volume boost button of +60dB!!

BUY
Geemarc CL455 telephone


The Geemarc CL455 is has a similiar listening sound to the CL100 with an added answer phone and lots of useful features - it succeeds the CL400.

BUY
Doro HearPlus 313ci telephone


a very good amplified corded telephone with easy-to-read display and large buttons

BUY
Doro HearPlus 317ci


a very loud amplified corded telephone with easy-to-read display and large clear buttons - ergonomically designed for comfortable use

Shipping Discount

£90.00

(£75.00 ex VAT)

BUY
Amplicomms PowerTel 30


The PowerTel 30 is a good value, amplified phone with many useful features.

BUY
Amplicomms PowerTel 49


an amplified corded telephone with illuminated big buttons and tone and boost settings. This is a loud and excellent value-for-money phone

BUY
Amplicomms PowerTel 60 plus


an amplified corded telephone with a volume boost button of +60dB!! This is a very very loud and excellent value-for-money phone

BUY
Amplicomms PowerTel 880 Combo


a combination package - ideal for multi-user households! Includes an amplified corded telephone with answer phone AND a cordless DECT handset - both with big buttons and multi-user profiles for volume, tone and boost settings - supersedes PowerTel 580 Combo.

£134.99

£114.00

(£95.00 ex VAT)

BUY
Amplicomms BigTel 480 Combo


a combination package - ideal for multi-user households! Includes an amplified corded telephone with answer phone AND a cordless DECT handset - both with big buttons

BUY
BT Big Button 200 telephone


The BT Big Button 200 is a good value for money telephone - replaces the Big Button 100

BUY
Geemarc PhotoPHONE 100


amplified and 'T' setting compatible this photo ID telephone has 8 large picture memory buttons

BUY
Geemarc Big Display Phone BDP400


An easy to use, RNIB approved, the BDP 400 is a fully talking amplified telephone with a large display and helpful spoken menu.

£119.99

£94.80

(£79.00 ex VAT)

BUY
Geemarc ScreenPhone (Action on Hearing Loss/RNID T374)


The Geemarc/Action on Hearing LossT374 screenphone is a large screen voice and text telephone with tone and volume control - allows a hard of hearing person to speak their part of the call as normal but receive the caller's conversation back in words on a screen - for use with the Text Relay service (formerly known as Typetalk).

BUY
Ex Demonstration Doro HearPlus 313ci corded amplified phone


a very good amplified corded telephone with easy-to-read display and large buttons

Please register & login to view pricing

Ex demonstration Geemarc AmpliPOWER 50


The Geemarc AmpliPOWER 50 is a very, very loud phone, with a volume boost button of +60dB!!

BUY
Share with Friends
Let a friend know about this product. (or send it to yourself)
Send To A Friend
There is nothing in your basket
Connevans Limited

Bridge House
1 Nutfield Road
Merstham, Surrey, RH1 3EB
United Kingdom

Customer Service

01737 247571

Minicom

01737 644016

Fax

01737 223475

Email