Extension cord for Sonic Boom vibrator
40CLSBVIBX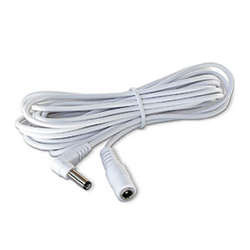 £9.40
(save £3.41)
our price:
£5.99
inc VAT
(£4.99 ex VAT)
quantity pricing:
1 - 5

£5.99 each

(£4.99 each)
Choose quantity
Order now for next working day despatch.
Extension cord for Sonic Boom 12v vibrator. 
Now you can extend the vibrator cord of all Sonic Boom alarm clock's up to 15 feet, for a total of 22 feet including existing vibrator cord.
Great for bunk beds or allows placement of alarm clock far enough away to force you to get out of bed to turn off.
Extends Sonic Boom 12v white vibrator's only.
Lead length: 15ft (4.5m)
Colour: white

Related Products
6v dc Pillow Vibrator


Vibrator for ILY Alarm Clock or other application with 2.5mm plug connection 6v dc.

BUY
6v dc pillow vibrator


Separate pillow vibrator so you can have the NIGHTINGALE on the bedside and easily swop between the optional strobe and vibrator with 3.5mm plug.

BUY
Vibes bed vibrator


12v dc Vibrator pad for use with Vibralarm alarm clock with 3.5mm plug.

BUY
CLA2 vibrator for Geemarc products & Sonic Alert clocks


CLA2 Vibrator for CL200+, CL400, AmpliPOWER 40, AmpliPOWER 50, AmpliDect 250, CL1, CL2, Wake'n'Shake & Sonic Alert clocks

BUY
Optional Vibrator for CL200+, CL400, AmpliPOWER 40, AmpliPOWER 50, AmpliDect 250, CL1 & CL2


Vibrator for CL200+, CL400, AmpliPOWER 40, AmpliPOWER 50, AmpliDect 250, CL1 and CL2

BUY
6v dc Flashing xenon strobe


Flashing xenon strobe for Nightingale with 3.5mm plug.

BUY
230V Xenon Strobe Beacon with Round Red lens


230V Xenon Strobe Beacon with Round Red lens.

£31.60

£28.43

(£23.69 ex VAT)

BUY
230V Xenon Strobe Beacon with Square Red lens


230V Xenon Strobe Beacon with Square Red lens.

BUY
40CLTFVIB Vibrator for Time Flash, travelTim, VC10 and freeTel III


40CLTFVIB Vibrator for Time Flash, travelTim and VC10. Also compatible with freeTel III Bluetooth DECT phone

BUY
Sonic Boom 12V dc vibrator


spare/replacement 12v dc Vibrator pad for use with Sonic Boom alarm clocks

BUY
24 volt fire alarm vibrator pad - 2 metre lead


24v dc vibrator pad with miniature 3 pin XLR plug for wiring into a commercial integrated 24v building fire alarm system.

BUY
24 volt fire alarm vibrator pad - 4.8 metre lead


24v dc vibrator pad with miniature 3 pin XLR plug for wiring into a commercial integrated 24v building fire alarm system.

BUY
Single gang fire alarm pattress plate


This product is specifically designed for use with the 24FVIBA2 or 24FVIBA5 vibrator

BUY
Share with Friends
Let a friend know about this product. (or send it to yourself)
Send To A Friend
There is nothing in your basket
Connevans Limited

Bridge House
1 Nutfield Road
Merstham, Surrey, RH1 3EB
United Kingdom

Customer Service

01737 247571

Minicom

01737 644016

Fax

01737 223475

Email