Alpine WorkSafe earplugs
13EPWORK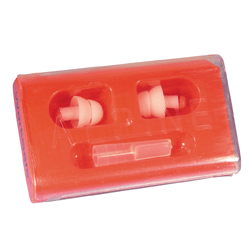 £11.42
(save £1.14)
our price:
£10.28
inc VAT
(£8.57 ex VAT)
quantity pricing:
1 +

£10.28 each

(£8.57 each)
Choose quantity
Order now for despatch on Mon 20th May.
The WorkSafe ear plug is an ideal solution for people who regularly spend time in an excessively noisy situation at work and at home, during DIY etc. WorkSafe is also a very good solution for seasonal building workers.
Harmful noises are sufficiently well attenuated, hearing is protected, while audibility of speech remains unaffected with these earplugs. Also, doesn't cause sweaty ears.
Drilling, grinding, chopping and sawing; it all makes too much noise and not only at work. At work hearing protection is already mandatory at noise levels over 80 dB and fortunately more and more people are wearing hearing protection in their home environment. However, uncomfortable earplugs, 100% being cut off, price etc. are major disadvantages. On the contrary, theWorkSafe® hearing protectors of Alpine are very comfortable to wear, have a long lifetime and with the special filter there's an optimal attenuation of dangerous noises while speech, radio and the environment remain clearly audible. 

A quality range of earplugs from Alpine Hearing Protection which have open ducts in the noise attenuators (i.e. a hole through them) to ensure that no pressure differences occur, so there is no sense of being shut off, and well worth the additional cost.
The lamella is produced in a durable, flexible thermoplastic polymer. Due to the heat of the ear, the protector adapts to the shape of the auditory duct within just a few minutes, and is therefore very comfortable in and do not protrude beyond the ear. 
Due to hygiene issues this item cannot be returned for credit.

Attenuation Data Alpine WorkSafe
Frequency Hz

125

250

500

1000

2000

4000

8000

 
 
 
 
 
 
 
 

Red WorkSafe filter:
mean attenuation dB

18,8

15,6

16

18,5

27,7

23,9

22
Frequency = noise volume: 125 Hz are low noise volumes, 8000 Hz are high noise volumes
Mean Attenuation data dB: at 2000 Hz WorkSafe attenuates 27,7 decibel

Related Products
Alpine MusicSafe Pro earplugs with 3 filter options


MusicSafe Pro ear plugs were developed for musicians and concert visitors to protect the hearing against excessive noise, the user continues to be able to hear well, but at a lower noise level - now includes 3 attenuation filters

BUY
Alpine MusicSafe Classic Earplug Set with 2 filter options


MusicSafe Pro ear plugs were developed for musicians and concert visitors to protect the hearing against excessive noise, the user continues to be able to hear well, but at a lower noise level with 2 attenuation filters

£15.59

£14.03

(£11.69 ex VAT)

BUY
Alpine MotoSafe earplugs


Earplugs for safe and relaxed motorcycling.

£17.66

£15.90

(£13.25 ex VAT)

BUY
Alpine SleepSoft earplugs


The special sleep filter in these earplugs guarantees that all ambient noises are attenuated, whilst ensuring that loud and high noises such as the doorbell or children calling remain audible.

£11.42

£10.28

(£8.57 ex VAT)

BUY
Alpine SwimSafe earplugs


The special built-in filter in these earplugs has a very small opening, so that no annoying pressure differences occur, whist ensuring that no water can enter the auditory duct. Ambient noises remain fully audible.

£11.42

£10.28

(£8.57 ex VAT)

BUY
Alpine PartyPlugs earplugs


The PartyPlugs are the ideal solution for people who regularly spend time in an excessively noisy situation such as clubs, pubs and parties

Shipping Discount

£10.38

(£8.65 ex VAT)

BUY
Alpine FlyFit earplugs


The special filter in these ear plugs guarantees that all disruptive, above all higher volume, noises such as engine noise are attenuated. As a result, travel is safer and more concentrated, and the traveller arrives less tired, after a long journey.

£11.42

£10.28

(£8.57 ex VAT)

BUY
Share with Friends
Let a friend know about this product. (or send it to yourself)
Send To A Friend
ASSOCIATED ITEMS
There is nothing in your basket
Connevans Limited

Bridge House
1 Nutfield Road
Merstham, Surrey, RH1 3EB
United Kingdom

Customer Service

01737 247571

Minicom

01737 644016

Fax

01737 223475

Email