OTICON audio i/p shoe AP501 - standard
DOAP501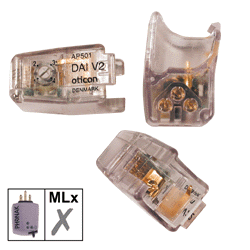 our price:
£25.74
inc VAT
(£21.45 ex VAT)
VAT Relief is available if you make a declaration in the Shopping Basket
Choose quantity
Order now for next working day despatch.
Shoes supplied singly and priced each. Multiple views are shown to help with identification.
Direct input shoe for OTICON Digilife.com, Digilife.com V2, DigiFocus II, DigiFocus II V2, Adapto, Gaia, Gaia power, Atlas Plus Direct, GO Direct & Spirit II Direct hearing aids.
Please note that all hearing aids using this shoe have a size 13 battery.

ID Marks: AP501 DAI V2 Oticon
Contacts: 1 side contact and 1 sprung pin in base
Colour: clear
Comment: there is a small volume control which should be set to no. 3 when used with CRM220 and no. 4 with fmGenie equipment.
Supplied with battery door hole tool.
Manufacturer's part number: 399-51-440-03
Please note - with Oticon hearing aids the listening volume using a personal stereo direct input lead can be quiet.  Therefore, if you have an Oticon hearing aid, we recommend that you should use an fmGenie direct input lead.


Related Products
OTICON audio i/p shoe AP401 - standard


OTICON Personic, Primofocus, Multifocus Compact, DigiLife, DigiFocus, audio i/p shoe AP401

BUY
OTICON audio i/p shoe AP600 - standard


OTICON GB10, 30, 50, Swift, Ergo, Spirit I, Spirit II , Spirit II VC, Spirit VC, Spirit II Power, Atlas, Atlas Plus & GO (all except Direct) audio i/p shoe AP600

BUY
OTICON audio i/p shoe AP700 - standard


OTICON Sumo DM, Sumo XP, Sumo E, Swift 120+, Spirit 3 Superpower & GB70 audio i/p shoe AP700

BUY
OTICON audio i/p shoe AP800 - standard


OTICON Spirit 3, Spirit 3 Direct, Spirit 3 VC, Spirit 3 Power, Safran, Tego Pro, Tego, GoPro & Syncro audio i/p shoe AP800

BUY
OTICON audio i/p shoe AP900 - standard


OTICON Agil, Acto, Epoq, Hit, Chili, Spirit Zest mini, Spirit Zest, Spirit Zest Power, Spirit Zest Plus, Vigo, Vigo Connect, Ino, Get and Safari audio i/p shoe AP900

BUY
OTICON Classic size aid - MLxS only shoe FM3


OTICON E30, 31, 35, 37, 38, 39, 300P, 380P, 390PL, MultiFocus Classic & DigiFocus II Super Power, Spirit 700 Superpower MLxS only shoe FM3.

BUY
OTICON ear level receiver shoe FM5


OTICON Digilife.com V2, DigiFocus II V2, Adapto, Gaia, Gaia power, Atlas Plus Direct, GO Direct & Spirit II Direct MLxS only shoe FM5.

BUY
OTICON ear level receiver shoe FM6


OTICON GB10, 30, 50, Swift, Ergo, Spirit I, Spirit II , Spirit II VC, Spirit VC, Spirit II Power, Atlas, Atlas Plus & GO (all except Direct) - MLxS only shoe FM6

BUY
OTICON ear level receiver shoe FM7


OTICON Sumo DM, Sumo XP, Sumo E, Swift 120+, Spirit 3 Superpower & GB70 - MLxS only shoe FM7

BUY
OTICON ear level receiver shoe FM8


OTICON Spirit 3, Spirit 3 Direct, Spirit 3 VC, Spirit 3 Power, Safran, Tego Pro, Tego & Syncro - MLxS only shoe FM8

BUY
OTICON ear level receiver shoe FM9


OTICON Agil, Acto, Epoq, Hit, Chili, Spirit Zest, Spirit Zest Power, Spirit Zest Plus, Vigo, Vigo Connect, Ino, Get and Safari - Ear Level receiver only shoe FM9

BUY
Share with Friends
Let a friend know about this product. (or send it to yourself)
Send To A Friend
ASSOCIATED ITEMS
There is nothing in your basket
Connevans Limited

Bridge House
1 Nutfield Road
Merstham, Surrey, RH1 3EB
United Kingdom

Customer Service

01737 247571

Minicom

01737 644016

Fax

01737 223475

Email