DDA visitor's fmGenie group package - PGFMG6
PGFMG6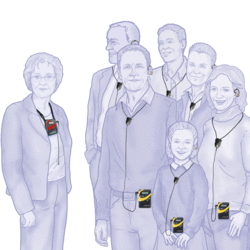 our price:
£3,692.11
inc VAT
(£3,076.76 ex VAT)
VAT Relief is available if you make a declaration in the Shopping Basket
Choose quantity and options
Order now for despatch today.
An fmGenie radio aid system to offer a provision as required by the Disability Discrimination Act for a visiting hearing aid user using their hearing aid on 'T'. *Now also available with white fmGenies!*
A basic fmGenie system which provides a very flexible provision for visiting hearing aid users. The equipment can be used with ease in one to one situations, lectures, tours or site visits.
The PGFMG6 package includes the fmGenie equipment and accessories required for a working neck loop system:
1 x fmGenie transmitter
1 x Transmitter neck harness & pouch
5 x fmGenie recievers
6 x Multiturn plastic neck loop ( includes 1 spare)

6 x Patch cord for fmGenie multiturn neck loop ( includes 1 spare)
5 x Pouch with belt clip
3 x Radio aid carry pouch ( includes 1 for Tx, 5 for Rx)
AA Alkaline batteries - 3 x packs of 10 Procell

2 x fmGenie headphones (for those with a mild hearing loss and/or testing the system)
fmGenie operating instructions and literature
Many people want to add extra functions to their system. For easy to use packages and add-ons, click here.
The following additional information is available for this product

Related Products
fmGenie transmitter and receiver package - FMGQ1


includes only transmitter and receiver, no accessories

£1,228.80

(£1,024.00 ex VAT)

BUY
Neck loop fmGenie package - FMGQ2


standard package for individuals using a neck loop with their hearing aid on the 'T' setting

£1,510.84

(£1,259.03 ex VAT)

BUY
Direct input fmGenie package - FMGQ3


standard package for individuals with direct input hearing aids

£1,460.62

(£1,217.18 ex VAT)

BUY
Neck loop & conference microphone fmGenie package - FMGQ4-N


for individuals wishing to use a conference microphone for use in meetings, seminars etc with a neck loop

£1,641.70

(£1,368.08 ex VAT)

BUY
Direct input & conference microphone fmGenie package - FMGQ4-DI


for individuals wishing to use a conference microphone for use in meetings, seminars etc. with direct input leads

£1,591.48

(£1,326.23 ex VAT)

BUY
DDA visitor's fmGenie package - FMGQ5


An fmGenie radio aid system to offer a provision as required by the Disability Discrimination Act for a visiting hearing aid user using their hearing aid on 'T'

£1,297.61

(£1,081.34 ex VAT)

BUY
Cochlear implant fmGenie package - FMGQ7


standard package for individuals with cochlear implants

£1,407.16

(£1,172.63 ex VAT)

BUY
fmGenie transmitter set - FMGQ9


standard Team Teaching package - a second fmGenie transmitter for use by a second speaker or connection to a TV

BUY
Headphone fmGenie package - FMGQ11


standard package allowing a fmGenie to be used with headphones - ideal for non-hearing aid wearers, especially children with attention difficulties

£1,403.56

(£1,169.63 ex VAT)

BUY
Call Centre fmGenie package - FMGQ12


A complete fmGenie package that provides a high quality hands-free telephone/telesales facility for people who wear hearing aids.

£1,786.00

(£1,488.33 ex VAT)

BUY
fmGenie transmitter and two Phonak MicroMLxS receivers - QMLXSM2


fmGenie Transmitter and MicroMLxS Receivers for use with 2 hearing aids.

Please register & login to view pricing

fmGenie transmitter and Phonak MicroMLxS receiver - QMLXSM2M


fmGenie Transmitter and MicroMLxS Receiver for use with 1 hearing aid.

Please register & login to view pricing

On-site Radio Aid training and set-up support visit


a one-to-one session with an experienced trainer who will go through your system with you and set it up to work in your environment - highly recommended

Please register & login to view pricing
Share with Friends
Let a friend know about this product. (or send it to yourself)
Send To A Friend
ASSOCIATED ITEMS
There is nothing in your basket
Connevans Limited

Bridge House
1 Nutfield Road
Merstham, Surrey, RH1 3EB
United Kingdom

Customer Service

01737 247571

Minicom

01737 644016

Fax

01737 223475

Email